Not Your Regular Nachos: Creamy Adobo Chip Nacho Bites This week I found an interesting recipe on MyRecipes.com and it inspired me to create these bite-sized, creamy nachos. The baked chipotle chips are topped with a creamy goat cheese mixture and a cilantro salsa. Avocados were finally ripe at my grocery store, so I was able to blitz up a quick, easy guacamole. These make for a playful presentation and would look lovely on a graduation party menu. To see how I made these incredibly scrumptious nachos — once you pop, you can't stop —
.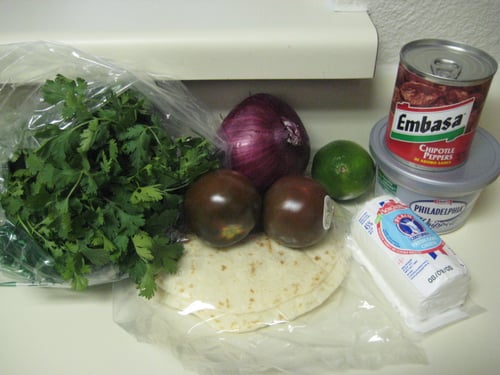 Adobo Chips With Warm Goat Cheese and Cilantro Salsa
Modified from Cooking Light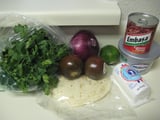 Ingredients
Salsa:
1 (7-ounce) can chipotle chiles in adobo sauce
2 cups chopped fresh cilantro (about 1 bunch)
1 cup finely chopped tomatillos* (about 4 medium)
1/4 cup minced red onion
1/4 cup fresh lime juice
Guacamole:
1 garlic clove, coarsely chopped
1 small shallot, coarsely chopped
1/4-1/2 cup cilantro
1 ripe avocado, cut into 1/4 inch chunks
juice from one lime
salt
Chips:
2 1/2 teaspoons fresh lime juice
1 teaspoon canola oil
1 teaspoon adobo sauce
1/2 teaspoon paprika
1/4 teaspoon cumin
8 (6-inch) white corn tortillas
Cheese:
1/2 cup (4 ounces) block-style fat-free cream cheese, softened
1/4 cup (2 ounces) goat cheese
Get more recipes at MyRecipes.com
Directions
To prepare salsa, remove 2 chipotle chiles from can; finely chop to measure 2 teaspoons.
Remove 1 teaspoon adobo sauce from can, and set aside (reserve remaining chipotle chiles and adobo sauce for another use). Combine chiles, cilantro, tomatillos, onion, and 1/4 cup lime juice in a medium bowl. Alternately, pop all of the ingredients for the salsa in a food processor and chop, pulsing until fine. Cover and chill for 1 hour.

In the uncleaned food processor bowl, combine the ingredients for the guacamole. Stir until a fine paste forms. Set aside.

Preheat oven to 375°.
To prepare chips, combine 2 1/2 teaspoons lime juice, canola oil, adobo sauce, paprika, and cumin in a small bowl, stirring with a whisk.
Brush 1 tortilla with about 1/4 teaspoon juice mixture, spreading to edge. Top with another tortilla; repeat procedure with juice mixture. Repeat procedure 6 more times (you will have 1 stack of 8 tortillas). Using a sharp knife, cut tortilla stack into 6 wedges. Alternately, use your favorite cookie-cutter shape to cut the tortillas into small shapes. I used a small scallop-edged circle.

Place wedges in a single layer on baking sheets. Bake at 375°F for 15 minutes; turn wedges. Bake an additional 10 minutes.
Reduce oven temperature to 350°F.
To prepare cheese, combine cream cheese and goat cheese in a small bowl; stir until blended. Spread cheese mixture into a shallow 6-ounce ramekin or baking dish; cover with foil.
Bake at 350°F for 10 minutes or just until warm.

To serve top each chip with some cheese, the guacamole, and the salsa. Or, serve deconstructed with the 4 components in separate bowls. Allow guests to pick and choose their chip topping.
Serves 8.
Like the recipe above? Try out some of these other ones:
— Mexican Meals in Minutes
— Dinner Tonight Recipes in 45 Minutes or Less
— Get More Appetizers Recipes
Information
Category

Other, Appetizers

Cuisine

Mexican