Not Your Regular Nachos: Fish Taco-Bite Nachos
Over the weekend, my dad made a big batch of coleslaw. Since he's going on vacation, he loaded me up with the leftovers. I've always loved the crunch of coleslaw on fish tacos, so I translated the concept of fish tacos into nachos. The final result was a delicious, bite-sized fish taco. I topped baked wheat tortillas with gruyere cheese, a creamy guacamole, and fresh fish. The coleslaw and jewel-like, chopped tomatoes finished off the nachos. A squeeze of lime juice is the must-have garnish. To look at the recipes,
.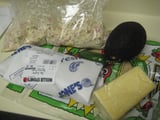 Ingredients
For coleslaw*
1 cup mayonnaise
1 tablespoon Dijon mustard
Drizzle extra-virgin olive oil
1/2 lemon, juiced
Salt and freshly ground black pepper
1 tablespoon red wine vinegar
1 tablespoon sugar or pinch
1 store-bought bag shredded slaw mix (containing red and green cabbage and carrots)
For guacamole
1 Hass avocados — halved, pitted, and peeled
2 tablespoons low-fat sour cream
1 small jalapeño, seeded and thinly sliced
2 tablespoons minced green onion
2 tablespoons chopped cilantro
juice from one lime
For nachos
1 wheat tortilla
1/4 cup finely grated gruyere cheese
1 small white fish fillet (I used red snapper)
salt, pepper, and olive oil to taste
1/2 small tomato, seeded and finely chopped
Directions
Make coleslaw: in a large bowl, mix together the dressing ingredients. Add the shredded slaw mix and toss until combined. Set aside.
Make guacamole: in a medium bowl, mash the avocados, sour cream, jalapeño, green onion, cilantro, and lime juice. Season the guacamole with salt and pepper. Set aside.

Make nachos: preheat the oven to 375°F. Using a small cookie cutter, cut 9 circles out of the wheat tortilla. Place tortilla rounds on a baking sheet and coat with oil. Season with salt and pepper. Bake in the oven for 5-7 minutes until crisp.

Remove from the oven and top each round with a teaspoon of grated cheese. Change the oven setting to broil, and broil the chips until the cheese is melted.
Meanwhile, brush the fish with oil and season with salt and pepper. Grill over moderately high heat until lightly charred and cooked through, about 10 minutes. Transfer the fish to a platter and break apart into bite-sized flakes.

Spread a little of the guacamole on top of the cheesy chip. Top with a little fish, coleslaw, and the fresh tomatoes. Enjoy immediately with lime wedges for garnish.
Serves 1.
*This is enough coleslaw for 6-8 servings.
Information
Category

Main Dishes, Fish

Cuisine

Mexican