Not Your Regular Nachos: Italian Nachos Let me just say that taking a gorgeous, appetizing picture of nachos is hard. The image certainly does not do these amazingly delicious Italian nachos justice. They were so good that I ate an insane amount all by myself. What exactly are Italian nachos? A creation I invented based on a little web research. I took elements from several recipes to make my own version.
First I fried pieces of tomato basil tortillas. Next I made an Alfredo sauce and heated up finely chopped Italian sausage. The chips were seasoned with salt and dried oregano before being topped with the sauce, sausage, and a heavy sprinkling of mozzarella cheese. The whole thing was topped with a tomato, sun-dried tomato, black olive, and pepperoncini salsa. The final result was to die for.
For more details on how I made them,
.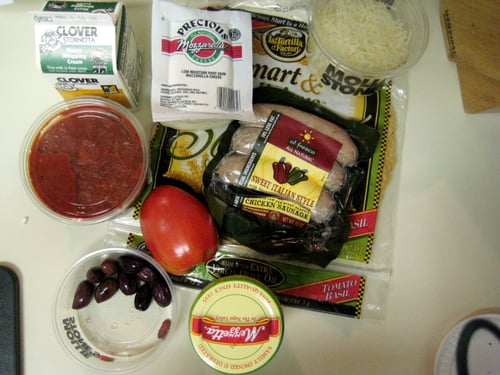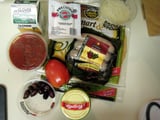 Ingredients
For Alfredo sauce:
¾ cup plus 2 tablespoons heavy cream
3 tbs. unsalted butter
4 ounces grated Parmesan cheese
1/2 tsp. salt
fresh-ground black pepper
pinch of fresh-ground nutmeg
For nachos
oil, for frying
2 tomato basil tortillas sliced into triangular pieces
dried, crushed oregano
salt
1 Italian sausage, finely chopped
1/2 cup grated mozzarella cheese (don't use fresh mozzarella, it will make the chips soggy)
2 tablespoons finely chopped tomato
2 tablespoons finely chopped black olives
1 tablespoon finely chopped sun dried tomatoes
1 tablespoon finely chopped peppercini
red pepper flakes, optional for serving
Directions
Make the chips: heat the oil in a large pot over high heat. When smoking add the tortilla wedges and fry for 30 seconds on each side until crisp and golden brown. Remove to a plate lined with paper towels and sprinkle with dried oregano and salt. Repeat, working in small batches, until all the tortillas are fried.

Make the Alfredo sauce: combine cream and butter in a saute pan. Heat over a low flame, stirring frequently, until the butter is melted and the cream comes to a bare simmer. Remove the pan from the heat once the butter is evenly incorporated into the cream.
Add the cheese, the salt, the nutmeg, and several grinds of the pepper mill. Cover set aside.
Meanwhile heat 1 teaspoon oil in a saute pan over medium low heat. Add the sausage and cook until crisp, browned, and heated through.
Preheat the oven to 375°.
Make the salsa: combine the tomato, sun dried tomatoes, black olives, and peppercini in a small bowl.

Place the chips on a cookie sheet covered with foil.
Drizzle with Alfredo sauce and top with cooked sausage. Cover with mozzarella and drizzle with more sauce.

Bake in the oven for 4 minutes until the cheese is melted. Turn the broiler on and broil until the chips are crisp and the cheese is bubbling.
Remove from oven and top with salsa. Serve immediately with red pepper flakes for sprinkling if desired.
Serves 1.
Information
Category

Cheese, Main Dishes

Cuisine

Mexican