Not Your Regular Nachos: Leftover Pantry Nachos
This week I decided to give myself a nacho challenge. Instead of going to the grocery store to purchase a bunch of ingredients, I would make nachos with items currently in my pantry or refrigerator. Luckily I had leftover chicken, barbecue sauce, and plenty of cheese. The final result was this plate of cheesy, barbecue nachos. I heated the chicken with barbecue sauce and made a simple cheese sauce with low-fat milk, Monterey jack, cheddar cheese, and pickled jalapeños. Sliced black olives and mashed avocado seasoned with lemon juice finished off the dish. A dollop of sour cream was a cooling garnish. While I encourage you to experiment with your own leftover pantry nachos, you can learn how I made mine. To do so,
.
Leftover Pantry Nachos
Original recipe by PartySugar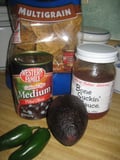 Ingredients
1 cup diced cooked chicken
1/4 cup barbecue sauce
1 tablespoon butter
1 tablespoon flour
1 cup low-fat milk
1 1/2 cups grated cheese (use whatever you have on hand, for mine I used orange cheddar and Monterey jack)
salt, pepper, cayenne pepper to taste
1/4 cup diced, pickled jalapeños
1 large handful of whole wheat tortilla chips
sliced black olives, mashed avocado, and sour cream, optional for garnish
Directions
Mix the chicken and barbecue sauce in a small saucepan over medium-low heat. Stir to combine. Heat until warmed through, 8-10 minutes.
Meanwhile, make the cheese sauce. Melt the butter in a large saute pan over medium heat. Add the flour, whisk to combine, making a roux, and stir for 1-2 minutes.
Slowly pour in the milk, whisking constantly. Cook for 1 minute until mixture is thick and bubbling.
Turn the heat down to the lowest setting and whisk in the cheese one small handful at a time. Whisk in all of the cheese and stir until smooth. Season to taste with salt, pepper, and cayenne.
Stir in the jalapeños.
Place a layer of tortilla chips on a serving plate. Top with the melted cheese. Spoon some of the barbecued chicken onto the cheesy chips.
Repeat, topping with more cheese. Garnish with black olives. Dollop the avocado and sour cream in the middle and serve.
Serves 1-2.
Information
Category

Appetizers, Finger Foods

Cuisine

Mexican