Not Your Regular Nachos: Mexican Pizza
When you think about it, a Mexican pizza is really a gigantic, circular nacho. The two main components of nachos — crispy tortillas and melted cheese — are present in Mexican pizzas. This recipe came out of my desire to use Spanish chorizo in one of my nacho experiments. Since the chorizo resembles pepperoni, I invented these pizza-like nachos. The "sauce" is a red-bean puree mixed with sautéed onion, garlic, and green chilies. These were quite tasty, next time I'm serving them with sour cream! To take a look at how I made them,
.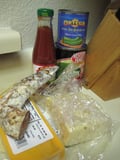 Ingredients
1 tablespoon olive oil
1/4 onion, finely diced
2 cloves garlic, minced
1 can red kidney beans
2 tablespoons cilantro
1/2 cup taco sauce
2 jarred green chilies, finely chopped
2 tortillas
1/2 cup pepper jack cheese
1/2 cup extra sharp cheddar
8-10 thin slices Spanish chorizo
Directions
Heat the oil in a large saute pan, over medium-low heat. Saute the onion and garlic until fragrant and soft, about 8 minutes.

Preheat the oven to 375°F.
In the bowl of a food processor, combine the beans, cilantro, and taco sauce. Blend to make a thick, puree-like sauce.
Add bean puree to the onions and garlic, stirring to combine.

Add the green chilies to the sauce and reduce the heat to low. Simmer the sauce lightly for about 10 minutes.
Meanwhile, place the tortillas on a foil-lined baking sheet. Bake in the oven until crisp, 12 minutes.
Remove the tortillas from the oven and turn the oven to Broil.

Spread a layer of sauce on one of the tortillas. Top with 1/4 cup of the pepper jack and cheddar cheese.
Place the other tortilla on top, pressing down gently to flatten.
Spread another layer of sauce on top of this tortilla. Top with cheese, chorizo slices, and more cheese.

Broil in the middle to lower half of the oven for 5 minutes, until the cheese is melted and brown, and the chorizo is warmed through.
Carefully slice into wedges and enjoy!
Makes 1 small pizza.
Information
Category

Appetizers, Finger Foods

Cuisine

Mexican