Not Your Regular Nachos: Nacho Bites This week I had my banker over for dinner and I decided to wow him with a Tex-Mex-inspired meal. Naturally, nachos were on the menu. Since I wanted something a little healthier than chips and melted cheese for the main course, I served the nachos as appetizers. To make them bite sized, I used Tostitos scoops. Each chip bowl is filled with a classic ground beef taco mixture and topped with cheese. The mini edible bowls are broiled until the cheese is melted and the chips are crispy.
These nachos are incredibly scrumptious and this recipe is easily adaptable, so feel free to get creative! The scoops would be wonderfully delicious with grilled chicken or black beans. For more details on my variation,
.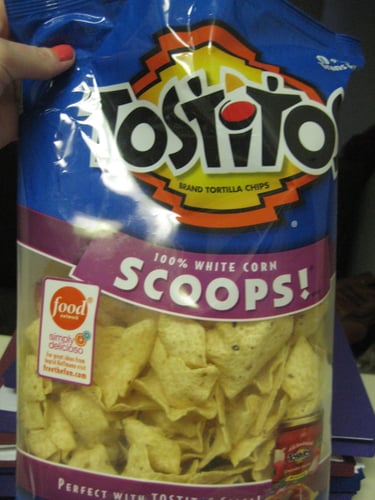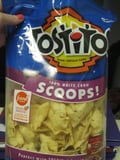 Ingredients
For Meat Filling
2 tablespoons corn oil
1 medium onion, chopped (1 cup)
2 cloves garlic, chopped
1 jalapeno pepper, stemmed, seeded (if you like it hot include the seeds) and minced
1 1/2 tablespoons chili powder
1 teaspoon ground cumin
Kosher salt
4 whole peeled canned tomatoes, chopped and about 1/4 cup of their juices
3/4 pound lean ground sirloin beef
1/3 cup chicken broth
1/4 cup fresh cilantro leaves, roughly chopped
For nachos
1/2-1 cup grated cheese (recommended a mixture of Gouda and extra sharp cheddar cheese)
Guacamole and Salsa, optional for serving
Directions
Make ground beef filling: put the oil, onions, garlic, and spices in a medium skillet, season with salt and cook over medium to medium-low heat, stirring occasionally until tender, about 10 minutes.
Increase the heat to medium high, add the tomatoes, and their juices and boil to thicken, about 2 minutes.
Stir in the beef and chicken broth, adjust the heat so the mixture simmers and cook until the beef is cooked through and the mixture thickens, about 15 minutes.

Stir in cilantro, taste, and season with salt and pepper as desired. Remove from heat.
Make the nachos: turn the oven to broil. Line a baking sheet with foil or parchment paper. Place 12 Tostitos scoops on the pan. Use only chips that are shaped like a bowl.
Fill each scoop with 1/2 teaspoon of the ground beef mixture. Sprinkle with grated cheese to cover, taking care not to spill cheese all over the pan.

Broil for 3-5 minutes, watching carefully to ensure they don't burn, until the cheese is melted, bubbly, and the chips are crisp and golden brown. Remove pan from oven.
Working quickly, top each scoop with a small dollop of guacamole and a drop of salsa, if desired.
Transfer to serving platter and enjoy!
Serves 3.
Information
Category

Appetizers, Finger Foods

Cuisine

Mexican