Not Your Regular Nachos: Nachos Caprese
At the Food and Wine Classic, I watched Jose Andres make bread chips. He froze a baguette, sliced it superthin with a mandoline, and panfried it until crisp. While Andres topped his with anchovies and other Spanish ingredients, I haven't stopped thinking about this bread chip and wondered how it would translate into a nacho. I don't have a mandoline, so I used regular white bread. However, I wish I would have found a way to use paper-thin bread. The final result was more like a cheesy bruschetta than a nacho. When I realized this, I was disappointed, but the classic Italian flavors — mozzarella, tomatoes, and basil — were so delicious that I soon forgot my sadness. I highly recommend you make this scrumptious appetizer, only instead of calling it nachos, simply call it bruschetta! To see what I did,
.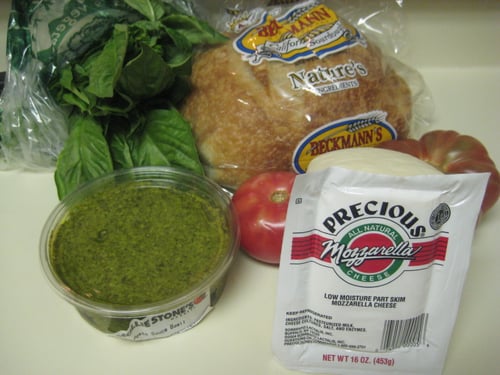 Nachos Caprese aka Cheesy Bruschetta
Original recipe by PartySugar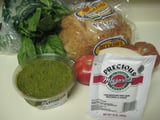 Ingredients
1 small loaf thinly sliced sourdough bread
1 stick butter
2-3 garlic cloves
salt and pepper
8 ounces mozzarella, grated
2 cups tomatoes, seeded and diced
1/2 cup homemade or store bought pesto
basil leaves, optional for garnish
Directions
Cut the bread into triangular pieces, removing crusts.

Since this was an experiment, I decided to fry some in butter (a la Ryan Scott) and bake some in the oven. For frying, melt one stick of butter with 2-3 peeled garlic cloves in a large pan over medium-high heat. Once the butter is melted add the bread, frying in a single layer. Fry until golden brown 3-4 minutes. Flip and continue to fry for 1-2 more minutes. Transfer to a plate lined with paper towels. Repeat with remaining bread.

Alternately, for baking, preheat the oven to 375°F. Place the bread triangles in an even layer on a large baking sheet. Bake in the oven until crisp and brown 15-20 minutes.
When the bread is cool enough to handle spread evenly on a large baking sheet. Season bread generously with salt and pepper. Sprinkle with the cheese, taking care to cover each piece of bread with cheese. Bake in the oven for 10-12 minutes until cheese is melted.

Remove and transfer cheesy bread triangles to a serving platter. Top each piece of bread with a heaping tablespoon of chopped tomatoes.
If your pesto is too thick to drizzle, thin with a few tablespoons of olive oil. Drizzle the pesto over the top of the tomatoes. Garnish with basil leaves if desired and enjoy!
Serves 4-6 as an appetizer.
Information
Category

Appetizers, Crostini

Cuisine

Italian