Not Your Regular Nachos: Nachos Frescos Although incredibly delicious, nachos are deceptively filling making them a dish that's easy to overeat. Since Cinco de Mayo is next week, I wanted to make a less-heavy variation of nachos that would allow for maximum margarita consumption. To make the nachos lighter — I have no clue if they're healthier, we'll have to ask FitSugar — I baked the tortillas instead of frying them and replaced the meat with black beans. The final nachos were fresh and delectable. I devoured them in minutes! For the details on how to make them,
.
If you want to know more about how I made these nachos, check out the photo captions.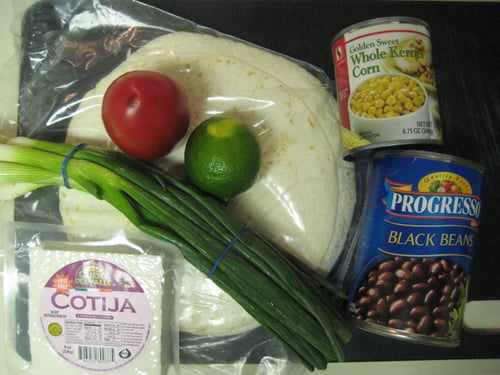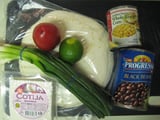 Ingredients
For chips:
2 fresh flour tortillas
vegetable oil
salt
fresh cracked black pepper
cayenne powder
For bean-corn salad:
1 (13 oz.) can black beans, drained and rinsed
1 can corn, drained and rinsed
3 green onions, finely chopped
4 small cloves of garlic minced
2 Tbsp. fresh lime juice
1 Tbsp. honey
1 tsp. cumin
1 tsp. hot sauce
1 tsp. white wine vinegar
salt
For nachos:
1/2 cup shredded green leaf lettuce
1/4 picked cilantro leaves, separated from their stems
1 roma tomato, seeded and finely diced
2 heaping tablespoons peppercini, finely chopped
1/2 cup Cotija cheese, finely grated
Directions
Make the chips: preheat the oven to 400°F. Line a cookie sheet with foil.
Cut the tortillas like you would a pizza pie, into 8 even, triangular pieces. Place on the foil lined cookie sheet.
Brush with oil and season with salt, pepper, and cayenne powder. Flip and repeat, brushing with the oil and sprinkling with the seasonings.
Bake in the oven until one side is crisp and browned 10 minutes.
Meanwhile, make the bean-corn salad: combine the beans, corn, green onion, and garlic in a bowl. Add the lime juice, honey, cumin, hot sauce, and vinegar. Stir to combine and season with salt to taste. Set aside and let the flavors meld for a couple of minutes.
Toss the lettuce with the cilantro leaves.
In a small bowl, combine the tomatoes and peppercini.
Assemble nachos: cover a bakeable serving dish — like a cazuela — with a layer of the half-baked chips in a serving dish. Sprinkle with Cotija cheese. Top with remaining half-baked chips and another layer of cheese.
Bake in the oven for 5-8 minutes until the cheese is melted and chips are completely baked.
Remove from oven and top with lettuce cilantro mix, bean-corn salad, and final sprinkle of cheese.
Return to the oven for 1-2 more minutes.
Top with tomato peppercini mixture and serve.
Serves 1 as a main course or 2 as appetizers.
Information
Category

Other, Appetizers

Cuisine

Mexican