Not Your Regular Nachos: Stavros Nachos
Named for the Greek heir and playboy, Stavros Niarchos, this week's nacho creation is a delectable mix of Greek ingredients. I topped crispy pita with a spicy ground lamb mixture. Instead of using cheddar or Monterey jack, I used salty feta and creamy goat cheese. A "salsa" of fresh tomatoes and kalamata olives finished off the dish. Hot pepperoncinis replaced pickled jalapeños as a heat-inducing garnish. These nachos were insanely scrumptious. While munching, I couldn't help but wonder why more people don't make Greek nachos? They're to die for. Trust me, run to the grocery store, you must make these nachos! They'd be an excellent starter to a Mediterranean barbecue. For the recipe details,
.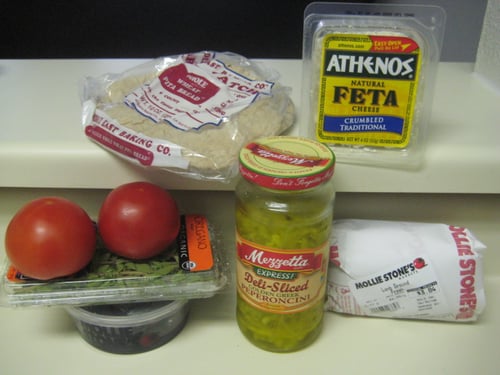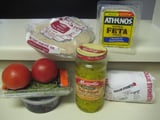 Ingredients
1 package pita bread
5 tablespoons extra-virgin olive oil
cayenne pepper, salt, and black pepper to taste
2 cloves garlic, grated
1 medium onion, finely chopped
3/4 lb ground lamb
A pinch of cinnamon
1 teaspoon smoked paprika
1/2 teaspoon dried oregano
1/2 teaspoon red pepper flakes
1/2-1 cup beef stock, enough to moisten
1/4 cup fresh oregano leaves
1 cup crumbled feta cheese
1/2-1 cup crumbled goat cheese
1/2 cup pitted kalamata olives, chopped
1 tablespoon white wine vinegar
1 tablespoon red wine vinegar
2 vine-ripe tomatoes, seeded and chopped
1/2 cup peppercini, seeded and chopped, or pepperoncini rings
1/4 cup fresh parsley leaves
Directions
Preheat the oven to 375ºF.
Slice the pita bread into triangular wedges and arrange on a sheet tray. Coat with olive oil and season with cayenne pepper, salt, and black pepper. Toast in the oven until golden brown, about 15-18 minutes.

Place a large skillet over medium heat and add two tablespoons of the oil. Once hot, add the garlic and onion. Saute until veggies are soft about 10 minutes.
Add the ground lamb, the cinnamon, the paprika, dried oregano, and the red pepper flakes. Break up the lamb with the back of a wooden spoon as it browns, about 6-8 minutes. Cook stirring occasionally for about four minutes. Add 1/4 cup of beef stock to keep moist (adding more if needed) and cook for about 5 minutes more. Stir in the fresh oregano.

Top each pita chip with a little of the ground lamb mixture. Sprinkle both cheeses over the top, taking care to cover each chip with cheese.
Bake in the oven for 10 minutes, or until the cheese is melted and the chips are crispy.
Meanwhile, make the salsa: combine the tomatoes and olives in a small bowl. Toss with 1 tablespoon olive oil and the vinegars. Stir to combine.

Remove the nachos from the oven and top with the salsa, peppercinis, and fresh parsley. Enjoy immediately.
Serves 2-4.
Information
Category

Appetizers, Finger Foods

Cuisine

Greek