Not Your Regular Nachos: Steak Peach Nachos
This week's nachos were inspired by a recipe I found in the current issue of Everyday With Rachael Ray. In the magazine, she uses peaches as a savory ingredient in a spicy-sweet salsa that tops a steak quesadilla. Instead of making the quesadilla, I made nachos. The final result was crunchy, hot, and pure deliciousness. My peaches were really juicy, so I ended up straining the salsa before topping the nachos, to ensure that the chips didn't get soggy. I fried tortilla rounds, but this would be equally delicious on store-bought tortilla chips. To look at the recipe,
.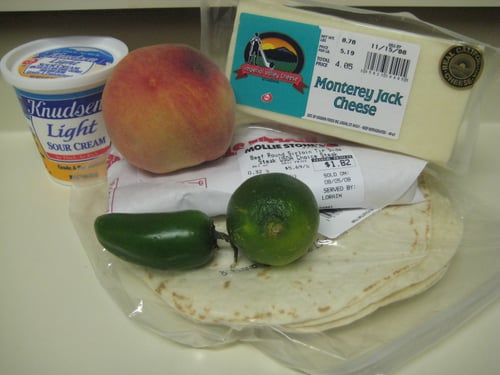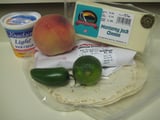 Ingredients
1/4 red onion, finely chopped
juice of 2 limes
1 garlic clove, minced
2 tablespoons extra virgin olive oil
1/2 teaspoon hot sauce
salt and pepper
1 small piece of steak
2 flour tortillas
2 cups vegetable oil, for frying
1 cup grated Monterey jack
1 peach, peeled and finely chopped
1/4 jalapeño, finely chopped
1 tablespoon chopped cilantro
sour cream, for serving
Directions
In a large resealable plastic bag, combine half of the red onion, the juice of one lime, the garlic, 1 tablespoon olive oil, and hot sauce. Season the steak with salt and pepper and add the steak to the bag, shaking. Let marinate for at least a half an hour and refrigerate for up to a night.

Using a cookie cutter or other circular shape, cut 4 three-inch in diameter rounds out of each tortilla.
Heat the frying oil in a large pot over high heat. When the oil is hot add the rounds and fry until crisp. Remove with tongs and place on a paper towel to drain. Sprinkle rounds with salt.

Preheat the broiler.
Meanwhile cook the steak. Preheat a grill to medium high. Grill, covered, for 5 minutes on each side for medium-rare. Let rest for 10 minutes; slice.
In a large bowl, combine the peach, the rest of the red onion, the jalapeño, cilantro, juice of the second lime, and the other tablespoon of olive oil.

Sprinkle the chip round with a heaping tablespoon of cheese. Broil in the oven until the cheese is melted and bubbly.
Top chips with steak and salsa.
Serve immediately with sour cream.
Makes 8 nachos, or serves 1.
Information
Category

Appetizers, Finger Foods

Cuisine

Mexican