These Alcoholic Push-Pops Have Under 100 Calories and 15% ABV — Need We Say More?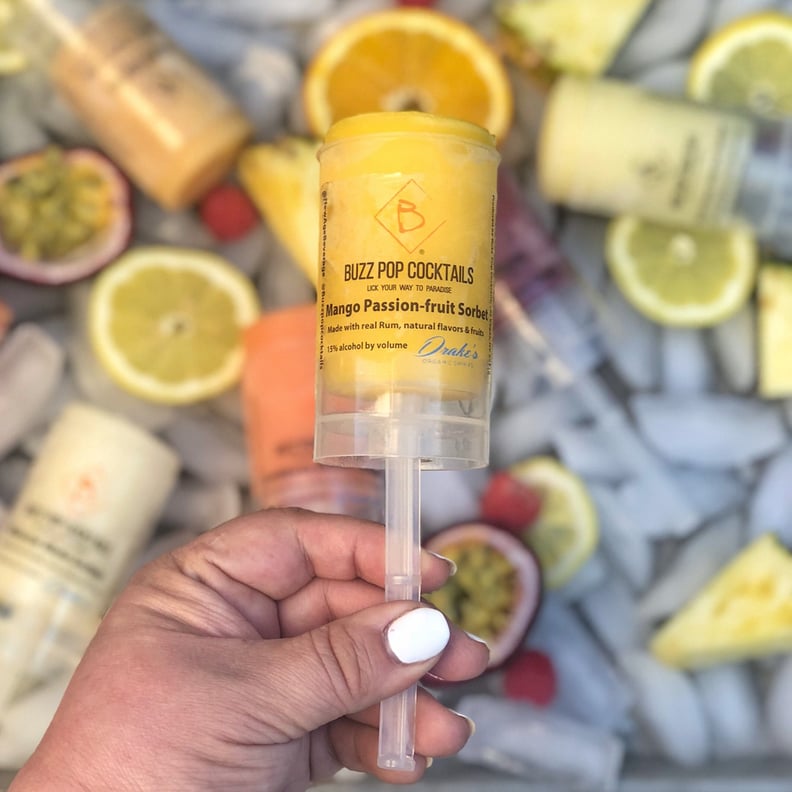 Make some room in your freezers, cocktail-lovers, because we just stumbled upon a yummy Summer treat that deserves every single inch of shelf space you've got: boozy frozen push-pops. Yep, these now exist, and we're seriously having trouble containing our sheer delight at this life-changing discovery.
Las Vegas-based company Buzz Pop Cocktails is the source of these nostalgic frozen goodies, which are made with Italian sorbet that's infused with real liquor (either vodka, rum, tequila, or whiskey, depending on the flavor). There are eight flavors, including Pink Paradise, Southern Belle, Blueberry Mania, Mango Passion Fruit, Caribbean Breeze, Moscow Mule (OMG), Watermelon Patch, and Lemon Drop Martini.
Oh, and we almost forgot to mention a very vital detail: each flavor contains a whopping 15 percent ABV. Other comparable products, like those vodka martini ice pops from Costco, are typically somewhere in the three to eight percent range, so 15 percent is sure to get you the poolside buzz you're craving. They're also surprisingly healthy: they're gluten- and fat-free, plus they're vegan, certified kosher, under 100 calories each, free of artificial flavors or additives, and made with real fruit. What's not to love?
Contrary to popular belief, Buzz Pop Cocktails aren't only available in heaven, where they undoubtedly hailed from. You can purchase them at a variety of restaurants and hotels across the US (they're coming soon to Paddlefish at Disney Springs, btw!), as well as online through the Buzz Pops Cocktail website. The eight-packs can be shipped anywhere in the continental US, and arrive in a specialty freezer box so they're ready to eat ASAP, the company's CEO, Joseph Isaacs, told POPSUGAR. You just have to be 21 years old to order because, ya know, alcohol and stuff.
Ready to take your outdoor Summer shindigs to the next boozy level? Check out some crave-worthy snaps of Buzz Pop Cocktails below, and place your own order so you can "lick your way to paradise."
Here's a Look at All 8 Flavors — Yum!
Caribbean Breeze Sorbet, Anyone?
The Southern Belle Flavor Blends Sweet Tea, Lemon, Peaches, and Bourbon; Are You Drooling Yet?
The Push-Pops Are Made With Quality Liquor
It's Impossible to Resist Instagramming Them
The Perfect Poolside Pick-Me-Up
The Moscow Mule Flavor Was Made For Rooftop Hangs
Shhh! We Won't Tattle If You Walk the Streets With These Alcoholic Goodies
*Drools All Over Self, Wipes Up Said Drool, and Immediately Places Online Order*