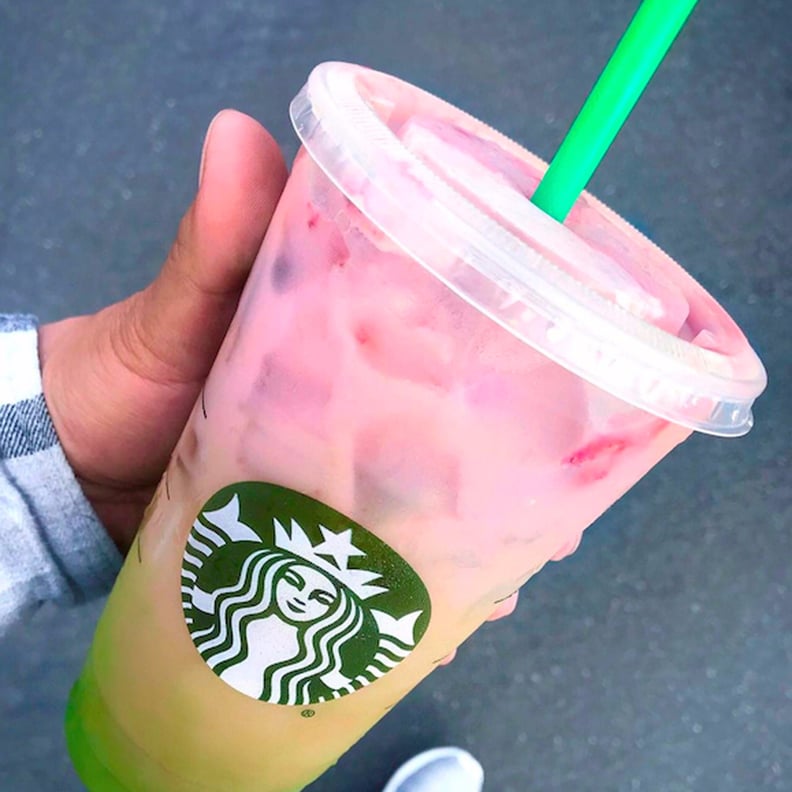 I don't know about you, but I feel like Starbucks just keeps upping its game with its drinks. But what's even better than that is the baristas and fans who are coming up with better and more off-the-wall drinks every day. Some of them have been spinoffs of on-the-menu items (like the Unicorn Frappuccino) and some of them have just been brilliant ideas born out of an affinity for the brand.
This year's best creations — so far — all have a couple things in common. For one, they're all very colorful. Secondly, a lot of them are based on mythical creatures . . . this does seem to be the year of the mermaid, after all. While some of these drinks you can easily still have made at your local Starbucks, some of them require limited-edition ingredients that are no longer available. As always, when ordering something off the unofficial secret menu, it's best to show up to your store prepared with the entire recipe. Your barista will thank you.
Ahead, find this year's best drinks and stay tuned as we anxiously await further creations that might pop up!
01
Banana Split Frappuccino
The Banana Split Frappuccino is Strawberries and Creme Frappuccino base with vanilla bean powder, Java Chips, a whole banana, whipped cream, and a mocha drizzle on top that supposedly tastes a bit like a strawberry banana smoothie.
02
Dragon Frappuccino
The Dragon Frappuccino was the answer to the Unicorn Frappuccino from earlier this year, and it is a green tea frap with vanilla bean powder and some berry cup swirl that was much more popular with many customers than the unicorn option.
03
Mermaid Frappuccino
The Mermaid Frappuccino takes a few steps to order, but it can be done! Ask for a a Vanilla Bean Frappuccino blended with freeze-dried blackberries. Then ask for a toasted coconut matcha sauce drizzle. The recipe is eight pumps of white mocha sauce, three pumps toasted coconut syrup, and three heaping scoops of matcha, mixed in a pitcher until smooth and poured into a gravity bottle, according to Starbucks Secret Menu. Ask the barista to drizzle the sauce inside the cup before pouring in the Frappuccino. Top it with whipped cream and more drizzle or matcha powder sprinkled on top. Whew.
04
Narwhal Frappuccino
Yet another creature-inspired beverage is the Narwhal Frappuccino. For this one, order a blended Strawberry Lemonade with vanilla bean powder. Ask for whipped cream on top, and ask if your barista can add green tea powder for extra color on top. How refreshing!
05
Pink Pegasus Frappuccino
Disneyland's Starbucks actually did have this Pink Pegasus Frappuccino on its menu briefly, but to order it anywhere else you'll need the recipe. It's just a blended White Chocolate Mocha with raspberry syrup!
06
Matcha Pink Drink
The Matcha Pink Drink takes the regular-old Pink Drink to the next level. It's very simple to order, as it's just three parts traditional Pink Drink (Strawberry Acai Refresher with coconut milk) and one part matcha coconut milk on the rocks.
07
Unicorn Lemonade
And because unicorns will always be relevant, some Starbucks baristas created Unicorn Lemonade when they grew tired of the Frappuccinos. While we expect you can't order this one anymore because of the limited-edition Unicorn Frap ingredients, just in case, it's a Venti lemonade with seven shakes of blue powder and six pumps of raspberry syrup. You can ask for pink powder on top so the color descends and creates an ombré effect.