11 Amazing Thai Dishes You Need to Order ASAP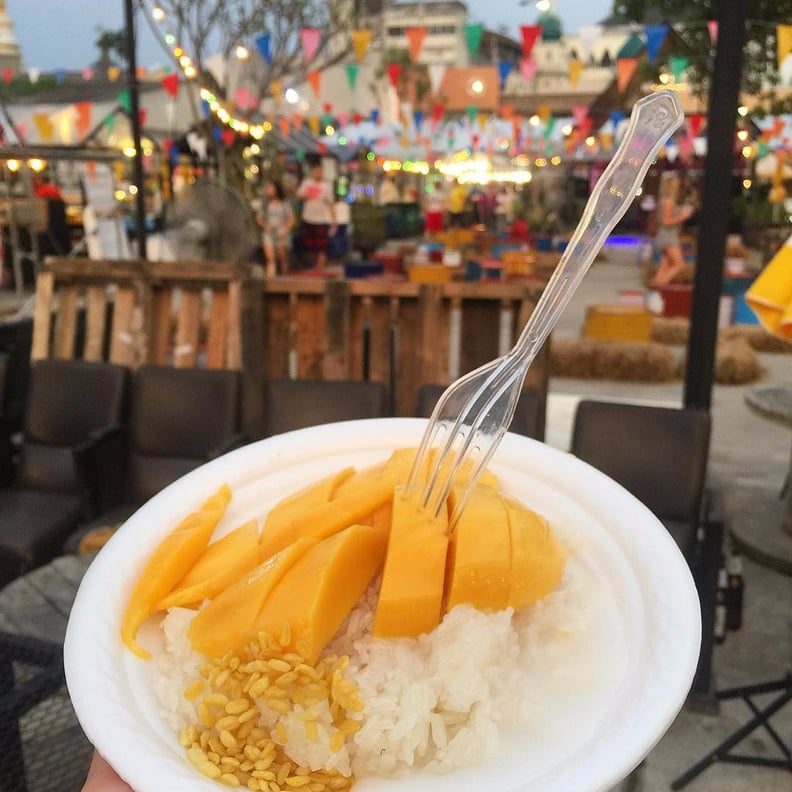 Pad Thai is good and all, but if that's your go-to order every time you eat Thai food, it's time to step out of your comfort zone and try something new. Thai cuisine has so many amazing dishes to offer, and each is full of flavor in its own unique way. The next time you're wondering what Thai foods to eat, opt for one of the following classics that everyone needs to try, from curries to noodle dishes to spicy salads and more.
01
Pad See Ew
Pad see ew is a popular street food dish in Thailand. Made with flat rice noodles, it's a stir-fried noodle dish that's darkened with soy sauce, sweetened with sugar, and served with egg, a protein like chicken or pork, and broccoli or gai lan, Chinese broccoli.
02
Pad Kra Pao
Pad kra pao is a Thai basil chicken dish typically served with a crispy fried egg and rice. What makes it unique is holy basil, or purple Thai basil, which has a distinctly different (and peppery) flavor than the green Italian basil you might be used to.
03
Papaya Salad (Som Tam)
People who love spicy foods will be licking the plate after finishing a papaya salad, or som tam, which is made with spicy Thai chiles that infuse every bite with heat. Made with julienned pieces of fresh green papaya (which is almost like a crunchier cucumber), the salad also typically includes cherry tomatoes, garlic, lime, and peanuts.
04
Larb
A classic Laotian dish that's also popular in Northern Thailand is larb, which meat-eaters will love. It's a type of meat salad that's usually made from pork but sometimes chicken or fish. The minced meat has flavors of dried chili flakes, shallots, fish sauce, lime juice, and mint, and it's served with rice.
05
Tom Kha Ghai
Coconut milk gives the broth of tom kha ghai soup a rich and creamy texture, while galangal root and kaffir lime leaves give the dish a peppery and citrusy taste.
06
Crab Fried Rice
Thailand gives a major upgrade to fried rice by adding crab to the mix. Traditional Thai crab fried rice is jasmine rice with onion, garlic, eggs, fish sauce, soy sauce, and cooked crab. Try it with a popular spicy condiment made from fish sauce and birds' eye chiles, nam prik nam pla, pictured below the rice.
07
Red Curry
You can't go wrong with any Thai curry you order, from sweet green curry to yellow curry and massaman curry (a cardamon-heavy curry served with potatoes). But one of our personal favorites is red curry, which is both spicy and sweet thanks to red chiles, ginger, and coconut milk.
08
Blue Rice (Made From Butterly Pea Flower)
One of many types of Thai rice is naturally colored blue rice made from the butterfly pea flower, a plant that's popular in Thai cooking. The blue rice pictured above with fried chicken, yellow curry, and roti bread is from San Francisco's Farmhouse Kitchen.
09
Tom Yum
Those who prefer a more hot and sour soup over a coconut-broth one need to try tom yum, which is traditionally made with shrimp, Thai chiles, lemongrass, garlic, fish sauce, and vegetables like oyster mushrooms.
10
Khao Soi
Khao soi is a Burmese-influenced dish of a brothy curry with egg noodles and tons of flavors like garlic, ginger, turmeric, and lime, and it's topped with a bundle of crispy fried noodles. It's what you should opt for if you love Thai curries but want something different from what you usually order.
11
Mango Sticky Rice
Thailand does dessert right. Mango sticky rice is the perfect after-dinner treat that's fresh, vibrant, and not overly sweet. Sticky rice is cooked with coconut milk, salt, and sugar, and the freshly peeled slices of mango are served right on top.