These 13 Items on Magnolia Table's Menu Are Worth a Trip to Waco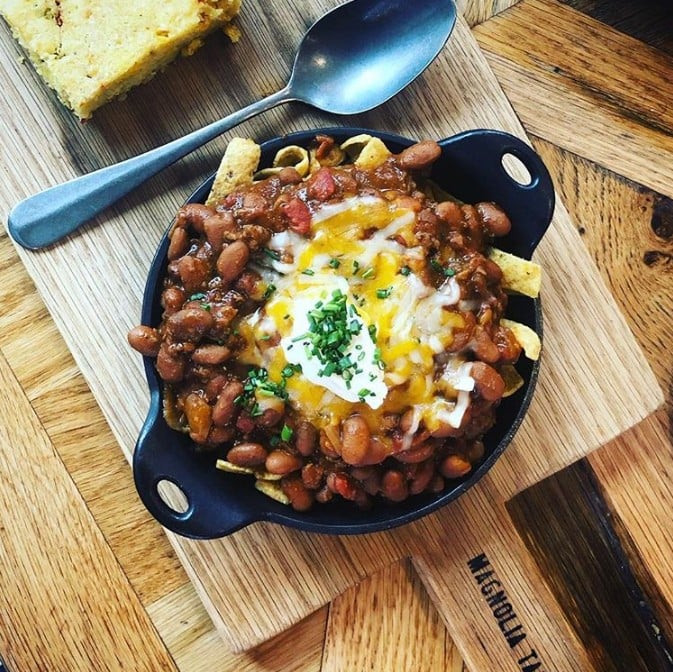 Chip and Joanna Gaines knew what they were doing when they decided to open Magnolia Table. The HGTV superstars and lifestyle gurus created a restaurant that was practically made for foodies (and Instagram). While everything on their menu looks amazing, there are some dishes that have been standout favorites, and it's very easy to see why. From warm, comforting biscuits to sugary treats, the following 13 items from Magnolia Table's menu are ones we just can't get enough of. I wonder if the tater tots and doughnut holes can be shipped directly to me? If not, I'll just have to move to Texas.
01
Peppermint Mocha
For those who like their dessert in a cup, the peppermint mocha is a clear favorite. It's topped with a healthy dash of whipped cream, and people can't get enough.
02
Tater Tots
Everyone loves a good potato, and these tater tots are something else. Elevating the dish from your childhood memories, these bad boys come crispy, warm, and with shaved parmesan.
03
Avocado Toast
Fans of Fixer Upper will remember that Chip was fairly against avocado toast being served, but we're so glad he got outvoted (sorry, Chip). This beautiful treat is flavorful, healthy, and satisfying.
04
Our Favorite Chicken Salad Sandwich
The Our Favorite Chicken Salad Sandwich deserves a spot in the sandwich hall of fame, and if that place doesn't exist, let's make one. The salad includes grape slices and is served on a flaky croissant, so this meal is a sweet and savory love child.
05
French Toast
Light and fluffy, the french toast should not be missed. Make sure to get it with the strawberry butter!
06
Lemon Lavender Doughnut Holes
Floral flavors deserve their time in the dessert spotlight. These lemon lavender doughnut holes are at once tart, sweet, and earthy (and so pretty).
07
Frito Pie
Raise your hand if seeing this picture fills you with memories, because we know it did for us! The Frito pie, with layers of Frito chips and a hearty bean casserole, is as amazing as it looks.
08
Aunt Opal's Banana Pudding
Topped with simple and delicious vanilla wafers, this banana pudding is heaven.
10
Candied Bacon
Whoever thought up candy bacon is an evil genius, and Magnolia Table makes sure to give its customers what they want (hint: it's all of the bacon).
11
Skillet Porridge Oatmeal
Topped with blueberries and toasted pecans, this oatmeal is anything but ordinary. The drizzle of honey finishes the deal.
12
Chip's Ham Sandwich
Chip isn't afraid to be a little cheesy, and his ham sandwich proves it. Served with those tater tots we were telling you about, this is a meal worth having.
13
Farm Eggs Benedict
Rich hollandaise sauce covers the plate, with peppered bacon adding a dash of meaty goodness.