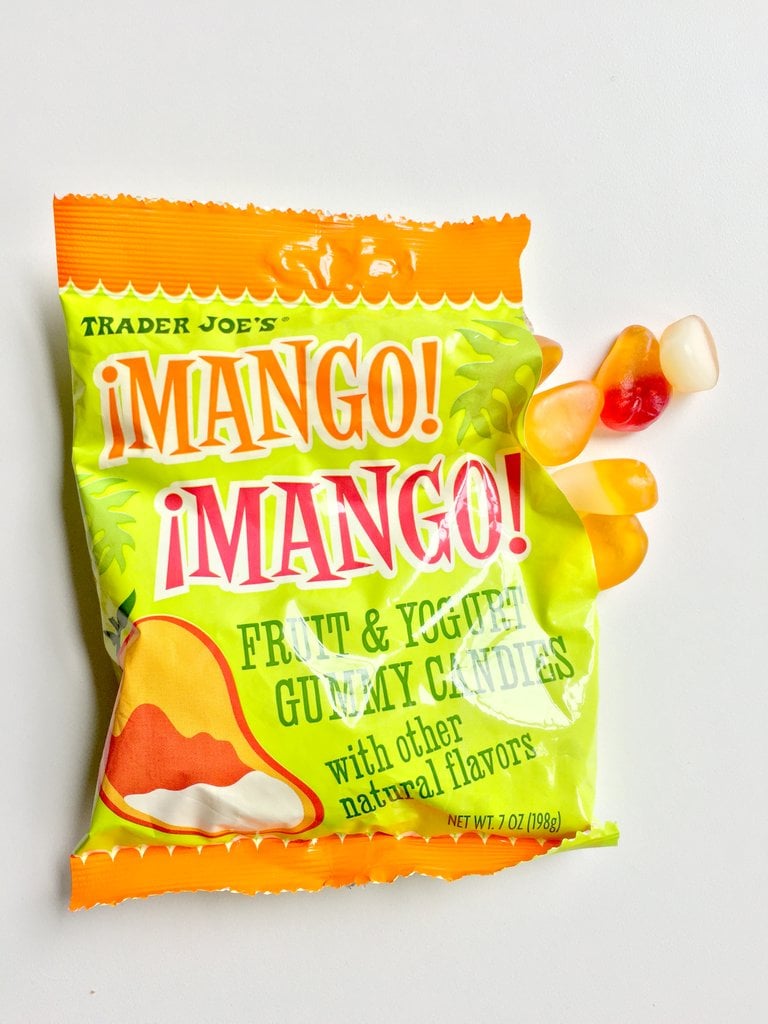 POPSUGAR Photography | Anna Monette Roberts
POPSUGAR Photography | Anna Monette Roberts
If you've been to Trader Joe's lately, you've probably noticed the overwhelming number of mango-flavored snacks throughout the store. Odds are you're not going to try them all, so the kind people here at POPSUGAR Food did it for you. From the (mostly) good to the bad, we've tasted and rated it all so that you know what to pick up and what to pass when you find yourself browsing through mango waffles, mango taffy, and more.
Related:
01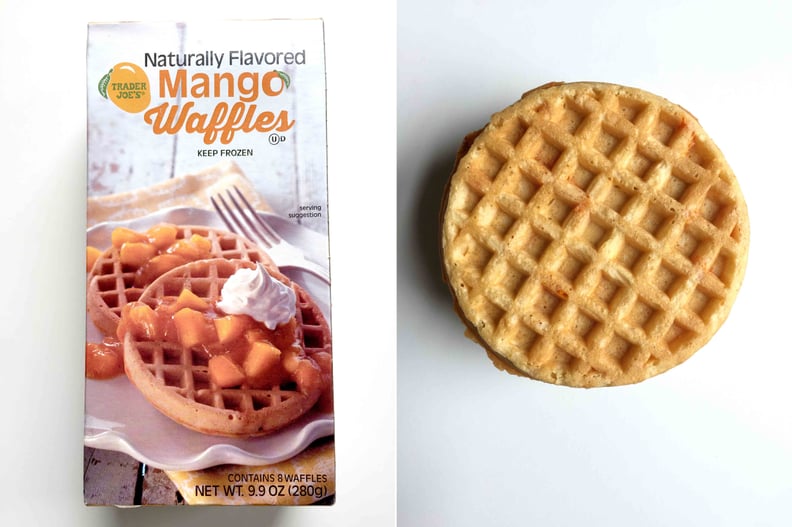 Pick Up: Mango Waffles ($2)
In case you weren't aware, Trader Joe's has some of the best frozen waffles. The naturally flavored mango waffles are Trader Joe's classic waffle (buttery, crispy on the outside, and soft on the inside) with small pieces of mango scattered throughout. They're not too sweet but just sweet enough that they don't even need syrup on top. People were so impressed with the amount of flavor in such an unassuming waffle: "I'm shocked! Running to buy these," one taster wrote.
★★★★★
02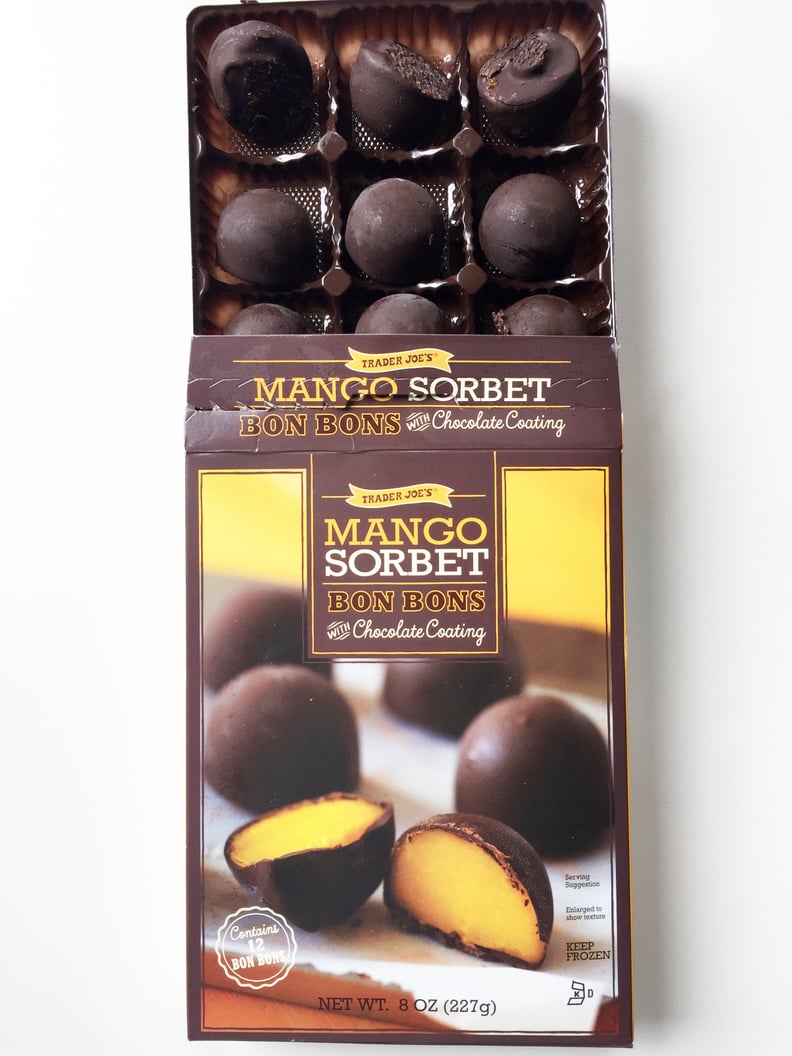 Pick Up: Mango Sorbet Bon Bons With Dark Chocolate Coating ($4)
Do yourself a favor and get these chocolate-covered mango sorbet bon bons. The slight bitterness of the thin dark chocolate coating is the ultimate match for the sweet, cold sorbet center. "The perfect sweet treat with a twist" and "OMG so delicious" are just a couple of our taste testers' thoughts. If you love Trader Joe's Gone Bananas, you're sure to love these too.
★★★★★
03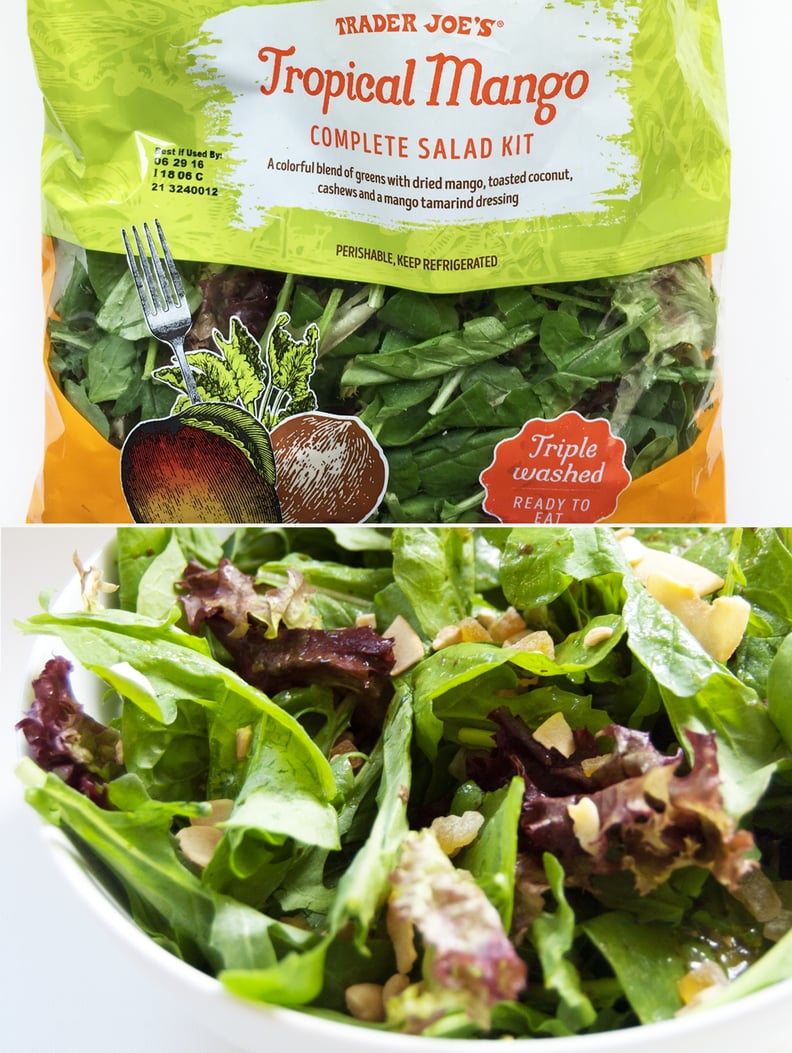 Pick Up: Tropical Mango Salad Kit ($4)
The best part about Trader Joe's Tropical Mango Salad Kit is that the dressing comes in a packet inside the bag, making it a great take-to-work option. The salad is full of dried mango pieces, toasted coconut, and cashews, but the real star is the sweet and savory tamarind-mango dressing.
★★★★
04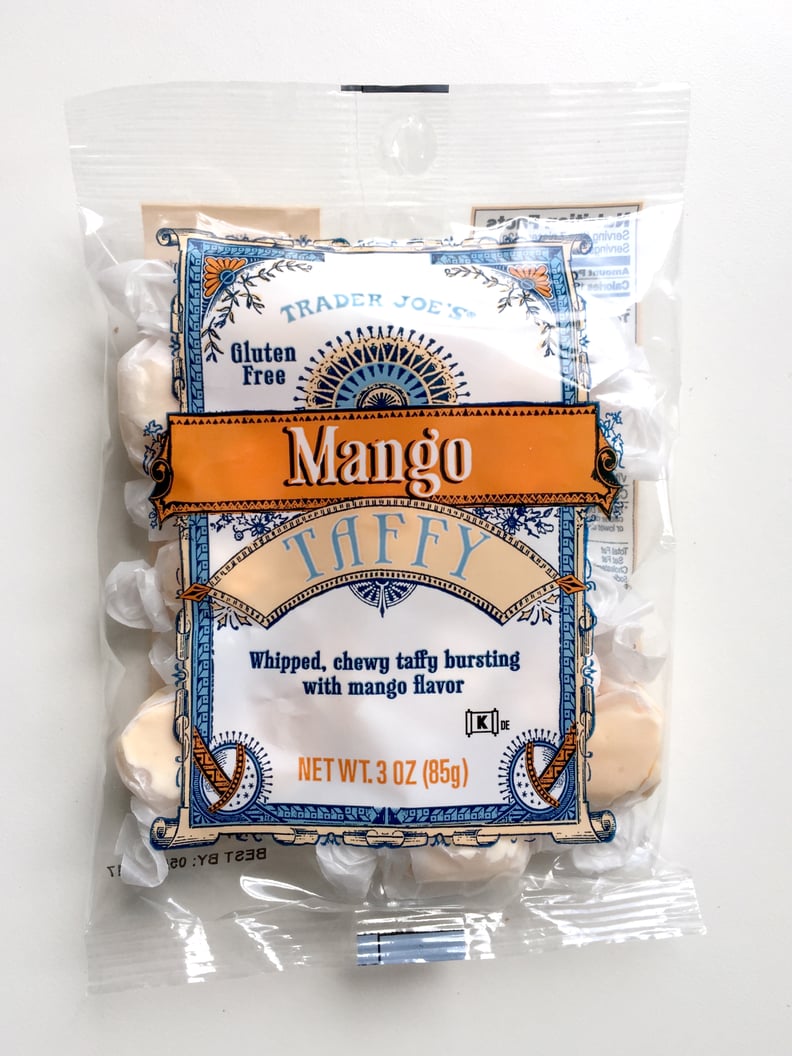 Pick Up: Mango Taffy ($1)
You (obviously) need to be a fan of taffy to enjoy Trader Joe's Mango Taffy, but if you are, you'll love this chewy-salty-sweet combo. "Very impressed," "not a huge taffy fan but this has great flavor," and "I'm a diabetic and I would eat the whole bag" are a few gems from the comment section.
★★★★☆
05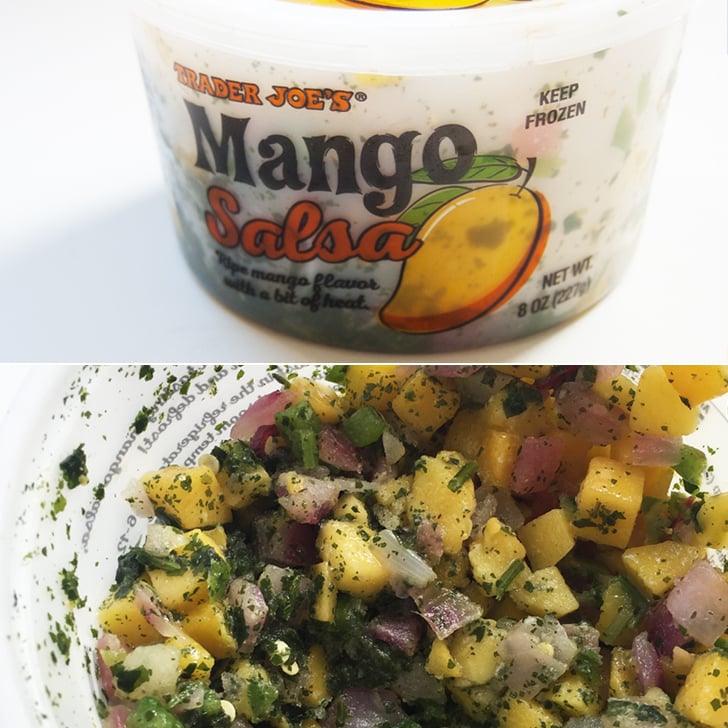 Pick Up: Mango Salsa ($3)
We were surprised that this mango salsa wasn't found next to the other salsas at Trader Joe's. It's actually in the frozen aisle, and you have to defrost it for about six hours at room temperature before it's ready to eat, but it's worth the wait. The sweet diced mango combined with jalapeño, cilantro, and red onion makes it a seriously addictive dip.
★★★★☆
06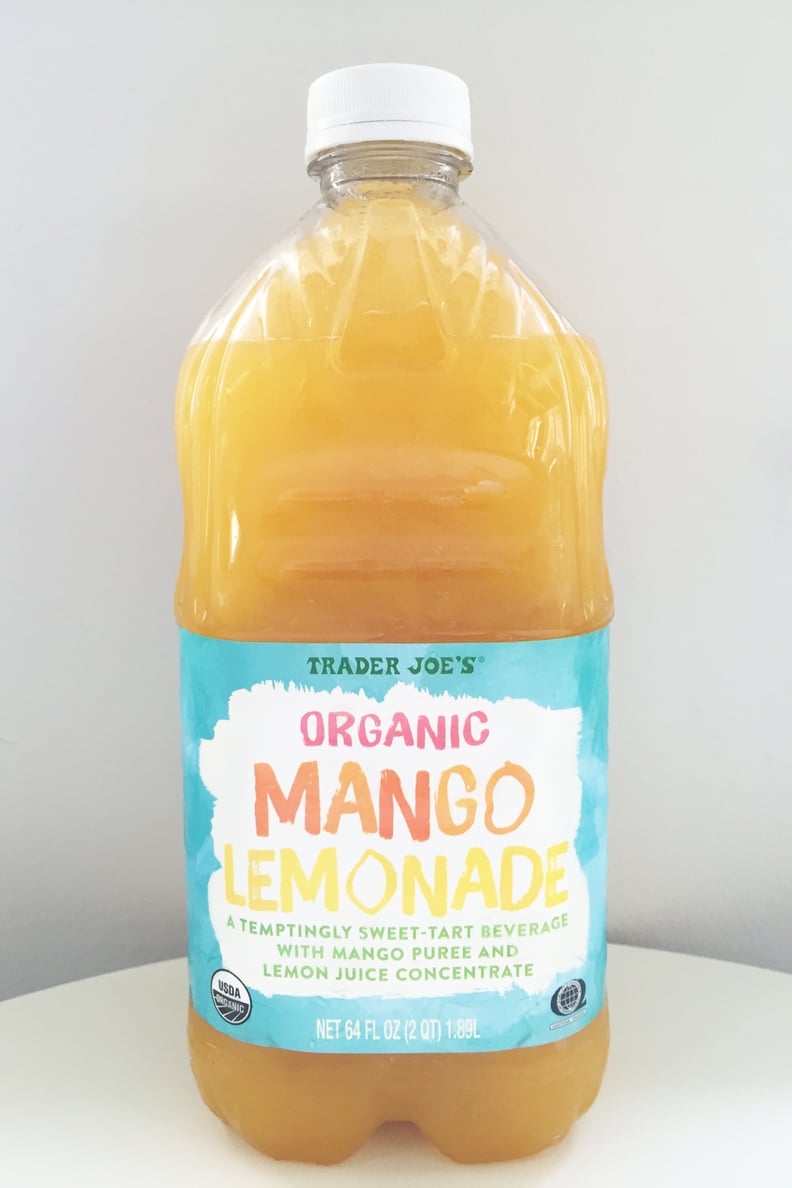 Pick Up: Organic Mango Lemonade ($4)
This organic mango lemonade will take your taste buds on a vacation. While this tropical beverage is delicious on its own, we see ourselves using it as a cocktail mixer in our near future.
★★★★☆
07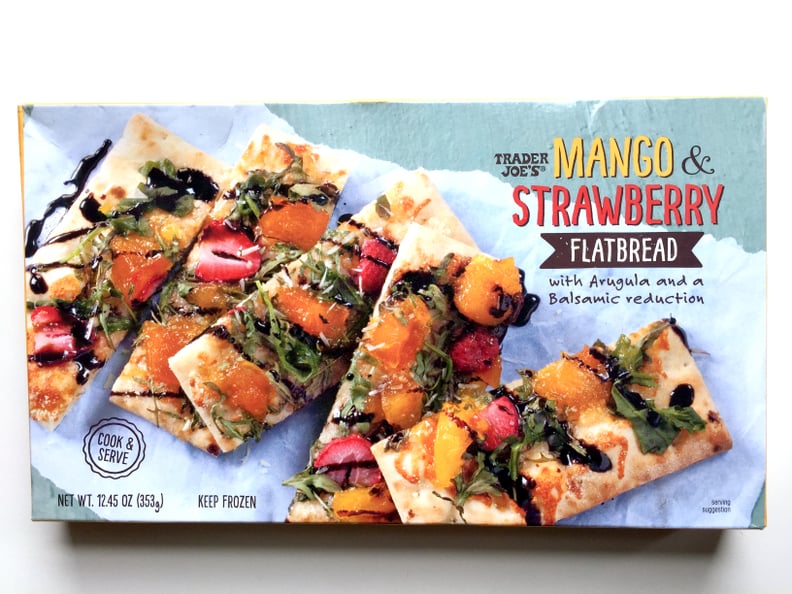 Pick Up: Mango Strawberry Arugula Flatbread ($4)
Upon first glance, most of our tasters were not too excited to try this perplexing flatbread (mango plus mozzarella cheese?). But once it was crisped up in the oven and topped with the balsamic glaze, we were taken by surprise. The flavors really do work together, and it helps that the crust is good quality and provides a tasty base. The sweetness is a little off-putting if you much prefer savory pizza, but overall this is a good option for an appetizer to share with a group.
★★★★☆
08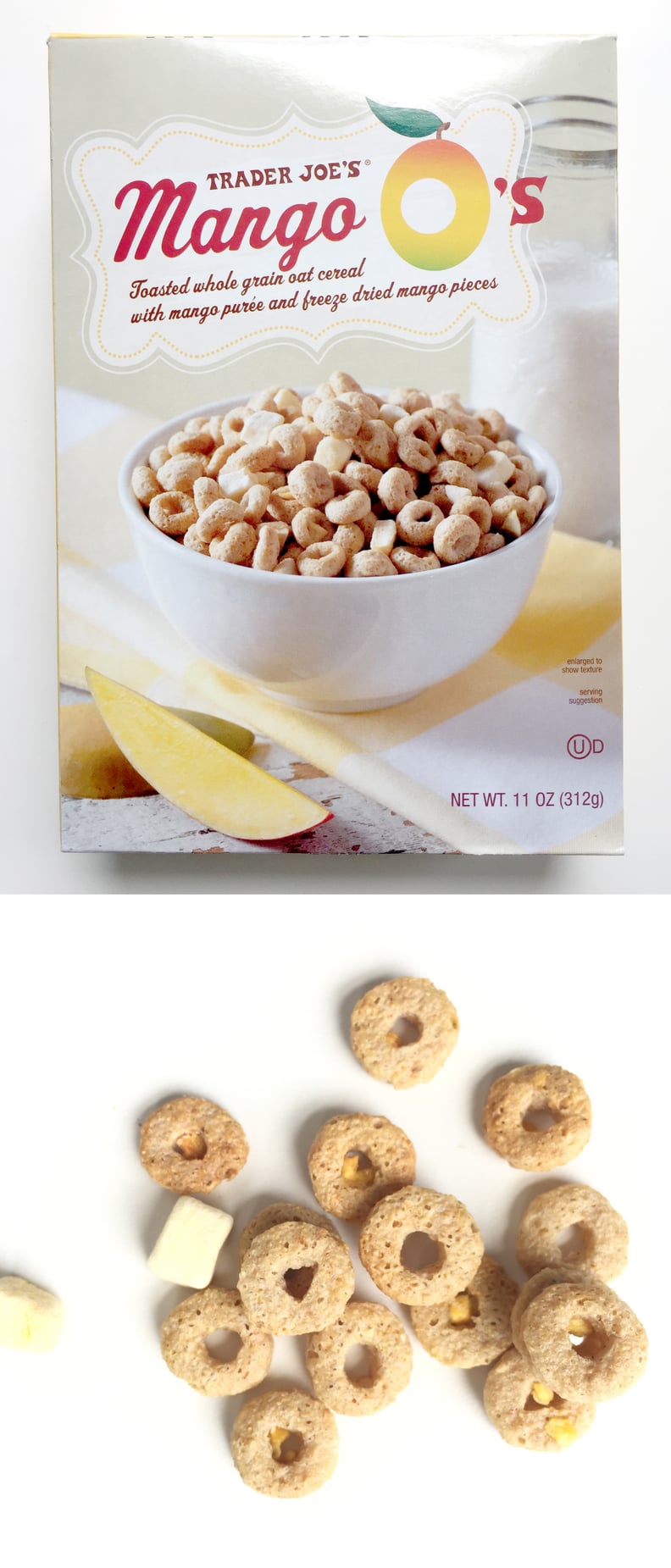 Pick Up: Mango O's ($3)
If you've ever had Trader Joe's O's (basically the store's version of Cheerios), you know they're not exactly worthy of praise. But the Mango O's are another story. The cereal is sweetened with both mango puree and freeze-dried mango chunks, which takes the level of excitement up several notches. Our tasters approve of these for snacking or breakfast. "Pour some milk on these and say 'bye' to Lucky Charms," one wrote.
★★★☆
09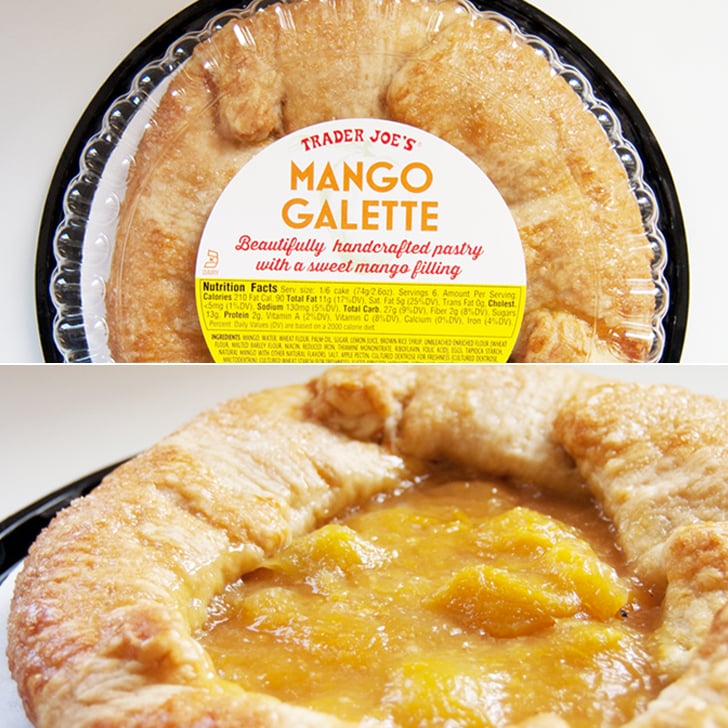 Pick Up: Mango Galette ($6)
No, this doesn't taste quite like a scratch-made galette, but it's worth a buy if you need to pick up a dessert before a party. If you really love mango, you're sure to be into it, but if that's not your favorite fruit you might find the filling overpowering. However, the flaky and buttery crust gets bonus points.
★★★☆
10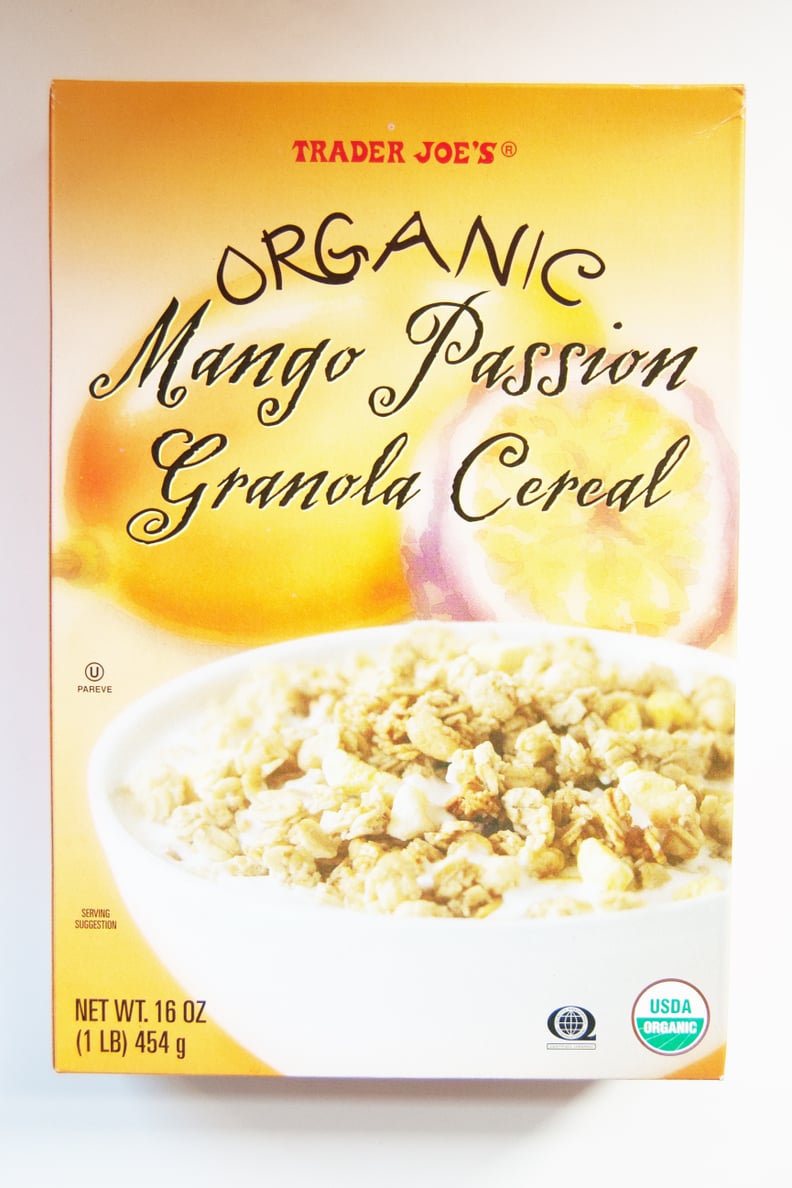 Pick Up: Organic Mango Passion Granola Cereal ($4)
Like the Trader Joe's Mango O's, this granola is a crunchy, slightly sweet breakfast treat with just the right amount of mango flavor and freeze-dried mango chunks throughout. Use this as a topping for yogurt or eat it on its own as an afternoon snack.
★★★☆
11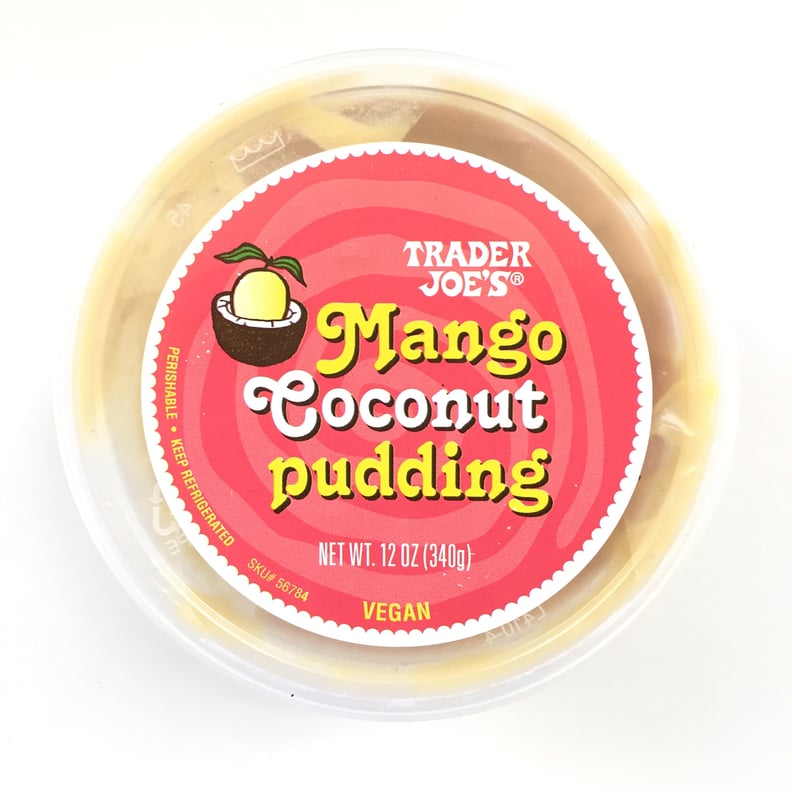 Pick Up: Mango Coconut Pudding ($3)
Trader Joe's Mango Coconut Pudding gets bonus points for having mango as the first ingredient. The vegan pudding is creamy thanks to its coconut-milk base, but there is a significant amount of added sugar (18 grams per half-cup serving), making it sweet enough to be a dessert. It's not everyone's favorite, but you'll be into if if you're a hardcore coconut fan. "Love the creamy coconut flavor, and the consistency, although off-putting at first, seems like it's just blended mangoes. Tastes very natural," one fan wrote.
★★★☆
12
Pick Up: Mango Coconut Caramel Corn ($3)
It's for serious sweets-lovers only and there are mixed reviews for sure, but the Trader Joe's Mango Coconut Caramel Corn is a "yes." Imagine if caramel corn got dipped in Malibu Caribbean Rum and was also accidentally sprayed with a tiny bit of sunscreen. It sounds weird, but if you love intense tropical flavors, this is the summertime snack for you.
★★★☆
13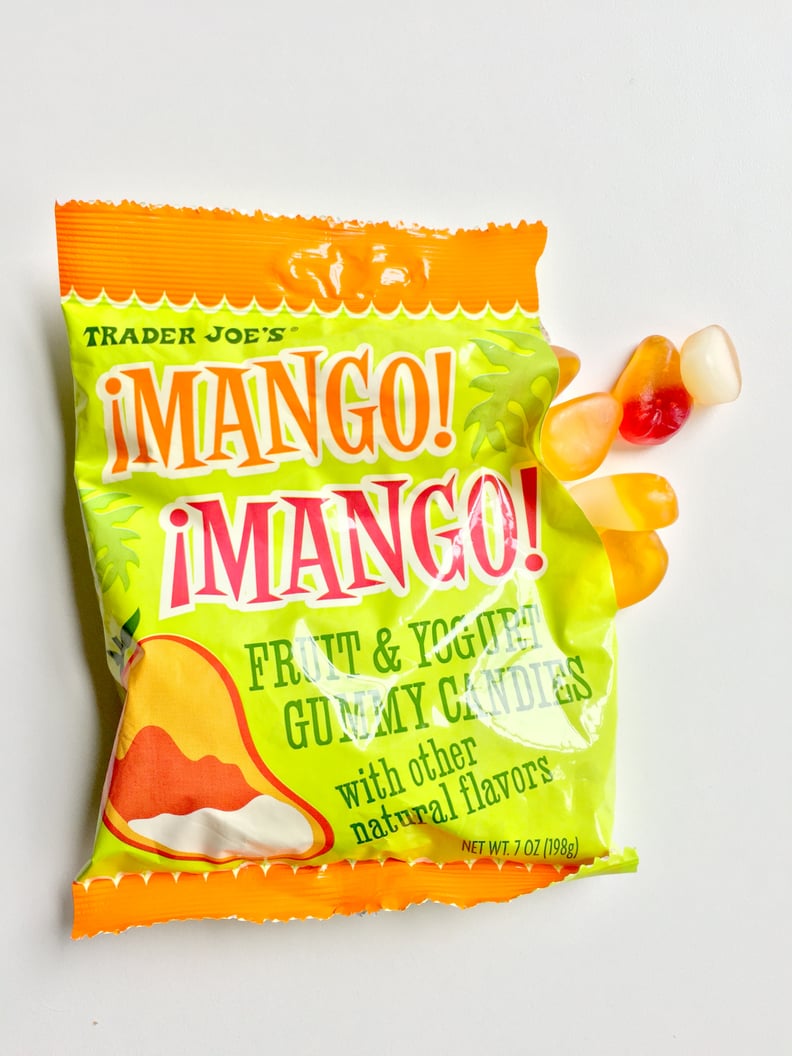 Pick Up: Mango Fruit and Yogurt Gummy Candies ($2)
OK, so these aren't going to be the best gummy candies you've ever had by any means, but they're worth a try if you love both gummies and mango. The flavor is spot on while the texture is a bit too chewy, but overall, these were met with approval.
★★★☆☆
14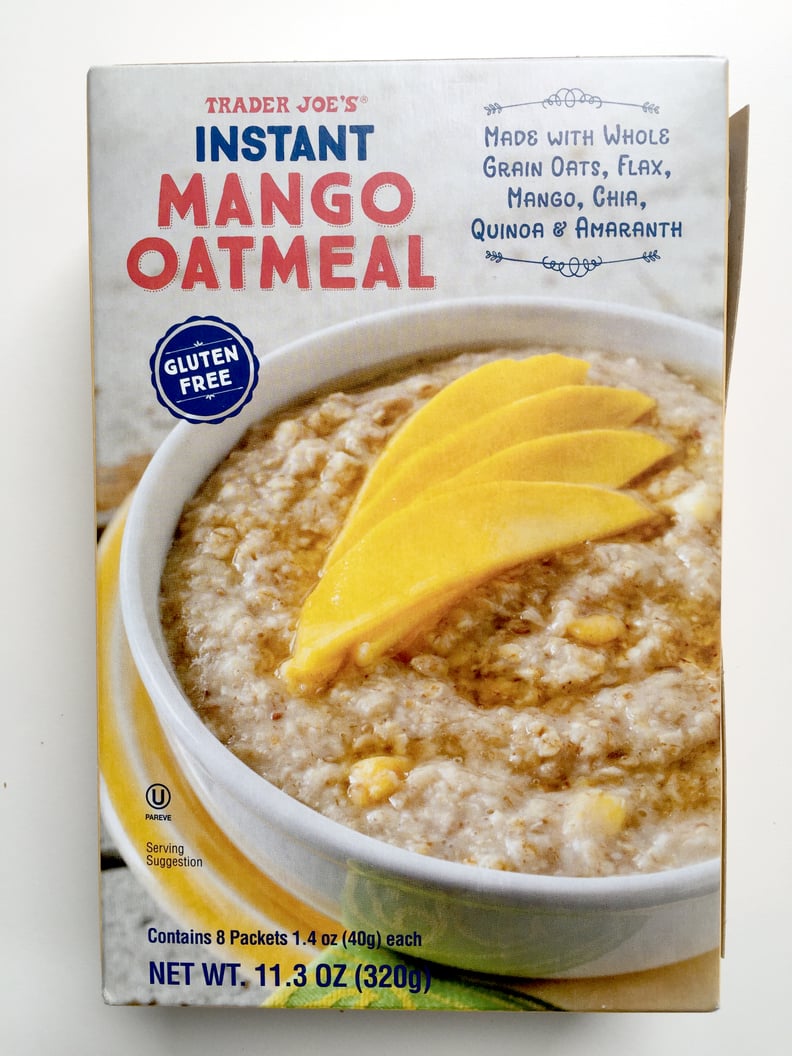 Pick Up: Instant Mango Oatmeal ($3)
Trader Joe's Instant Mango Oatmeal is pretty good for instant oats. It's a little on the sweet side even without added sugar (nine grams of sugar per packet), but the bits of mango throughout the oats offer a nice texture and pop of sweetness that would pair well with your favorite oatmeal toppings.
★★★☆☆
15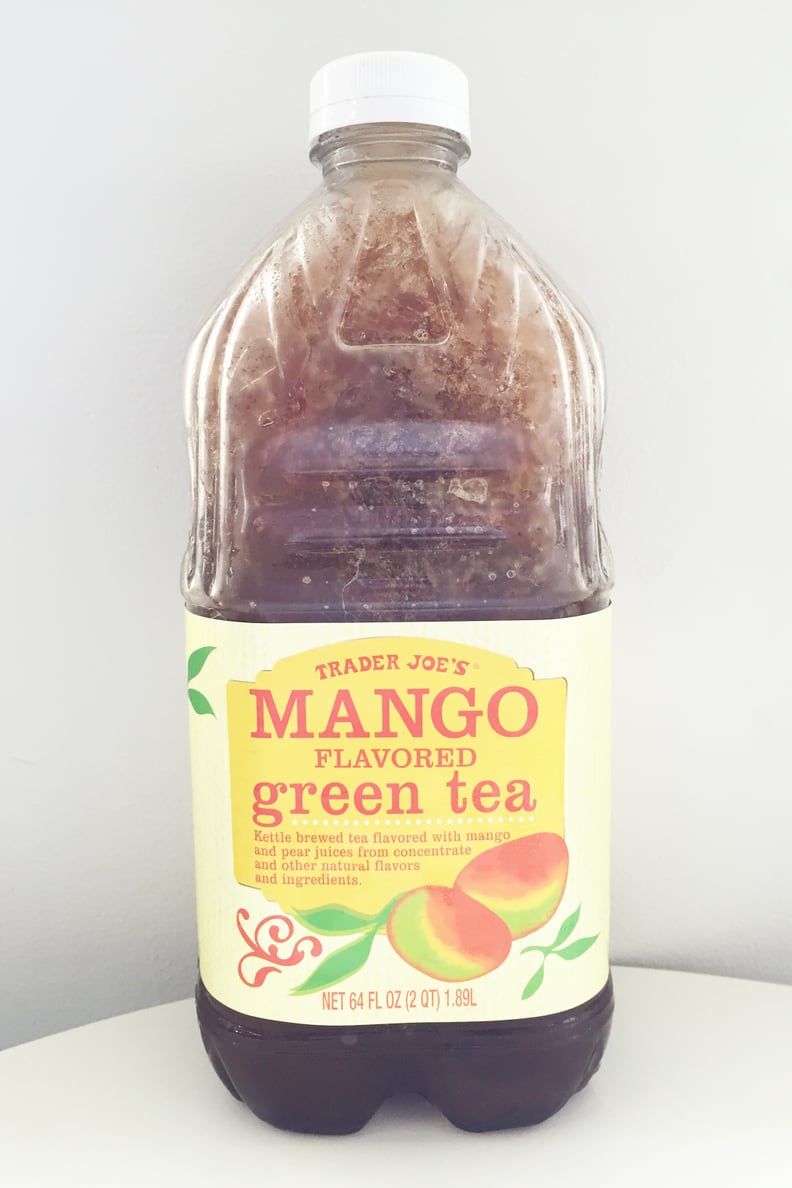 Pick Up: Mango Flavored Green Tea ($3)
Sweet-tea-lovers will want to give Trader Joe's Mango Flavored Green Tea a try. It's kettle-brewed green tea that's sweetened with both mango and pear juices, giving it less of a tropical flavor and more of a bright, refreshingly fruity flavor to cool you down on a hot day.
★★★☆☆
16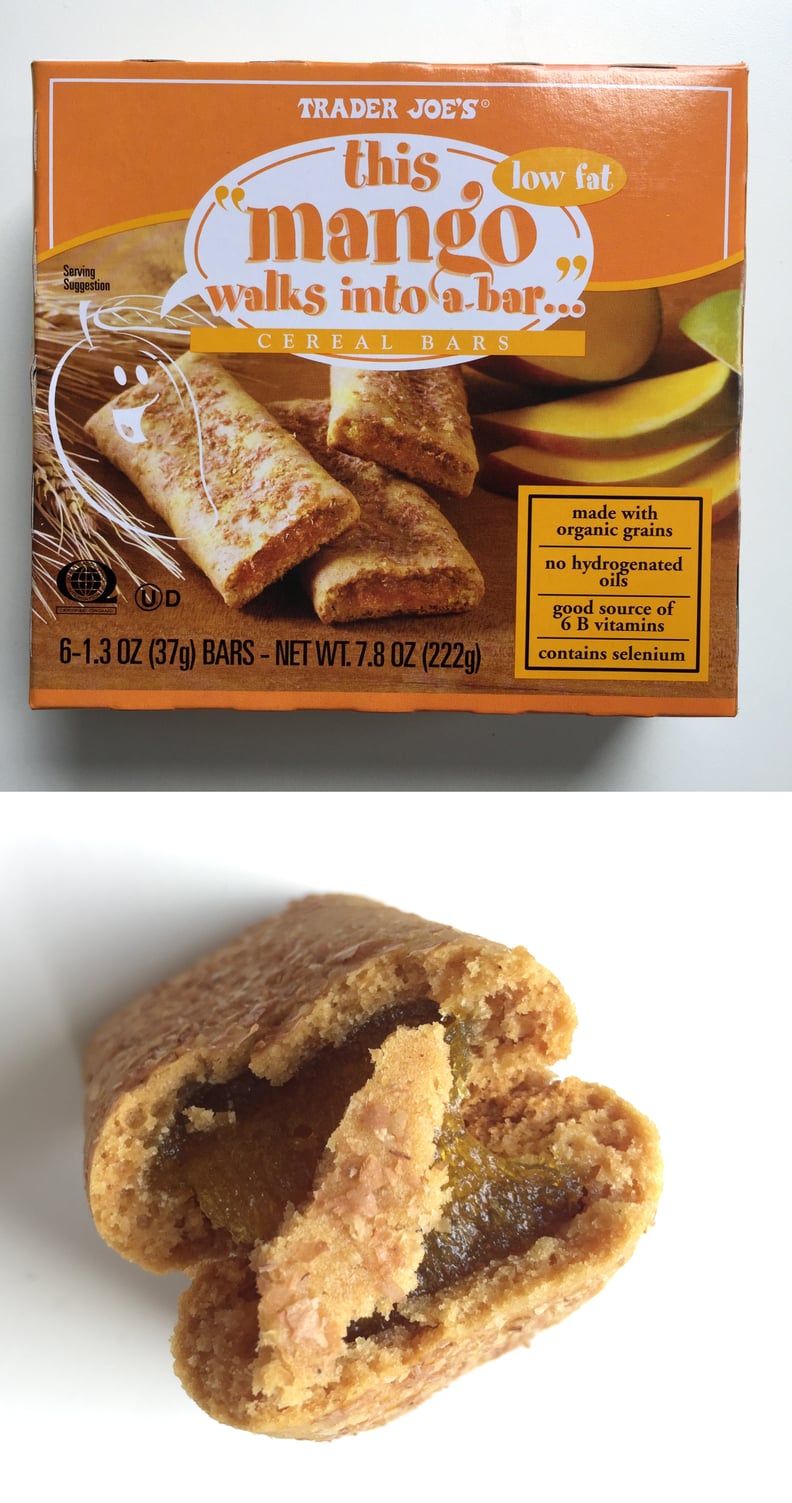 Pass: Mango Cereal Bars ($2)
Not that cereal bars are ever the most exciting of breakfasts, but these don't even deserve a place in your shopping cart. The best way to describe them is just "meh."
★★☆☆
17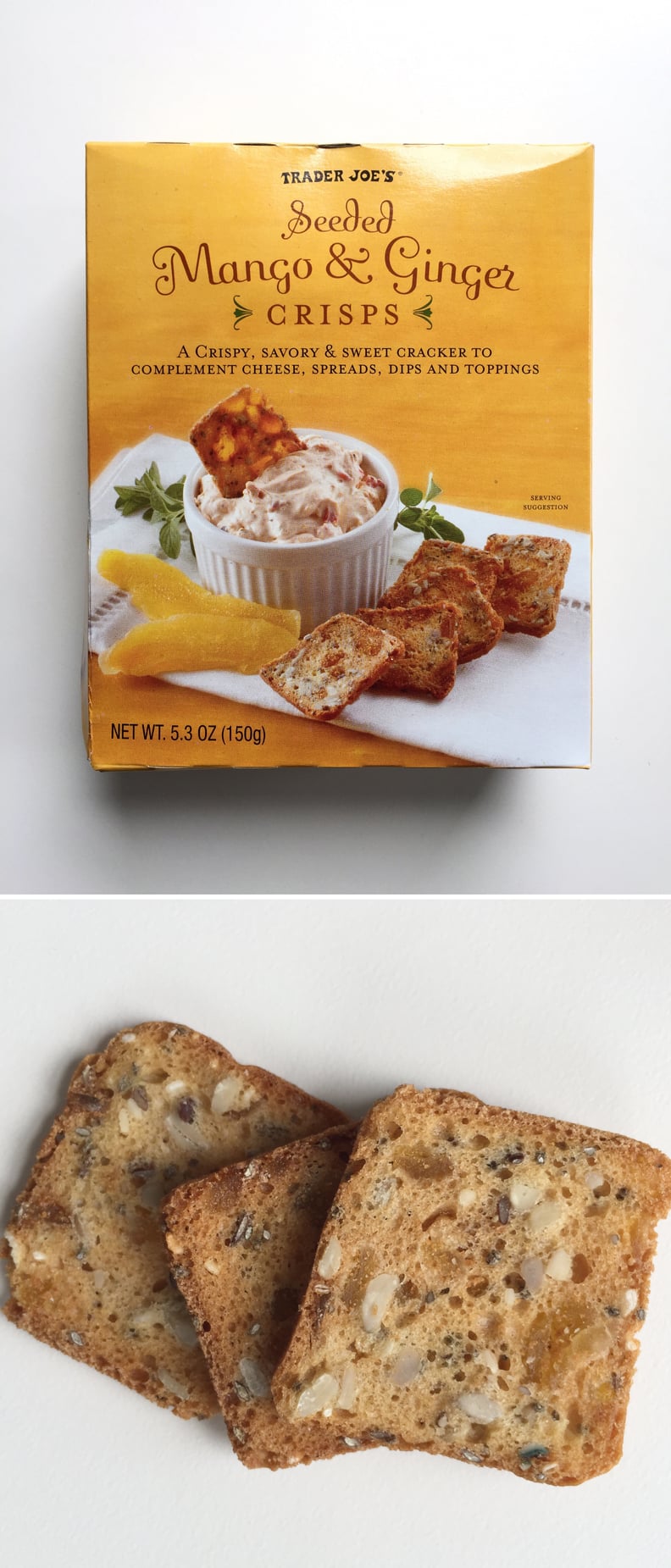 Pass: Mango and Ginger Crisps ($4)
You know Trader Joe's Fig and Olive Crisps? These are the exact same cracker but filled with bits of mango and ginger — way too much ginger, actually. While some tasters liked these, most felt they were either just OK or entirely bad. The consensus is the crackers definitely need an accompanying dip or spread, like brie cheese, to aid in flavor.
★★☆☆☆
18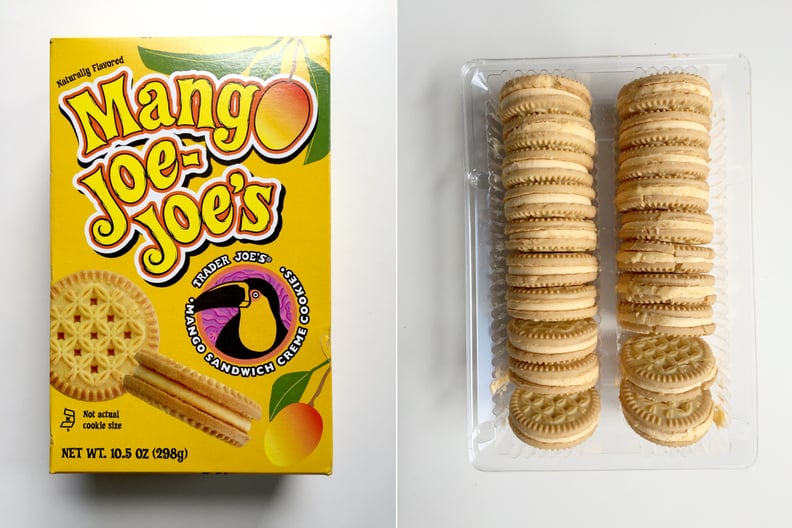 Pass: Mango Joe Joe's ($3)
Whoa. These are a huge no. If you're like most of us, you could eat an entire row of Trader Joe's regular Joe Joe's, but unless you like the idea of eating sunscreen, you'll want to steer clear of the mango flavor. The cookies have a seriously unpleasant chemical aftertaste that's truly reminiscent of sunscreen.
★★☆☆☆
19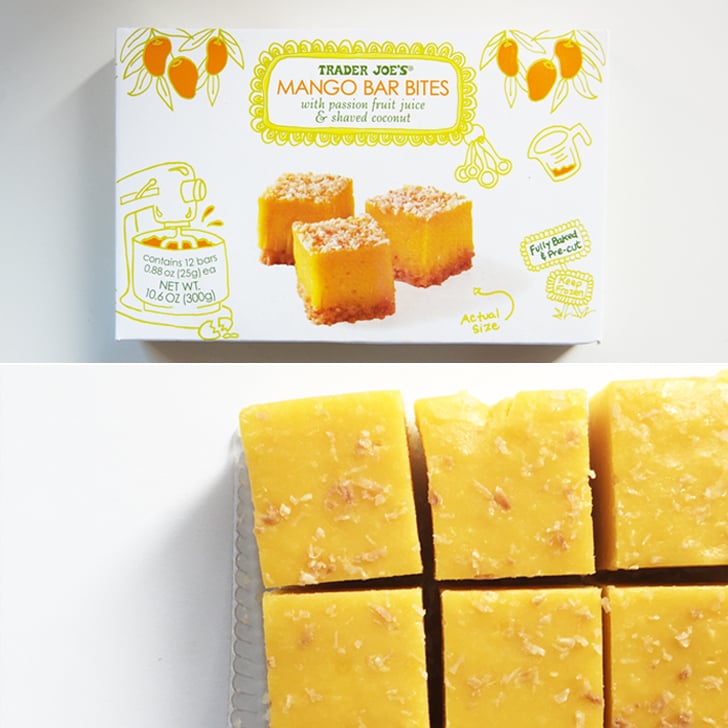 Pass: Mango Bar Bites ($4)
Trader Joe's Mango Bar Bites are a frozen dessert you can definitely do without. Defrosting them leaves them at an oddly soggy state, and the soft mango filling doesn't have the most pleasant consistency or flavor.
★☆☆☆☆