All the Boozy Popsicle Brands You'll Want to Stock Your Freezer With This Summer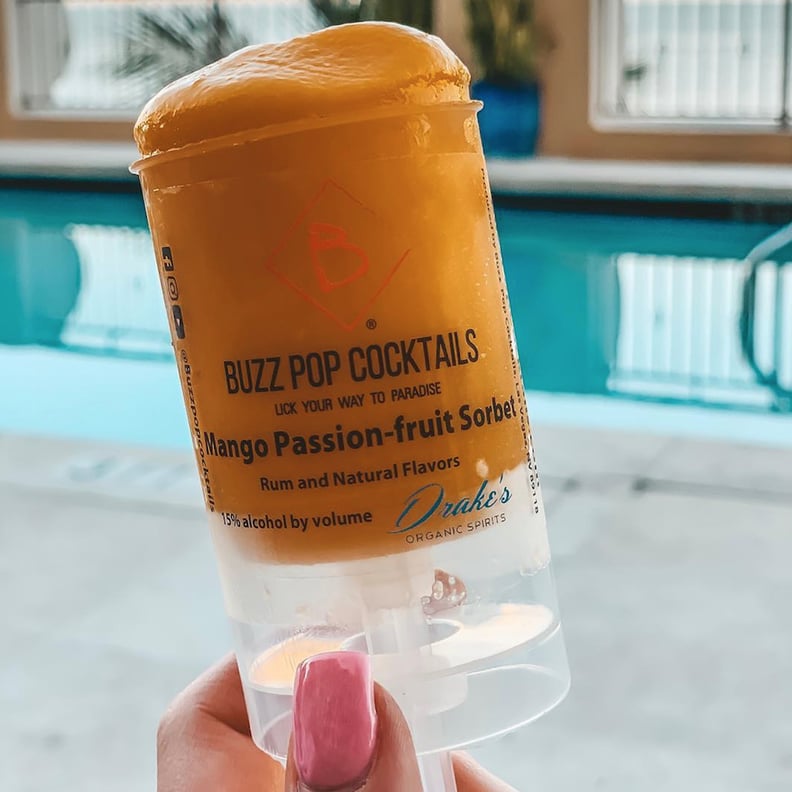 Remember when we only sipped cocktails and didn't eat them in the form of boozy popsicles? How old-fashioned of us. Now, we can scoop alcoholic sorbet, lick vodka-infused ice pops, and eat adult versions of the Otter Pops we had as kids. It's pretty easy to make your own alcoholic popsicles, but thankfully, there are companies out there that have done the work for us. Whether your preference is liquor-enhanced ice cream or wine-flavored popsicles, these brands have you covered. Ahead, find out where to buy a variety of boozy frozen treats, and stock your freezer this Summer.
Claffey's Frozen Cocktails
What they are: Cocktails in popsicle form with 6 percent ABV. These portable frozen drinks come in flavors like Gala Apple, Cherry Lips, and Purple Party.
Where to buy: Find Claffey's Frozen Cocktails online or at Costco.
Slim Chillers Skinny Freezers
Buzz Pop Cocktails
What they are: Remember those sorbet push pops from your childhood? Take those and add alcohol, and you have Buzz Pop Cocktails. These delightful treats are made with Italian sorbet and liquor, and they're best consumed poolside. Take your pick from refreshing flavors like Mango Passion Fruit, Pink Paradise Sorbet, and Moscow Mule Sorbet. (Oh, and each has a 15 percent ABV, so lick slowly).
Where to buy: You won't find Buzz Pop Cocktails in retail stores, but they are available online and at a variety of destinations including Disney Springs. The Florida-based company also does events in the Southeast.
POPS Boozy Popsicles
What they are: POPS are yet another Otter Pop-like frozen alcoholic popsicle, and the packaging is so cute. Frosé, Champagne, and Watermelon Martini, anyone?
Where to buy: Sadly, the England-based POPS are only available in the UK and Melbourne at Whole Foods, Tesco, and a few other stores.
POPS Boozy Ice Cream
POPS also makes alcoholic ice cream! It's dairy-free sorbet that's low in alcohol and made in delicious flavors like Gin & Lemon, Espresso Martini, and Classic Amaretto. Like the ice pops, it's only available in the UK.
Tipsy Scoop Ice Cream
What it is: Fear not, because there is boozy ice cream available in the US in the form of Tipsy Scoop. It first rose to popularity in 2017 in New York thanks to its spiked takes on classic flavors like mint chocolate chip made with chocolate liqueur and Vanilla Bean Bourbon.
Where to buy: There are scoop shop locations in NYC, Myrtle Beach, and Las Vegas, and Tipsy Scoop also sells pints in some stores across the East Coast. Otherwise, you can buy online thanks to Tipsy Scoop's nationwide shipping.
FrutaPOP Alcoholic Poptails
What they are: FrutaPOP offers alcoholic ice pops with no added sugars, syrups, or dyes. The creations are dubbed "poptails" and come in lots of great flavors: Guava Cosmo, Watermelon Lemonade, Sparkling Pear Prosecco, and more.
Where to buy: Most of the flavors and variety packs are available to shop online from FrutaPOP.
Pop Fusion Cocktail Popsicles