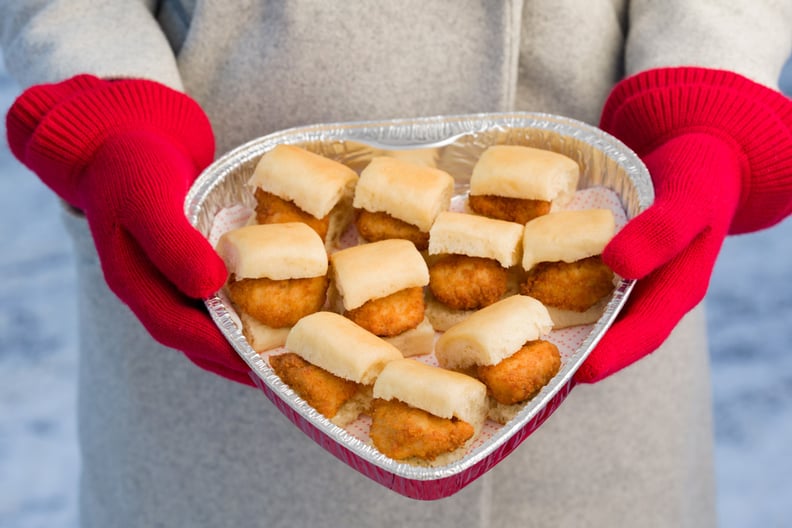 Photo courtesy: Chick-Fil-A
Photo courtesy: Chick-Fil-A
Let's give Chick-Fil-A a round of applause for not only understanding our love language *cough food cough* but our taste buds as well. The fast-food chain is bringing back its heart-shaped Valentine's Day trays for the fourth year in a row, and we couldn't be more thrilled to report the news. Instead of flowers or a box of chocolates this Valentine's Day, customers can show their loved ones how much they mean to them in a different way; with heart-shaped boxes of nuggets, chicken minis, cookies, and chocolate fudge brownie halves. Can you think of a better way to say "I love you?"
How Do I Purchase Chick-Fil-A's Valentine's Day Tray?
According to a press release, participating Chick-Fil-A locations are selling 30-count Chick-fil-A nuggets, 10-count Chick-n-Minis, 6-count Chocolate Chunk Cookies, or 12 Chocolate Fudge Brown halves in silver or red heart-shaped containers starting Monday, Jan. 31. Availability and pricing for each box will vary by location, but you can check the Chick-Fil-A app or contact your local restaurant to confirm availability. If you don't want to deal with the crowds of people Chick-Fil-A attracts, you can get your special Valentine's Day tray delivered through the Chick-Fail-A app. Happy munching, lovers.