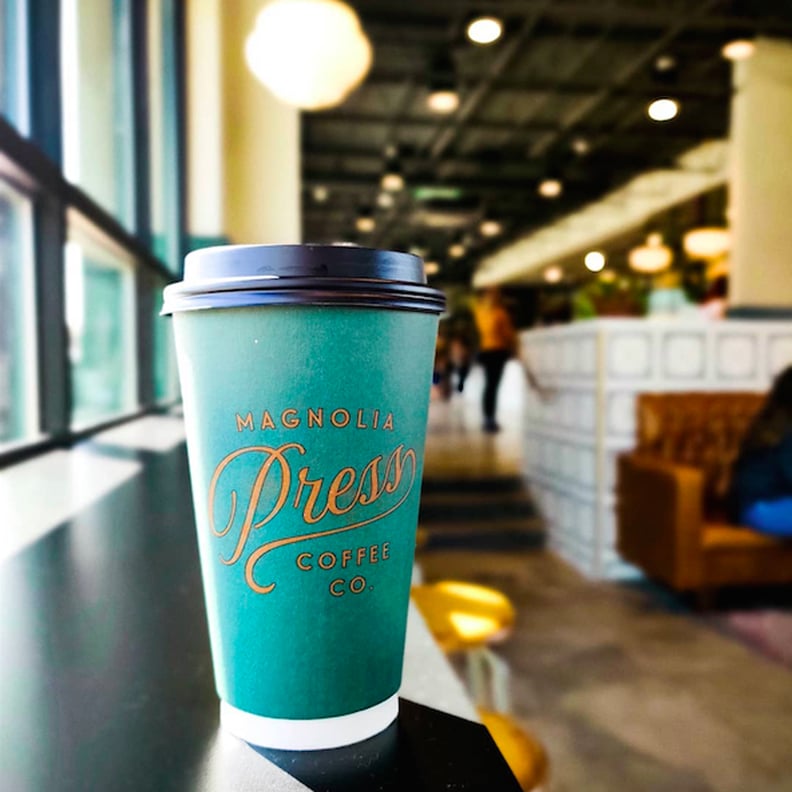 Chip and Joanna Gaines continue to give their fans what they want: decor inspiration, their signature aesthetic, and, in this case, caffeine. After the couple announced earlier this year they'd be opening a coffee shop in Waco, TX, Magnolia Press is officially open for business!
"A spot to slow down, to take it all in, and to simply savor the moment."
Joanna explained the inspiration behind the name in a blog post: "When our team brainstormed on the name we kept coming back to this idea of a french press and the slower (but very rewarding) process of making a rich, good cup of coffee." She went on to share how Magnolia Press will maintain a sense of "familiarity" with long communal tables and big leather chairs that just suck you in. Joanna added, "It felt symbolic for what we hope people find here with us — a spot to slow down, to take it all in, and to simply savor the moment."
The charming coffee shop features indoor and outdoor seating, as well as a convenient to-go window. (There will, of course, be pastries, in addition to coffee and tea.) For anyone interested in making arrangements, it's located at 418 S. Eighth St. — around the corner from the famously repurposed silos.
Magnolia Press joins the many other businesses the former Fixer Upper hosts have opened in the town. In addition to the Magnolia Market home store, Chip and Joanna have also opened the Silos Baking Co., known for its rich cupcakes, as well as the Magnolia Table sit-down restaurant, which offers a hearty menu and breakfast all day. Browse pictures of their latest venture ahead.