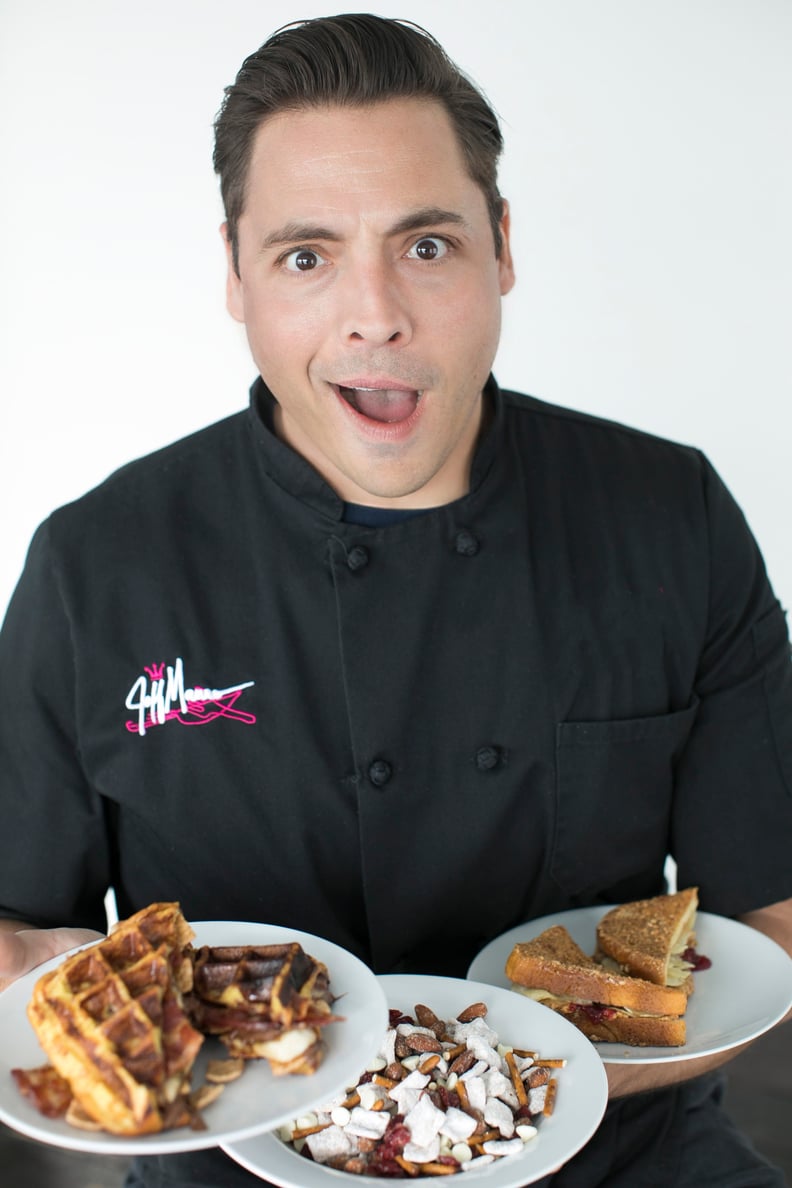 Maria Ponce
Maria Ponce
If anyone can come up with ways to think outside of the box when it comes to cereal, it's Jeff Mauro. The Food Network star and The Kitchen cohost has teamed up with Cinnamon Toast Crunch to create inventive recipes using the nostalgic breakfast staple from your childhood, and POPSUGAR caught up with the chef to get the scoop about his favorite cereal hacks. And yes, staying true to his Sandwich King title, a sandwich is involved.
Jeff made a Cinnamon Toast Crunch PB&J; a chocolate-, bacon-, and banana-stuffed Cinnamon "French Toast" Crunch; and a sweet and salty Cinnamon Toast Crunch Road Mix. "There are two things that create nostalgia in any person's mind: cereal and the summertime road trip," Jeff said of his inspiration behind the recipes. "We used to drive to the Jersey Shore from Chicago every Summer to visit our cousins, and for us it was never about the destination. It was always about that 18-hour journey and, of course, all the snacks that my parents threw back there to us to keep us occupied."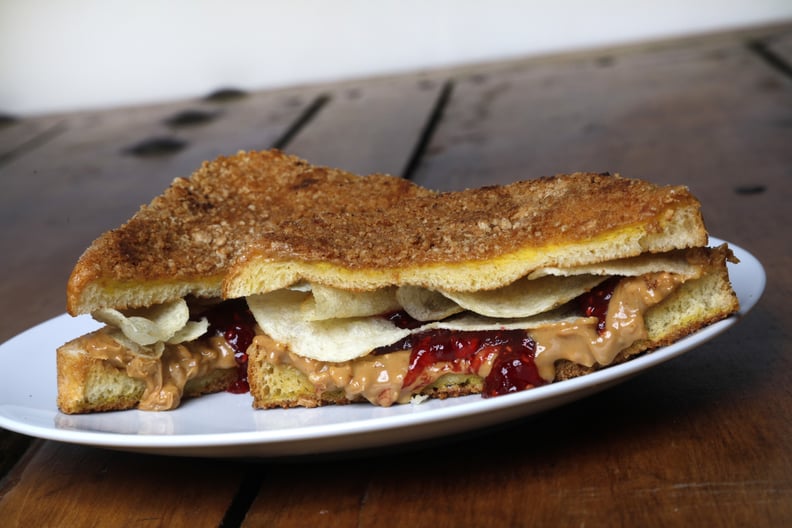 Besides the snack mix for summertime road trips, Jeff said the one recipe everyone should try at home is hands down the PB&J, pictured above. "It's nostalgic. It's crazy because it's a coated, fried PB&J stuffed with a bunch of good stuff. Once you take a bite, it's the greatest peanut butter and jelly sandwich you've ever had."
Of course, it wouldn't be a chat with Jeff without some serious sandwich investigation. Jeff revealed his opinion on the best sandwich for Summer, saying, "You can't go wrong with a good steak sandwich. Let's say you've got a family of four. Two rib-eyes could make at least six sandwiches. Grill it perfectly, let it rest, thinly slice it, serve it on a fresh baguette with a little dressed arugula, a little horseradish cream sauce. Something simple and bright — not a big, overstuffed sandwich."
Last year, Jeff told POPSUGAR the one thing you should never add to a sandwich: mealy tomatoes. So we needed to know the one thing you should always add to a sandwich, too. Jeff responded confidently by saying, "Good bread — fresh bread. And if it's not fresh bread, treat it right: butter and griddle it so you reactivate it." The quality of the bread is just as important as the quality of what you're putting in it. "You could have the most hand-ground wagyu burger on a crappy bun, and it's gonna taste like a hockey puck no matter what."