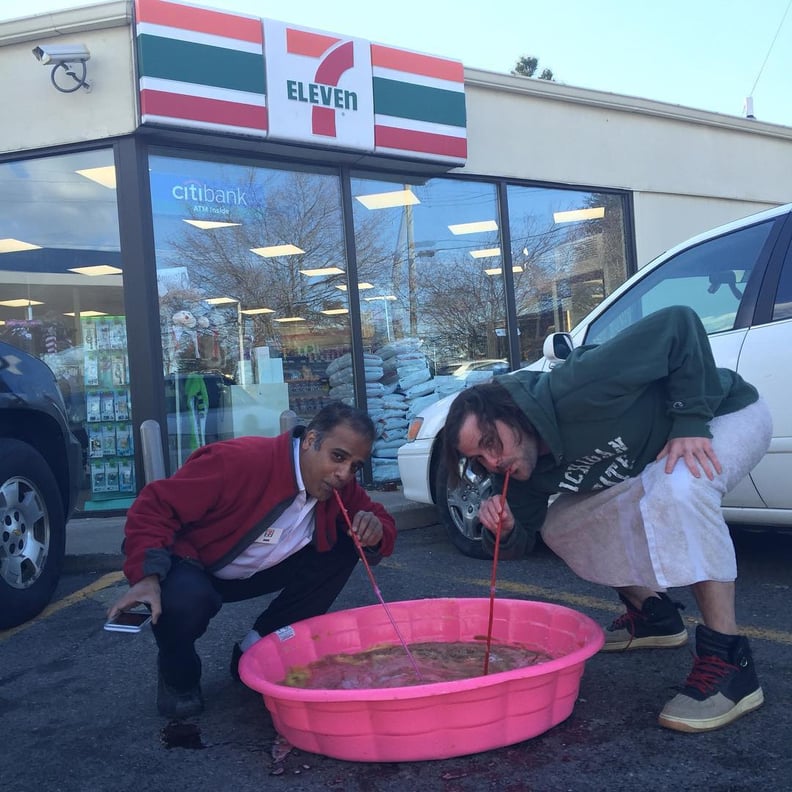 Instagram | channel955
If you ever begin to doubt the ingenuity and determination of the human race, simply take a minute to scroll through the #BYOCupDay hashtag on Instagram . . . because when it comes to cheap 7-Eleven Slurpees, there's no limit to mankind's creative genius. The much-anticipated annual event, happening today from 11 a.m. to 7 p.m., allows customers to bring their own container to fill up with Slurpee for the meager price of $1.50. Suffice it to say that people don't take such an offer lightly!
Convenience stores, take note: if you tell people they can fill their own container with frozen deliciousness for a flat price, they will push the limits. Check out some of the most creative ways that people took advantage of BYO Cup Day, and take notes for your own Slurpee-fueled 7-Eleven adventure.
Some people used trash cans. (Hopefully they washed them thoroughly!)
Others got creative with rice cookers.
Slurpee fans were not above using sand pails for their drink of choice.
Many used their favorite blender.
This guy used an empty laundry detergent bottle. Seriously.
She chose to fill her Halloween bucket.
Some opted for any massive receptacle they could find.
This person Slurpee-d out of a hockey trophy.
Some duos shared from the same "cup," while others brought individual Slurpee containers.
This girl used an entire vase.
While this one chose to recycle a retired handle of booze.
A sturdy handle is important when filling up on Slurpee.
Some people weren't above using their favorite snow sled.
While some turned it into art.
These guys drank from an actual kiddie pool.
You know those multipurpose containers moms always have around? Use one.
This guy grabbed a gallon-sized bag for his frozen treat.
Fishbowls also make acceptable Slurpee containers.
The squad that Slurpees together stays together.
This girl went the stockpot route.
Empty iced tea containers also work.
Some people simply used huge bowls.
And you can't forget watering cans. Now we call them "Slurpee-ing cans."
Just in case your Slurpee needs extra blending . . .
Slurpees in a watermelon are so much prettier than not.
Have a big-ass water bottle? Fill it on up.
Grab that kiddie pool and just go to town.
Bring Your Own Cup Day makes the perfect date.