3 Quick Meals For Busy Weeknights the Whole Family Will Love
POPSUGAR Photography | Steve Eiden
POPSUGAR Photography | Steve Eiden
When it comes to feeding the family on a busy weeknight, the key to success depends on what's already in the fridge. Keeping the kitchen stocked with staples to quickly toss together for a balanced plate of whole grains, protein, veggies, fruit, and nutritious fat is the key to creating winning recipes for happy tummies. Here are three delicious meals that cleverly utilize family-favorite staples from your fridge, freezer, and pantry.
Hawaiian Pizza and Side Greek Salad
It's pizza night! Adding toppings to a frozen pizza leaves the creativity to the cook, so try experimenting with different flavors. Give your standard frozen cheese pizza an upgrade with diced HORMEL® NATURAL CHOICE® Smoked Deli Ham and fresh pineapple, red onion, and fresh chopped spinach. Adding the spinach halfway through will result in the greens not being as wilted and maintaining some of the garden-fresh green flavor, while adding the pineapple after the pizza has been removed from the oven will add a cold element and a juicy pop. Serve it with a side Greek salad for a nutritious dose of veggies. Looking for ways to up your protein intake? Toss a little more diced ham into your salad. Dinner will be on the table in no time flat with these ingredients on hand.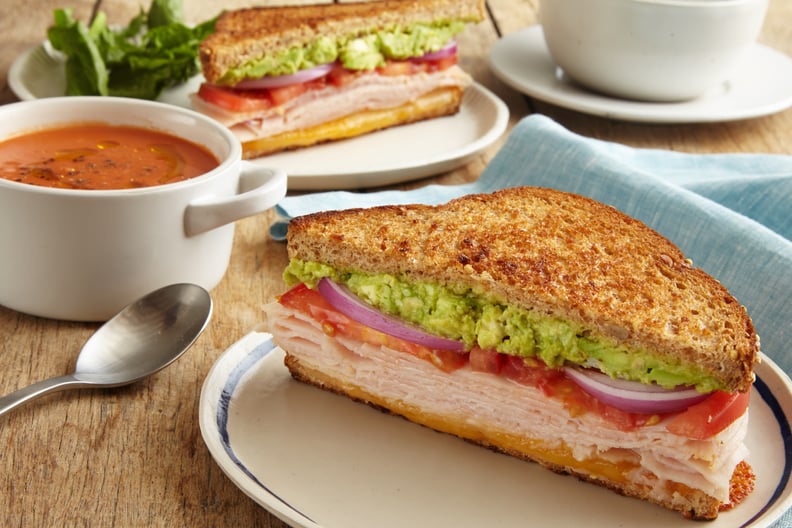 Turkey Melt and Tomato Soup
When you need dinner in a hurry, nothing's quicker and simpler than making turkey melts! Start by layering HORMEL® NATURAL CHOICE® Oven Roasted Deli Turkey with slices of swiss and cheddar cheese between two slices of whole grain bread. Next add avocado, thinly sliced red onion, and a smear of mustard and mayo if you wish, then grill on a skillet to browned and melty cheese perfection. Picky eaters? No problem! Turkey melts can be customized to please even the pickiest palates by adding any ingredients your family loves, like roasted red peppers, cucumbers, tomatoes, hummus, or a variety of different cheeses. The options are endless, and you can use essentially anything in your fridge for an easy go-to meal when you don't really want to cook. Warm up your favorite ready-made tomato soup for Turkey Melt dunkin'. Everyone will love this winner, winner, turkey dinner!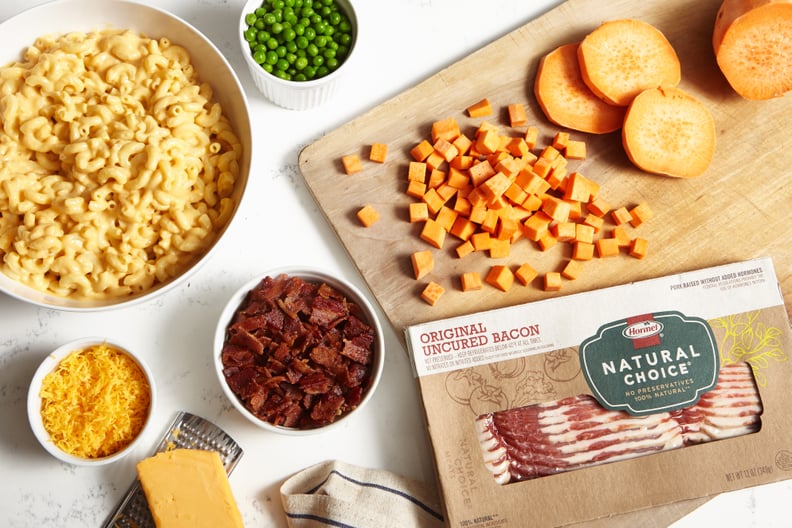 Sweet Potato Bacon Mac and Cheese
Inspired by the kid-friendly classic with a little sneaky nutrition boost! Prepare your family's favorite stovetop mac and stir in pureed sweet potato (or butternut squash). For quick convenience, purchase frozen purees that you can easily place in the microwave to defrost, or sub in an organic butternut squash squeeze pouch found in the baby aisle. Add in green peas for a little color pop and top it all off with crispy HORMEL® NATURAL CHOICE® Original Uncured Bacon. Topping the mac and cheese with bacon will add a smoky and salty flavor that balances well with the sweetness from the sweet potato or butternut squash. It also adds a great crunch to contrast with the softer textures of the macaroni. Time-saving tip: cook bacon on a sheet pan in the oven for crispy strips done in a flash!
More from the makers of HORMEL® NATURAL CHOICE® Products:
We believe in making delicious meat you can trust to always be 100% natural-made without artificial preservatives or ingredients. MAKE THE NATURAL CHOICE®.