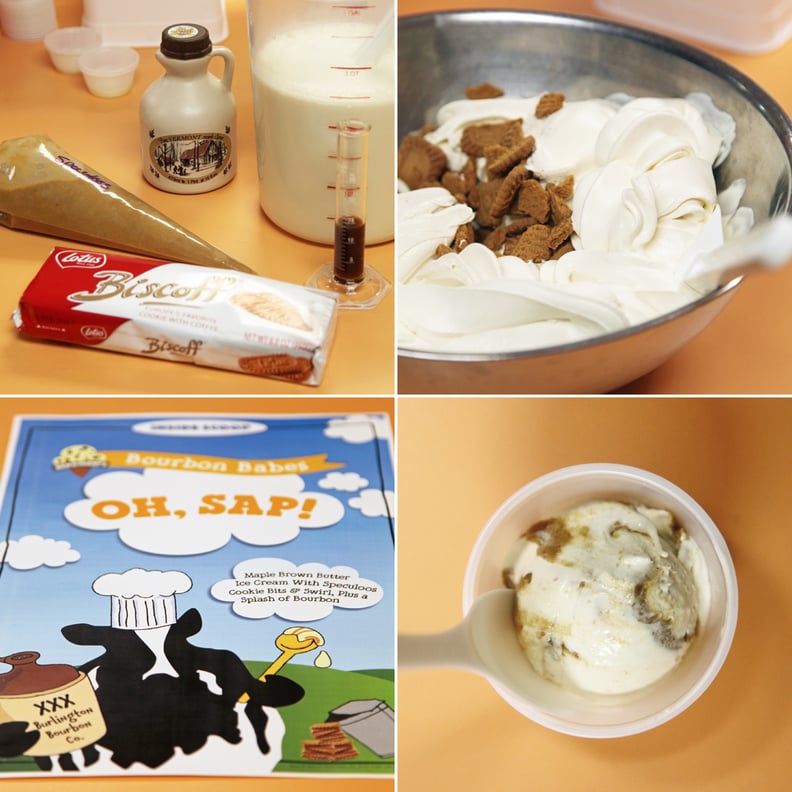 POPSUGAR Photography | Nicole Perry
POPSUGAR Photography | Nicole Perry
With all due respect to Roald Dahl, the ultimate golden ticket doesn't entitle one to a trip to Willy Wonka's chocolate factory, but rather a trip to Ben & Jerry's flavor lab to design a new flavor. On a recent trip to the ice cream company's Burlington, VT, headquarters, we teamed up with three other bloggers and Eric Fredette, one of Ben & Jerry's flavor gurus, to get a hands-on glimpse of the flavor creation process by designing our own pint. Our flavor was pitted against three other blogger-based teams' creations; keep reading for a tour of the flavor lab and to see which flavor ultimately won out.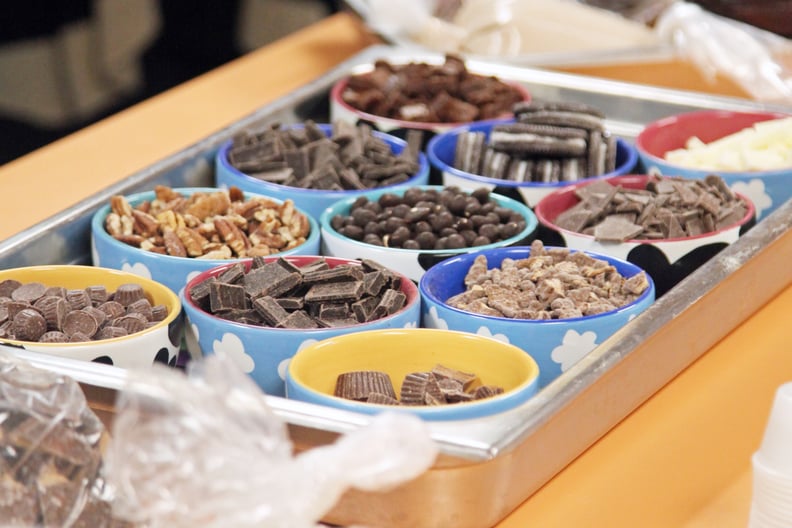 Brainstorming: Flavor Mix-In Options
All but a few Ben & Jerry's flavors include generous quantities of mix-ins, be it chocolate chip and peanut butter cookie dough nuggets in The Tonight Dough, toffee bits in Vanilla Toffee Bar Crunch, or fudge chunks and walnuts in Chunky Monkey. Naturally, the flavor brainstorming process began by browsing (and sampling) the options available in the flavor lab.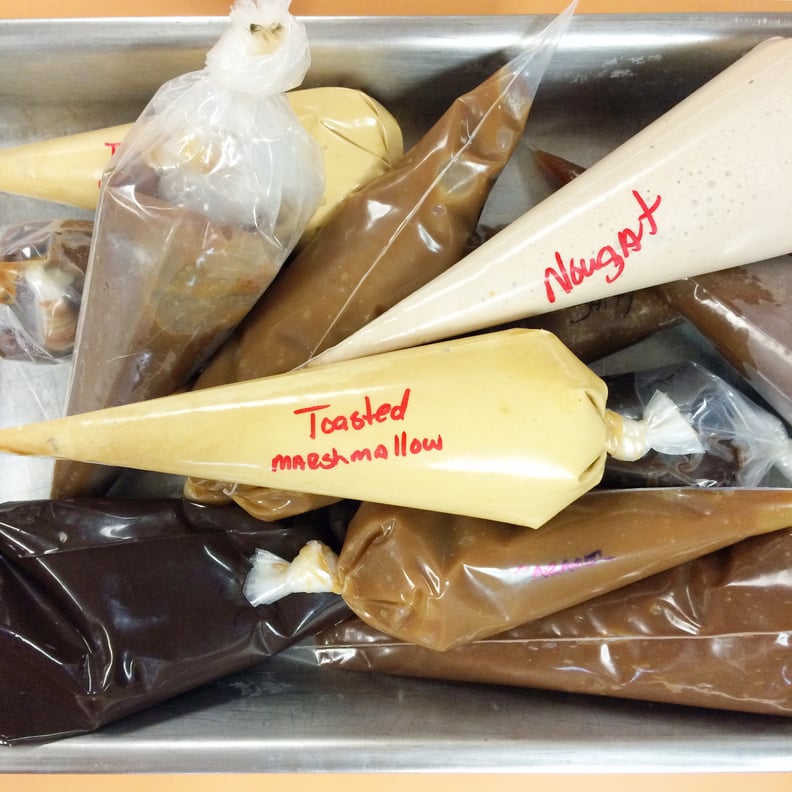 Brainstorming: Swirls
Also on hand was an extensive collection of swirl (or core) options. Toasted marshmallow and caramel were mighty tempting, but ultimately, we went with speculoos, a filling that Ben & Jerry's recently debuted in core form in Spectacular Speculoos.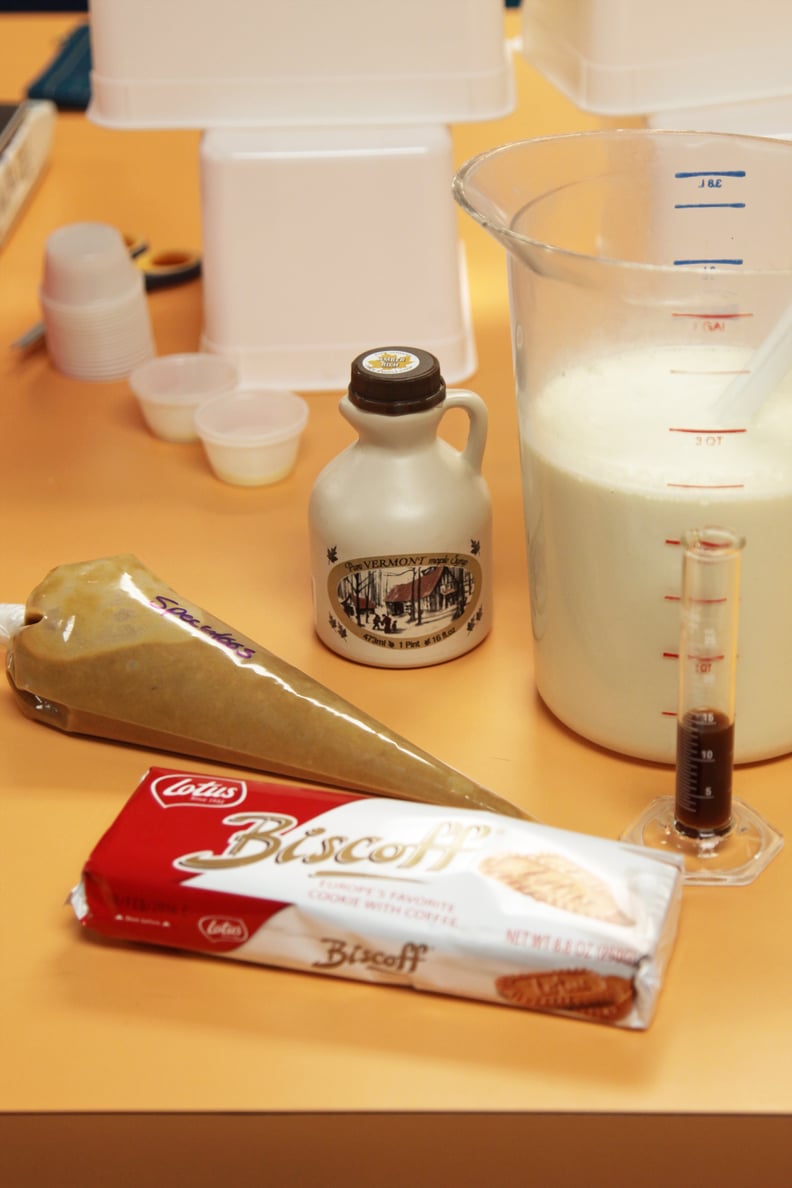 Our Chosen Ingredients: Maple Syrup, Vanilla Extract, Sweet Cream Base, Speculoos Swirl, and Biscoff Cookies
After seeing what we had to work with — items available at the local supermarket were also allowed — our group threw around a few ideas. We immediately zeroed in on a maple base, as we lamented that Ben & Jerry's doesn't currently have a maple flavor in its lineup. A maple bacon doughnut flavor was considered, but we feared the bacon wouldn't retain its crunch. Instead, we decided on a maple-vanilla base with speculoos swirl (because, cookie butter) and for the crunch factor, either French Toast Crunch cereal or Biscoff cookies, depending on what the flavor gurus could track down on short notice.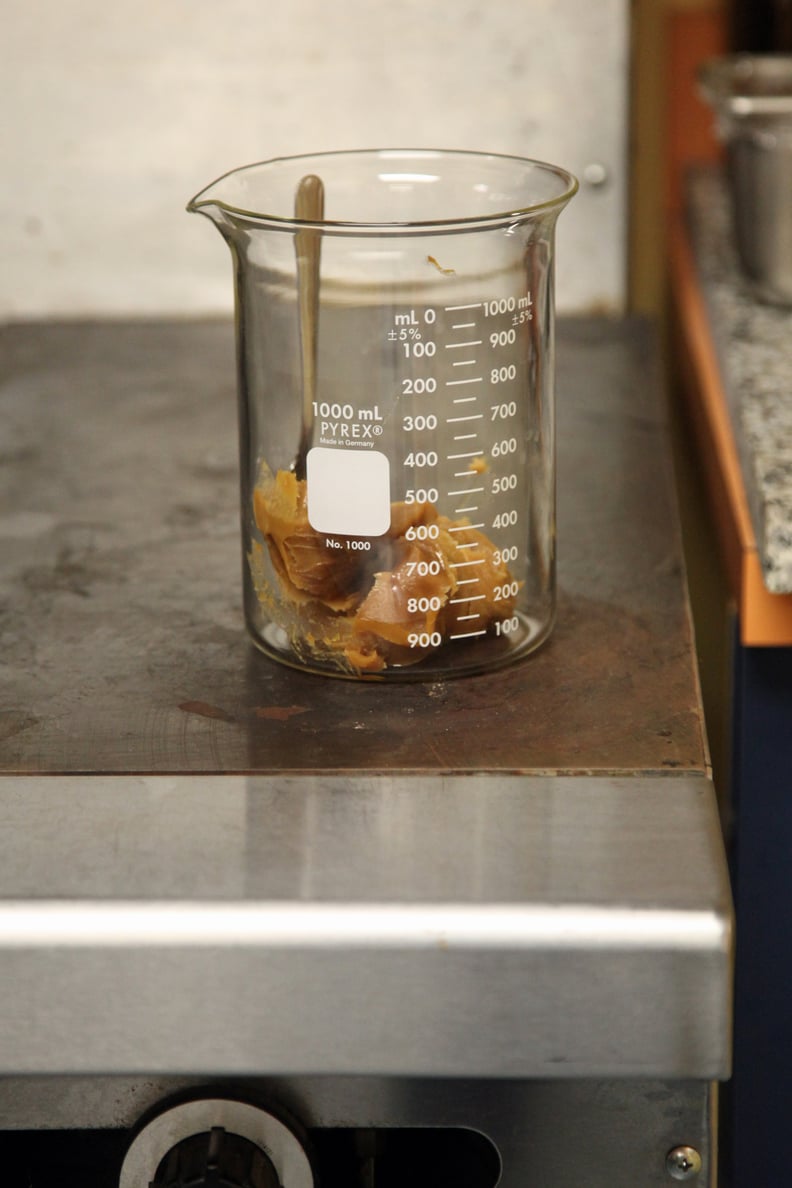 A Late Addition: Salted Brown Butter Bourbon Base
All Ben & Jerry's flavors begin with either a sweet cream or chocolate base, which is then left as is or enhanced with purees or extracts. In our case, that meant tinkering with sweet cream (a mixture of heavy cream, condensed skim milk, and liquid cane sugar) by adding maple syrup and vanilla until it tasted just right. As we adjusted, tasted, and adjusted again, we decided it could benefit from a hint of salt and a splash of alcohol. Enter flavor guru Eric's killer salted brown butter bourbon base, a component of a yet-to-be-released flavor.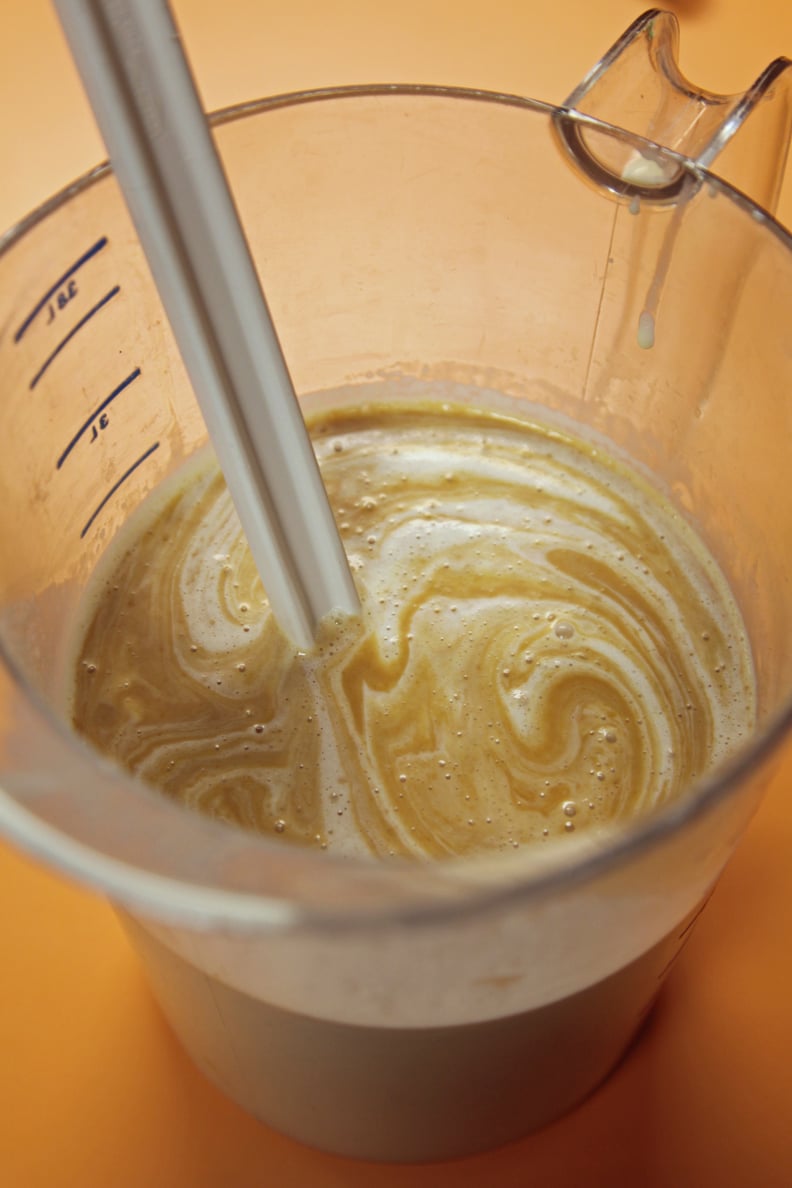 Adding In the Salted Brown Butter Bourbon Base
After melting down the butter and booze concoction, we stirred it in and once again tasted and tweaked until the base was well-rounded.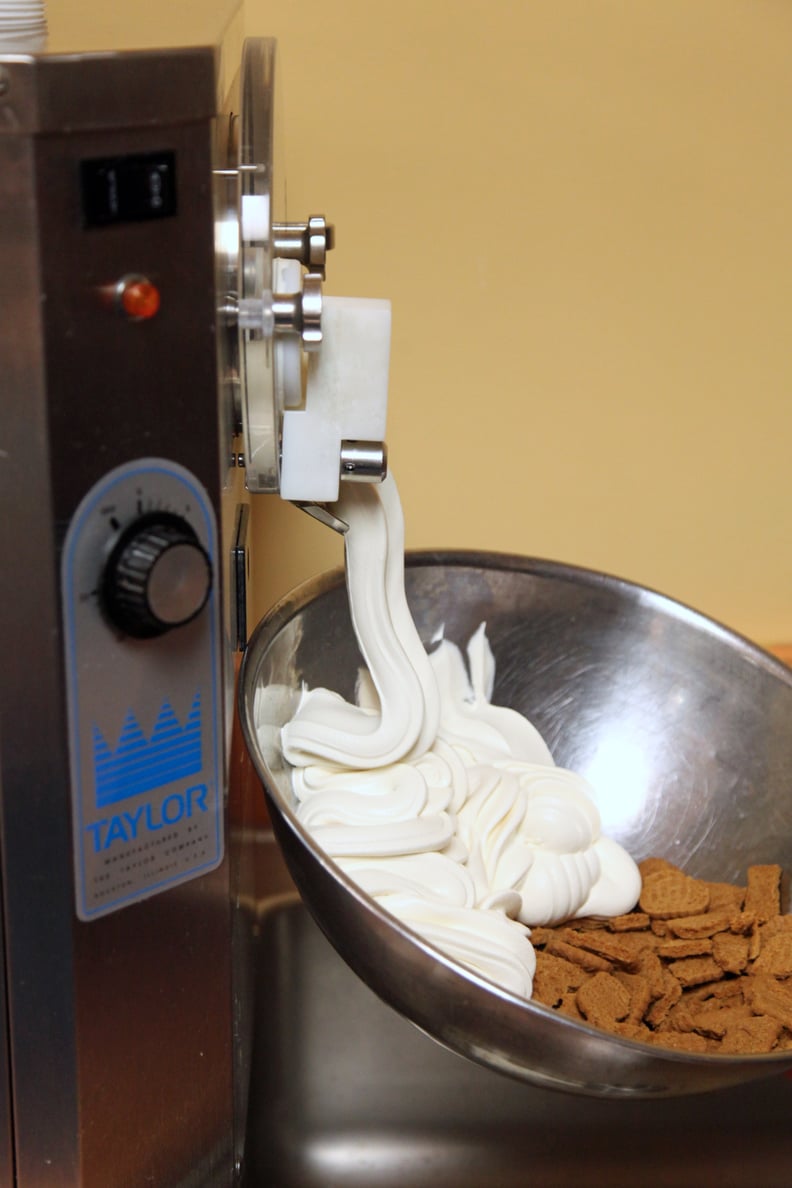 Freezing the Ice Cream, Part 1
Just like when making ice cream at home, the base is then partially frozen to a thick soft-serve-like consistency before any chunks or swirls are added (lest they sink to the bottom). The main difference here: the flavor lab's ice cream machine is much cooler (both literally and figuratively) than your average home model. This magical machine chilled and churned our batch in about eight minutes.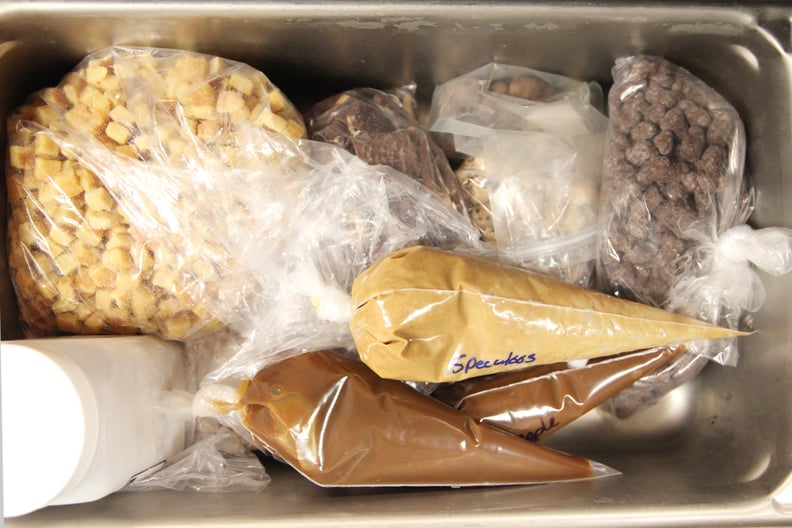 Chilling Down the Swirl and Mix-Ins
While the base was chilled and churned in the ice cream machine, we added about 3/4 of a sleeve of Biscoff cookies to a large mixing bowl and broke them into large chunks. (The chunks further break down as they're mixed into the base, so it's important to keep them big.) The mixing bowl with its cookie contents (as previously pictured) and the speculoos swirl then took a brief trip to the freezer to cool them down so that they wouldn't melt the barely frozen base during the mixing process.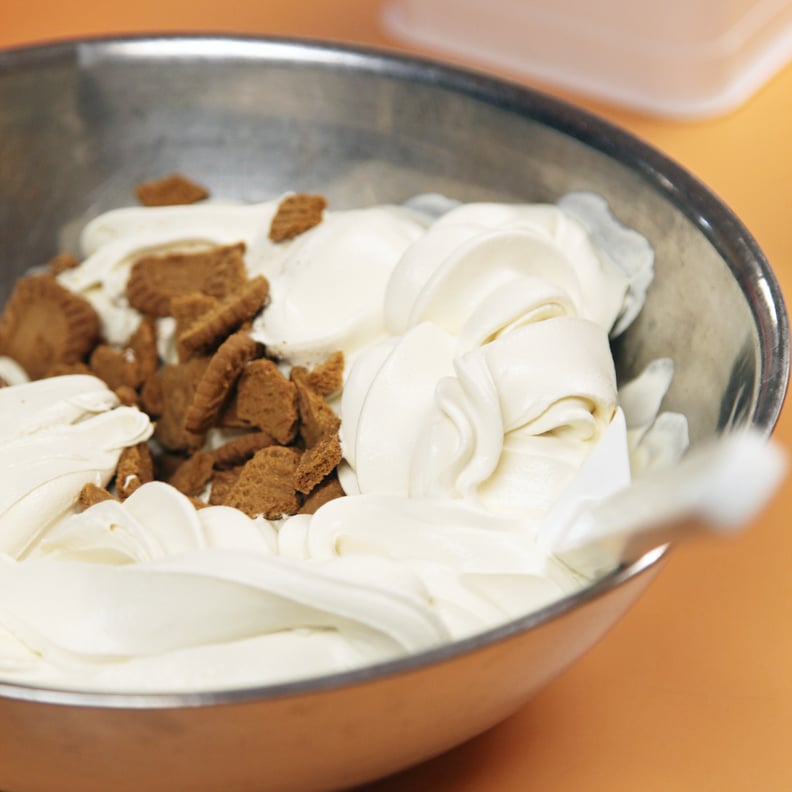 Mixing It All Up
Next, the cookie chunks were vigorously mixed in. (You'll note that the swirl isn't added at this stage.)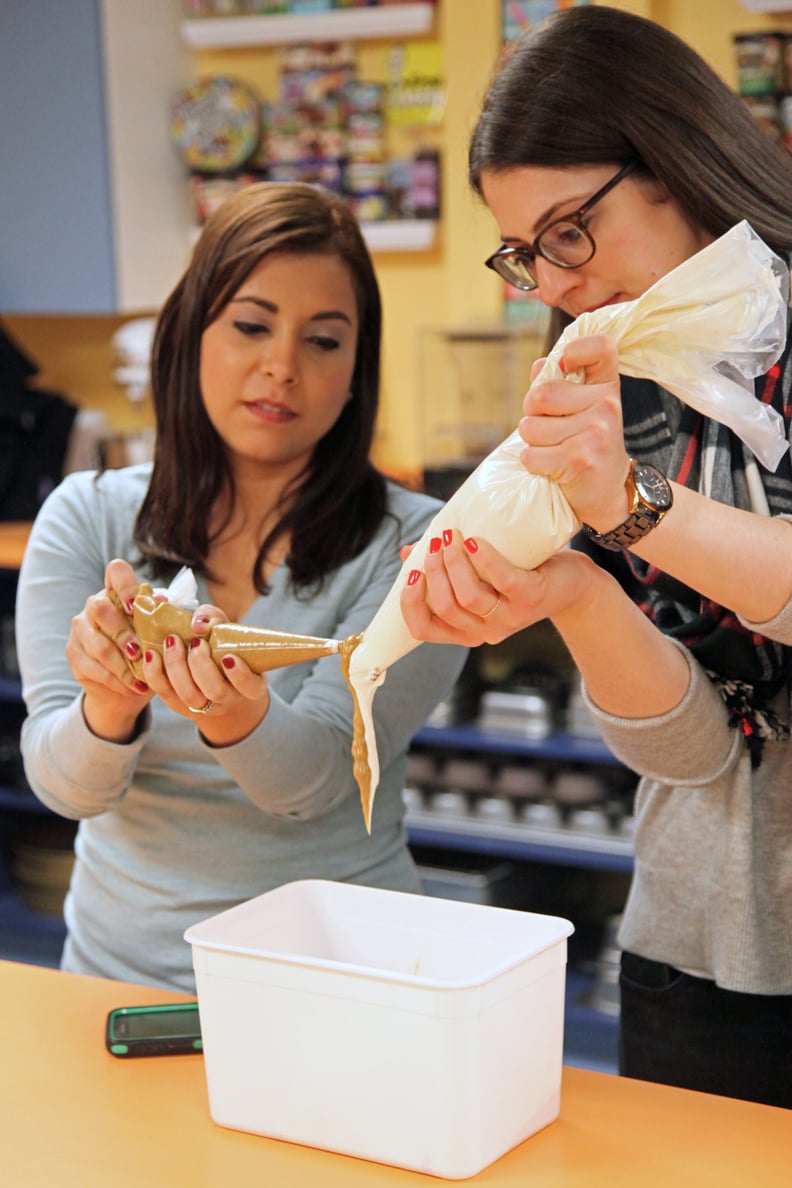 Adding In the Swirl
Ever wonder how the swirl is evenly distributed in each pint? At the factory level, a machine called a variegator injects the swirl into the ice cream base. At the lab level, flavor gurus (or in this case, our team) add the base to an enormous piping bag so that it can be simultaneously squeezed into an ice cream tub with the swirl component of choice.
Once the ice cream base and swirl bags were exhausted, the container was topped off with a lid and immediately whisked away to a ridiculously cold freezer (we're talking -40°F). The subzero temperature ensures that the ice cream freezes up nearly-ice-crystal-free, a large part of why commercial ice cream has a creamier texture than home batches do.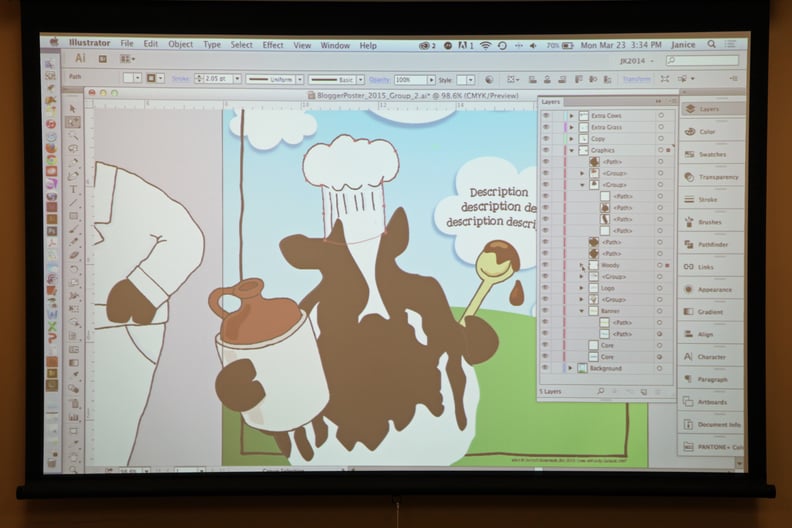 Designing Our Label
While the ice cream solidified, we worked with Janice from the design team to create a label mock-up. Just like with real Ben & Jerry's pints, our label started with a cow and cloud motif. (The cow is named "Woody" after its illustrator, Woody Jackson.) To that, Janice added graphics to represent each component of our flavor: a jug scrawled with "XXX Burlington Bourbon Co." for bourbon and speculoos cookies spilling out of a maple sugaring bucket for maple and cookies. The brown ice cream dripping off the spoon was tweaked to a creamy color, and a light brown swirl was added to mimic our ice cream's appearance.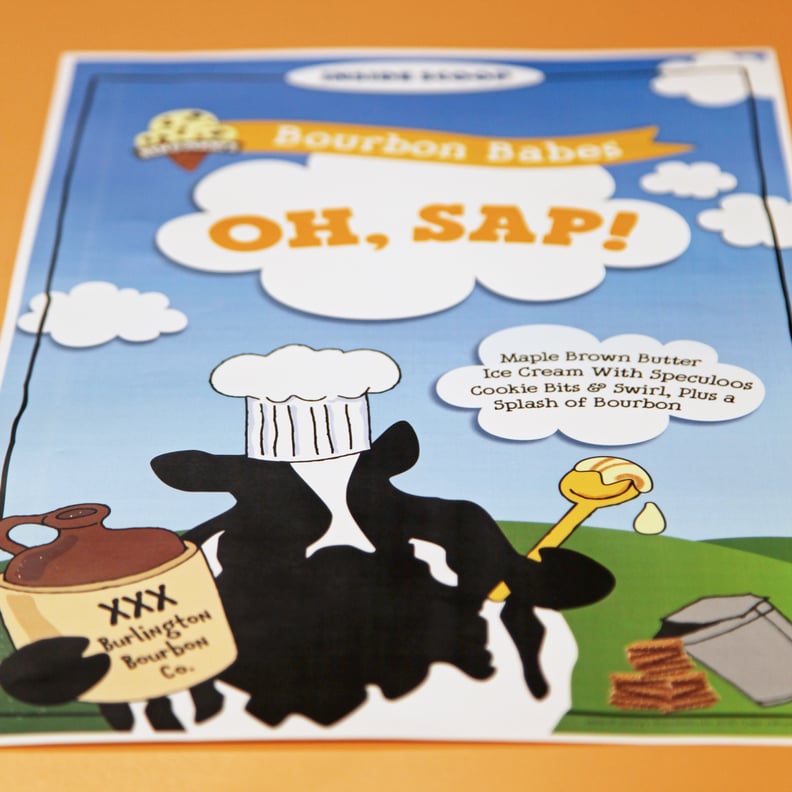 Contender 1: "Oh, Sap!" (Our Flavor)
Dubbed a sassy "Oh, Sap!," our final flavor description read as: maple brown butter ice cream with speculoos cookie bits and swirl, plus a splash of bourbon.
Our Flavor Is Born
Here's our flavor in all its maple-bourbon glory. At this point, all four teams, the flavor gurus, and the PR teams got to assess (and taste!) each other's work in the flavor and design labs. Then everyone anonymously voted on a favorite.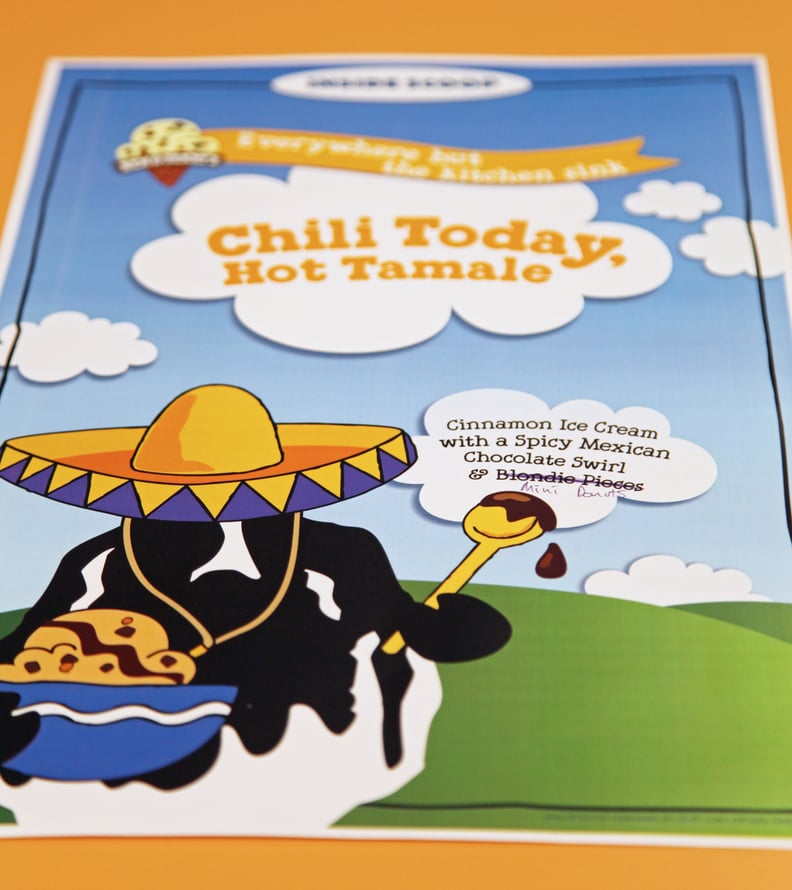 Contender 2: "Chili Today, Hot Tamale" (Team Everything but the Kitchen Sink's Flavor)
"Chili Today, Hot Tamale," cinnamon ice cream with a spicy Mexican chocolate swirl and blondie mini doughnuts.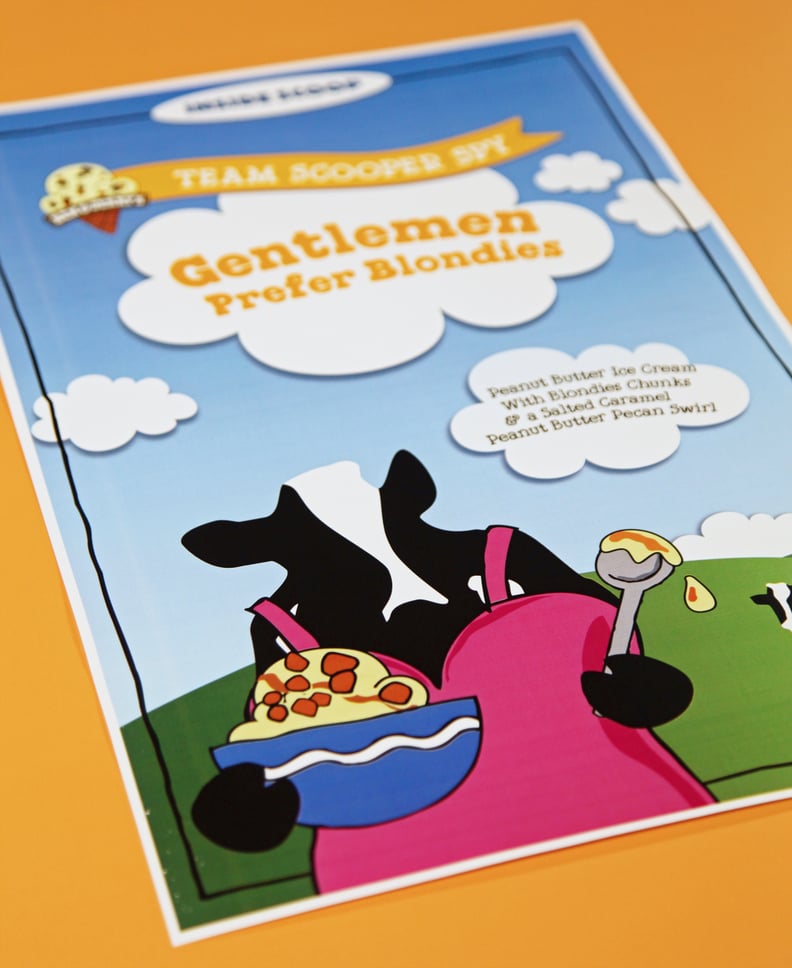 Contender 3: "Gentlemen Prefer Blondies" (Team Scooper Spy's Flavor)
Peanut butter ice cream with blondie chunks and a salted caramel peanut butter pecan swirl.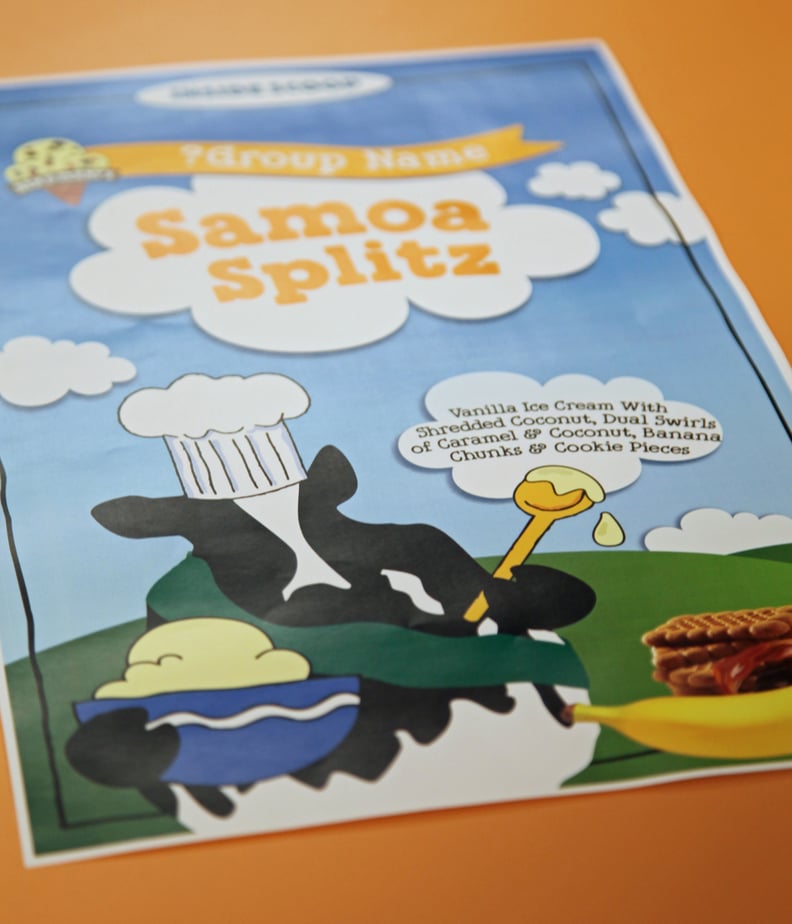 Contender 4: "Samoa Splitz"
Vanilla ice cream with shredded coconut, dual swirls of caramel and coconut, banana chunks, and cookie pieces. A Winner Is Crowned!
While all four flavors were exceptionally delicious, our flavor "Oh, Sap!" ultimately won the contest. Here's our team (myself, Sandra Perez, Amanda Topper, and Gwen Saja) celebrating with Ben Cohen (yes, that Ben).