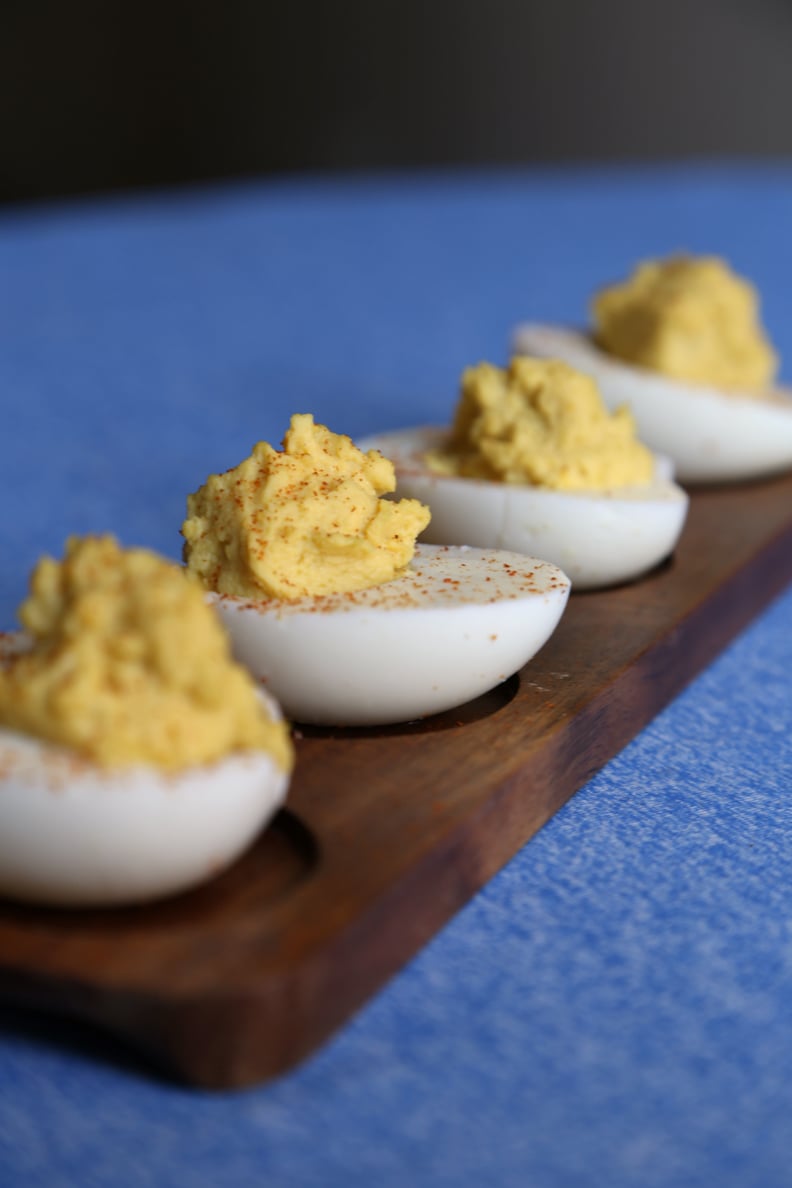 POPSUGAR Photography | Anna Monette Roberts
POPSUGAR Photography | Anna Monette Roberts
'Tis the season for deviled eggs, and we've got a fresh batch of recipe inspiration from your favorite chefs. Take a break from traditional deviled eggs and add crab like Giada De Laurentiis, smoked salmon à la Ina Garten, or pink peppercorns if you're channeling Alton Brown. Ahead, check out all the ways your favorite food celebrities dress up their deviled eggs, and snag your favorite recipes for Easter and beyond.
Alton Brown: Pepper Speckled
Leave it to Alton Brown to take an unexpected approach to deviled eggs. His five-pepper deviled eggs are topped with a combination of five types of whole peppercorns: pink, white, black, green, and brined green. After grinding the peppercorns and sprinkling them on top of the eggs, you're left with a colorful egg that has a flavorful crunch in every bite.
Giada De Laurentiis: Crab Infused
Giada De Laurentiis's deviled eggs with crab are exactly what you need if you're looking for a slightly elevated yet doable version of the classic Easter appetizer. Not only are the eggs stuffed with lump crab meat, but they also have an Italian flair thanks to mascarpone cheese.
Chrissy Teigen: Secretly Spicy
Want to be Chrissy Teigen's friend? The criteria, according to the cookbook author herself, are "you must never call and you must love deviled eggs. Parties and holidays were created for deviled eggs," she writes in the intro for her Secretly Spicy Deviled Eggs on page 132 of Cravings. She swears hers don't evoke any grandma vibes, and she's right: there's sriracha and pickled jalapeños.
Ree Drummond: With a Secret Ingredient
The Pioneer Woman's deviled eggs might seem standard at first, but there's one ingredient that sets them apart from the rest: pickle juice. Instead of just adding relish to the top as many people do, Ree Drummond recommends stirring a small amount (a teaspoon) of pickle juice into the yolk mixture so the whole egg is flavored with tangy, salty goodness.
Sunny Anderson: Surprisingly Crunchy
Ever had a crunchy deviled egg before? Sunny Anderson's deviled eggs might convince you that's the only way to go. Sunny's trick is to add canned fried onions on top (yep, the good stuff from Thanksgiving). Lemon zest brightens them up, and pickled jalapeños add just the right amount of acidity.
Ina Garten: Topped With Smoked Salmon
Add a pop of pink to your spread with Ina Garten's smoked salmon deviled eggs. A decadent filling of sour cream and cream cheese makes these deviled eggs reminiscent of a lox bagel with cream cheese, save for the carbs. As always, Ina's recipe calls for "good mayonnaise," but yes, store-bought is fine.