POPSUGAR Photography | Jae Payne
POPSUGAR Photography | Jae Payne
I'll be real: I've never been a "wine girl". I never snuck wine spritzers at high school parties, and in college I opted for sugary mixed drinks instead of the "two-buck chuck" that my friends often brought over for movie nights. I dreaded taking communion when I went to church because it meant sipping a bit of awful red wine with nothing but a flavorless wafer to chase it down. (Sorry, Mom!) Until very recently, I was weirdly proud of my distaste for wine.
Perhaps it was one too many $14 gin-and-grapefruit juices ordered at San Francisco's overpriced bars, or maybe I was jealous of the cute "rosé all day" sweatshirts that my friends donned for brunch, but about six months ago I realized that I wanted to love wine . . . I just didn't know where to start.
When I asked my wine-loving friends where to begin, most of them replied, "You just have to drink it until you develop a taste for it!" Since I'm not a glutton for punishment — I prefer enjoying my after-dinner drinks, thank you very much — this wasn't an acceptable answer for me, so I decided to come up with a system for my new venture into the world of wine.
How I Became a "Wine Person"
For me, the key to learning which wines I like and dislike has been documentation. I keep a journal organized by types of wine, which I then fill out with information about wines I try, their prices, and whether I enjoy or dislike them. Here's an example of my wine-journaling process.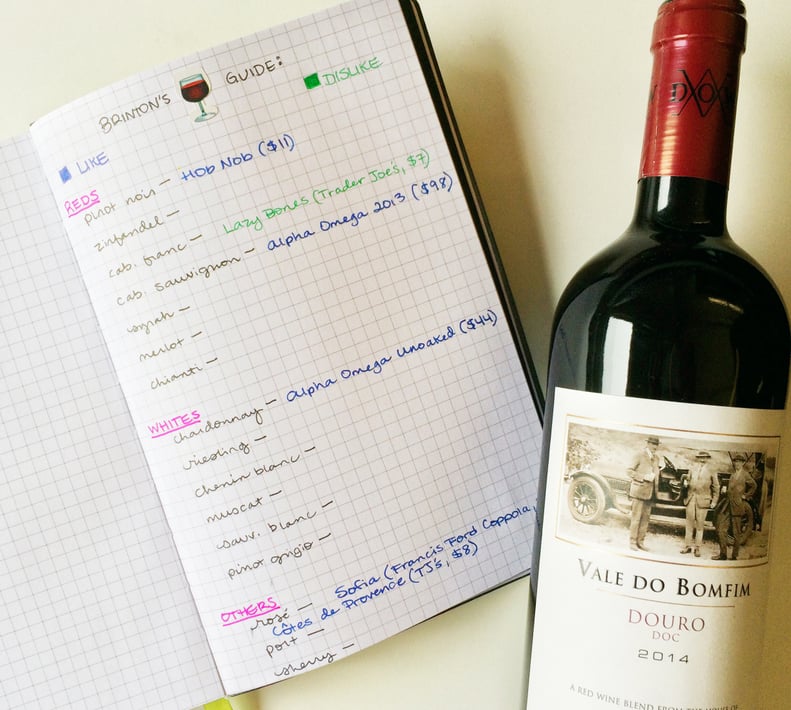 This is a truncated version of the messy wine journal that I keep on my bar cart, which is filled with colorful tasting notes like "tastes like burnt garbage, I dumped the rest of the bottle" or "where has this f*cking rosé been all my life?" beneath each of my scribbled entries. Whether it's a cheap red from Trader Joe's that I use for my favorite wine-cooked spaghetti recipe or a pricey white that I'd only be able to taste when visiting Napa with my parents, everything I sip goes into the journal.
As my journal fills, so does my knowledge about which varietals I actually enjoy, versus which ones I should probably avoid buying in the future. I pay extra attention to the entries which reflect wines on both the cheaper and more expensive ends of the scale: if I like a $6 Cabernet Sauvignon and a $98 one, then it's safe to say that I'm a fan of Cabs in general.
When friends comment on the fact that I've transformed from a staunchly anti-wine drinker to somebody who can confidently order a glass of her favorite off the menu, I tell them about my journal. It might not work for everyone, but it's definitely been key in my journey to loving wine!