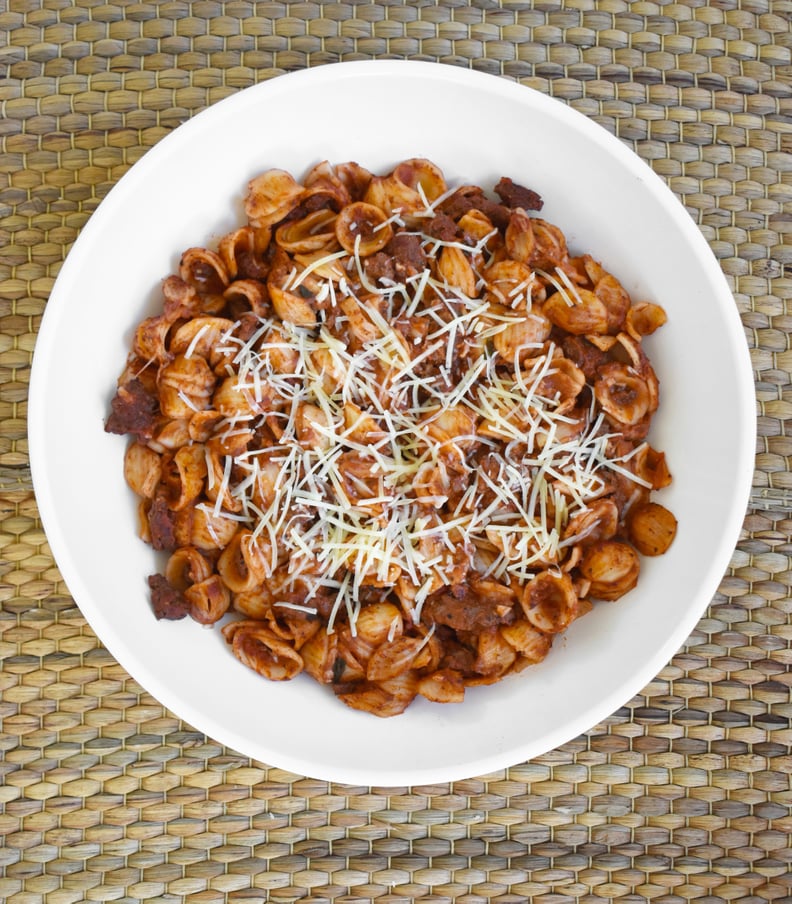 POPSUGAR Photography | Sara Cagle
POPSUGAR Photography | Sara Cagle
Ina Garten, aka The Barefoot Contessa, can do no wrong. Any time I see a recipe of hers that looks promising for dinner, I pounce. Such was the case when I spotted her weeknight bolognese, a recipe that gives you al dente orecchiette topped with homemade tomato sauce in fewer than 45 minutes. This version requires just one pot (for the sauce) and a few staple Italian ingredients.
Red pepper flakes, oregano, and nutmeg bring out the flavors of tangy San Marzano tomatoes and lean ground sirloin. The sauce, flavored with red wine, thickened with a bit of heavy cream, and beautified with flecks of basil, fills each bite of shell pasta. The final product is sprinkled with as much Parmesan as your heart desires (and served with a couple of glasses of your favorite red wine). I don't want to downplay the sophisticated flavor profile of the dish, but it almost tastes like a perfect piece of garlic bread, which is never a bad thing in my book.
My mom makes this at least once a month and says the recipe is very forgiving; you can substitute pork for beef, penne for orecchiette, etc. And if you chop and measure the ingredients before you turn on the stove, cooking is a breeze. After all, how hard can making pasta sauce be when most of the "work" involves breathing in the amazing aromas of tomatoes and spices? Make this lifesaving bolognese once, and you'll see why it's good enough — and easy enough — to make on even the longest of week days.
Get the recipe: weeknight bolognese