4-Ingredient Buffalo Chicken Micro Tacos | Super Bowl Snacks
These 4-Ingredient Buffalo Chicken Micro "Tacos" Are the Ultimate Game-Day Appetizer
OK, so we already know mini hot dogs, nachos, and quesadillas are some of the tastiest game-day snacks, but these Buffalo Chicken Micro Tacos from TikTok might just be our new favorite Super Bowl staple. Indulgent and covered in cheese, the "tacos" are completely keto-friendly and only take four ingredients to make: shredded cheese, hot sauce, chicken, and cream cheese.
"These were so delicious," said Kristy Hawk, the inventor of these crispy micro tacos. "We dipped ours in ranch but you can dip 'em in whatever you'd like." Since they only take about 15 minutes to make, they're also super easy to incorporate into your regular game-day snack prep routine. So check out the full recipe ahead, and catch us whipping up 10 batches over the weekend (and for all the foreseeable weekends to come).
Buffalo Chicken Micro Tacos
Kristy Hawk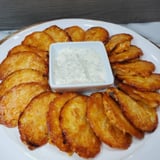 Ingredients
1 cup Mexican blend cheese
2 cups precooked chicken (shredded)
1/4 cup cream cheese
1/4 cup hot sauce of choice
Directions
Preheat the oven to 350°.
In a medium bowl, use a spoon to mix together the chicken, cream cheese, and hot sauce.
Sprinkle the bottom of a muffin top pan, or regular muffin pan, with a thin layer of the preshredded cheese so that you can no longer see the bottoms of the muffin molds.
Bake for four minutes and remove from the oven.
Add about 1 tablespoon of the buffalo chicken mixture on top of each cheese crisp. Make sure to keep the filling to one side.
Use a spatula to fold the cheese over onto the buffalo chicken filling.
Bake for 10 more minutes or until crisp and golden brown.
Drain the micro tacos on paper towels to remove any excess grease. Serve with ranch dressing or dip of your choice and enjoy!
Information
Category

Appetizers, Finger Foods

Yield

12 micro tacos

Prep Time

3 minutes

Cook Time

14 minutes

Total Time

16 minutes, 59 seconds