Tis' the season to go camping [1]! Whether you're more of a summer camper or prefer to tent out in the moderate temperatures of fall, one of the best parts of the whole experience is the food. But if you don't want to waste your precious time outdoors cooking over a hot fire or stove, there are tons of no-cook recipes that'll still excite your tastebuds. These recipes accommodate both the warm and chilly seasons, and are all fairly easy to make! From simple sandwiches packed with delicious herbs and dressings to salads with tasty ingredients that speak for themselves, there's a whole world of no-cook recipes [2] out there. Trust us when we say, these lunch and dinner concoctions taste so good, you might even add them to your at-home lineup, just because!
— Additional reporting by Nicole Perry
Avocado Egg Salad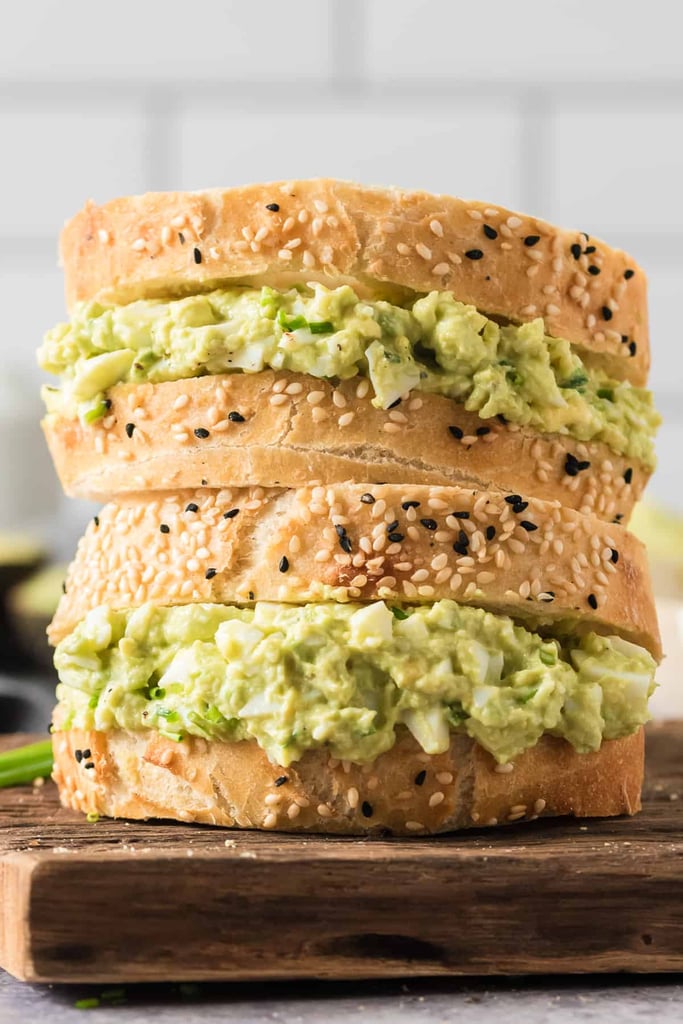 Alright, alright, this salad might require hard boiled eggs — but don't freight! You can easily find these at your local grocer, and it's so easy to make, it'll all be worth it in the end.
Get the recipe: avocado egg salad [4]
Caprese Sandwich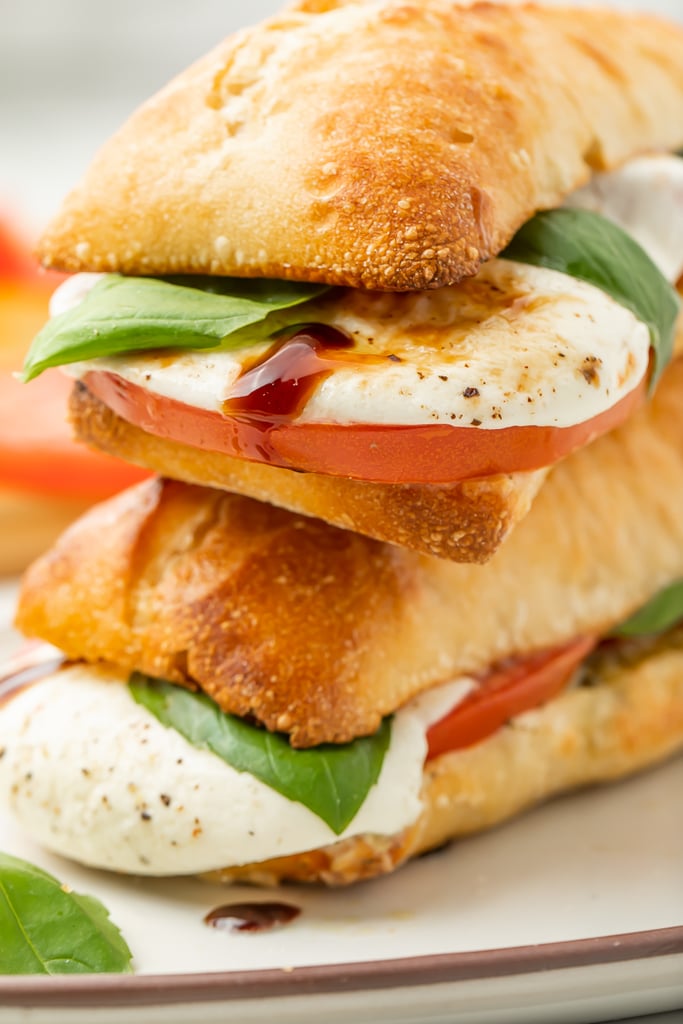 Turn your favorite snack into a full-blown lunch with this easy caprese sandwich recipe.
Get the recipe: caprese sandwich [5]
Jambon Beurre Sandwich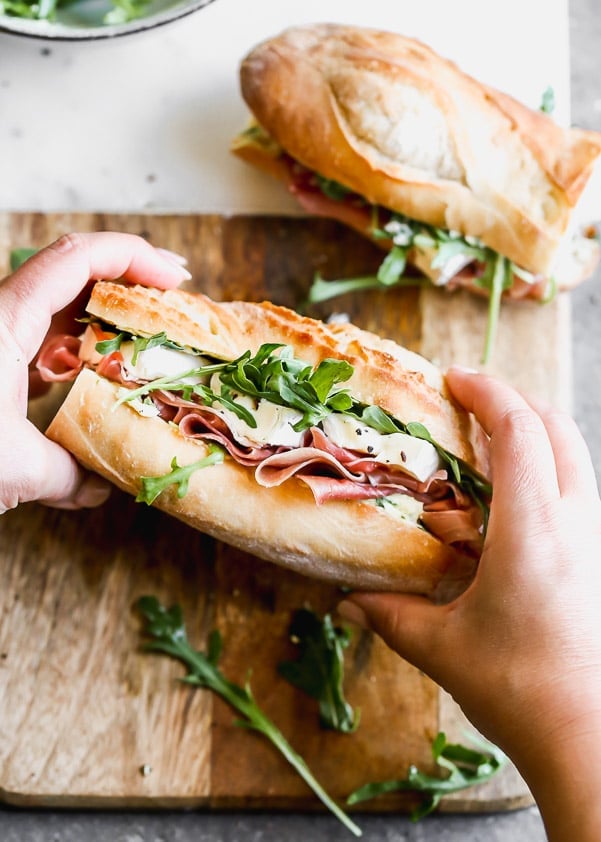 What's better than prosciutto, butter, and brie served on a french baguette? Absolutely nothing. Mix in arugula, garlic, dijon mustard, and herbs for a mind-blowing concoction.
Get the recipe: jambon beurre sandwich [6]
Chunky Strawberry Salad With Poppyseed Dressing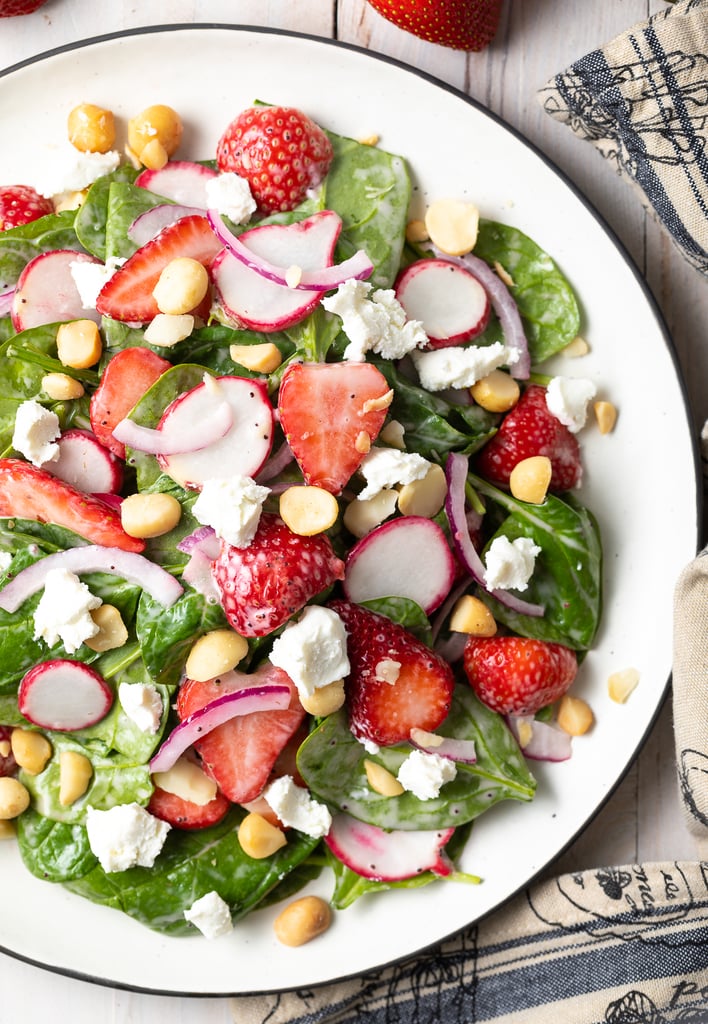 This salad has a spinach base and is loaded with crunchy macadamia nuts, creamy goat cheese, fresh onions, strawberries, and more, for a delicious taste.
Get the recipe: chunky strawberry salad with poppyseed dressing [7]
Tomato Salad With Chickpeas, Avocado, and Cucumber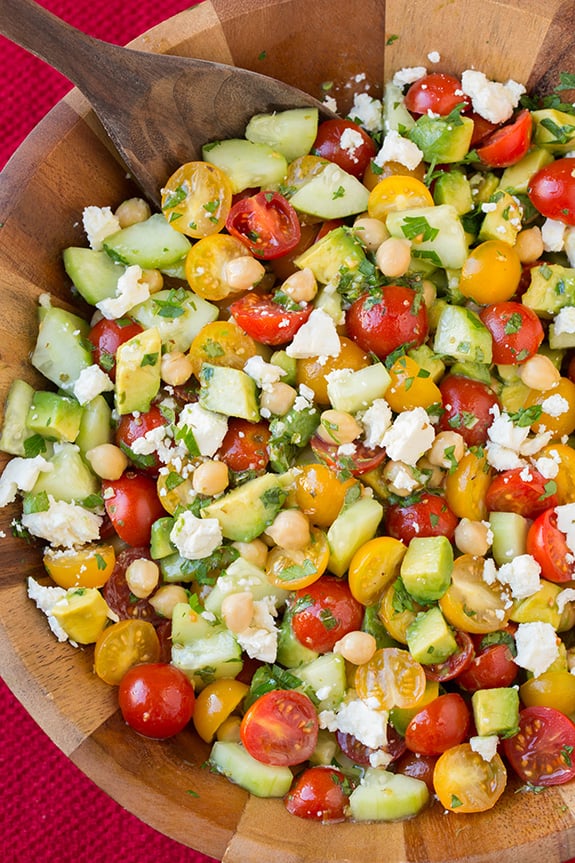 Rainbow-bright and plenty filling, a tomato salad with chickpeas, avocado, and cucumber is an ideal camp meal.
Get the recipe: tomato salad with chickpeas, avocado, and cucumber [8]
Tuna Salad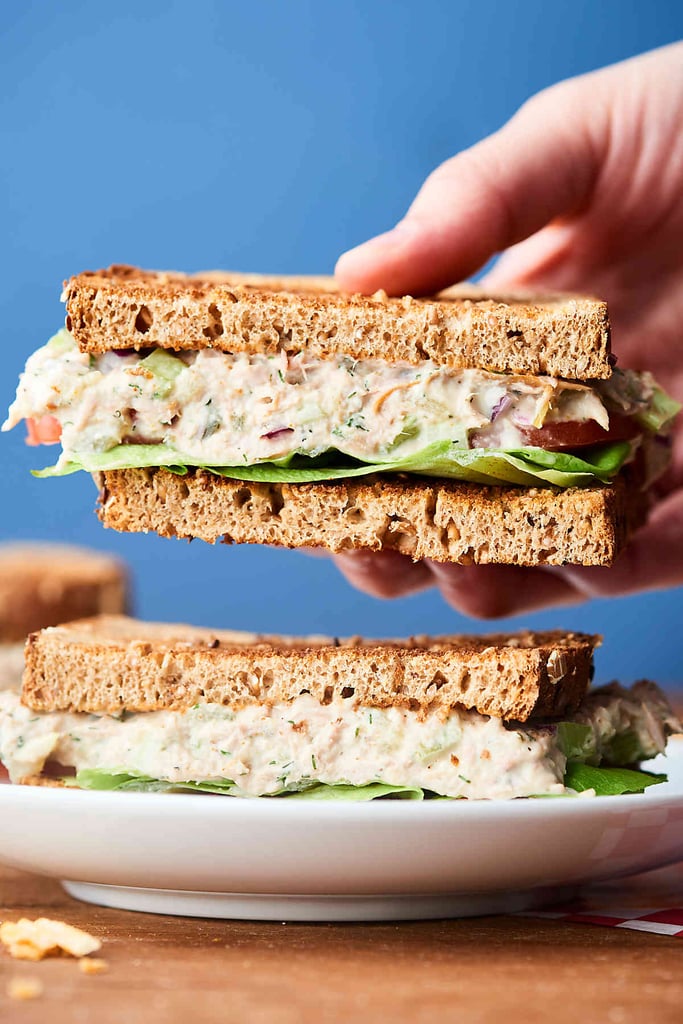 As long as you have the right spices, this tuna salad is a breeze to make and can be enjoyed by a group as a quick lunch.
Get the recipe: tuna salad [9]
Ahi Tuna Avocado Toast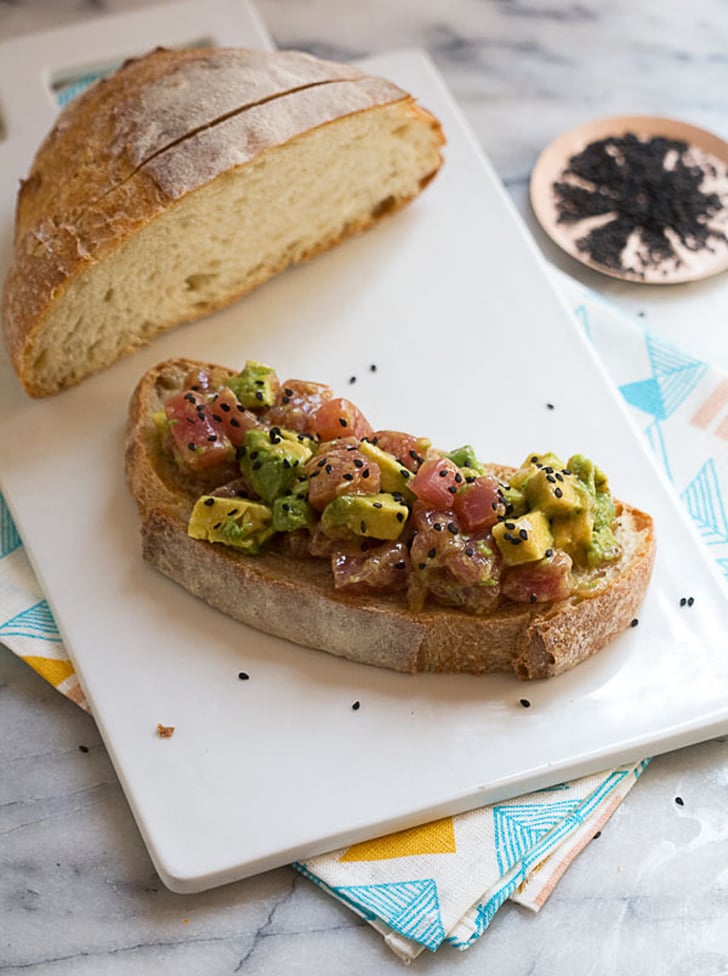 For a Hawaiian spin on classic avocado toast [10] (also a great no-cook option), toss cubed sushi-grade tuna and avocado with a miso-ginger dressing.
Get the recipe: ahi tuna avocado toast [11]
Greek Salad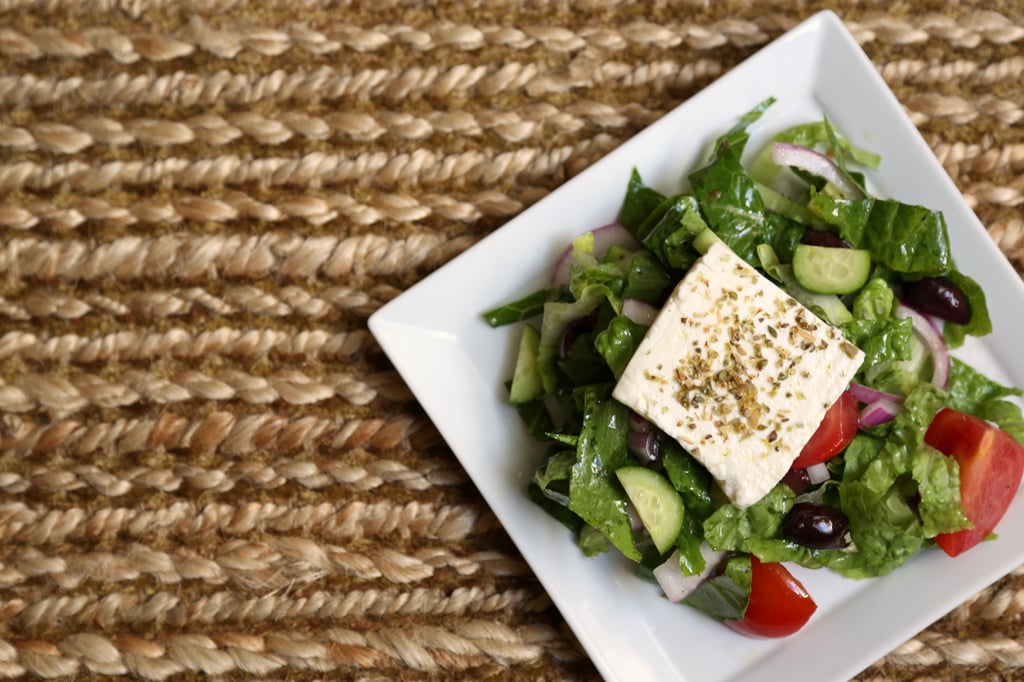 Fast, easy, and refreshing thanks to ample quantities of cool, crisp produce like cucumbers and tomatoes, classic Greek salad is practically tailor-made for nights at the campground.
Get the recipe: Greek salad [12]
Cucumber Avocado Caprese Salad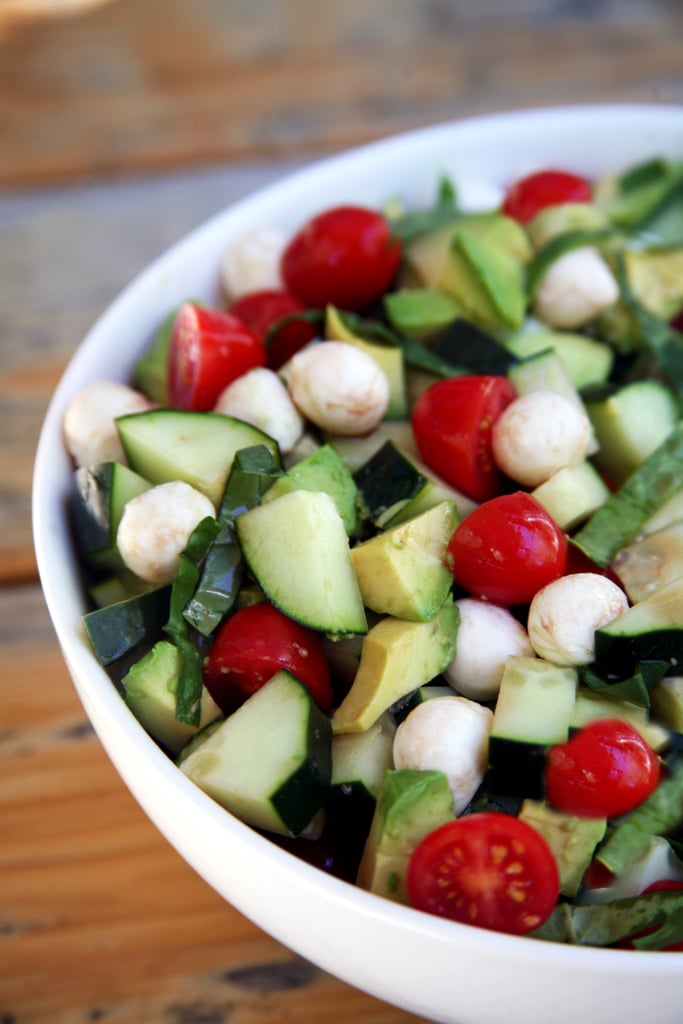 The classic caprese salad goes from side dish to satisfying meal with the addition of crisp cucumber chunks and rich and creamy avocado.
Get the recipe: cucumber avocado caprese salad [13]
Turkey Club Sandwiches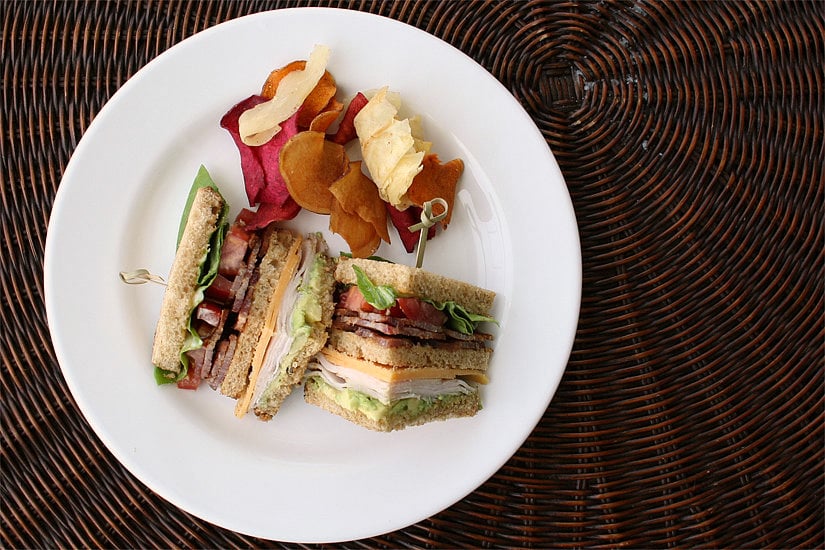 This isn't any old club sandwich; it's the best darn club sandwich in the world, thanks to the additions of avocado, honey mustard, and cheddar cheese.
Get the recipe: turkey club sandwiches [14]
Lemony Lentil and Chickpea Salad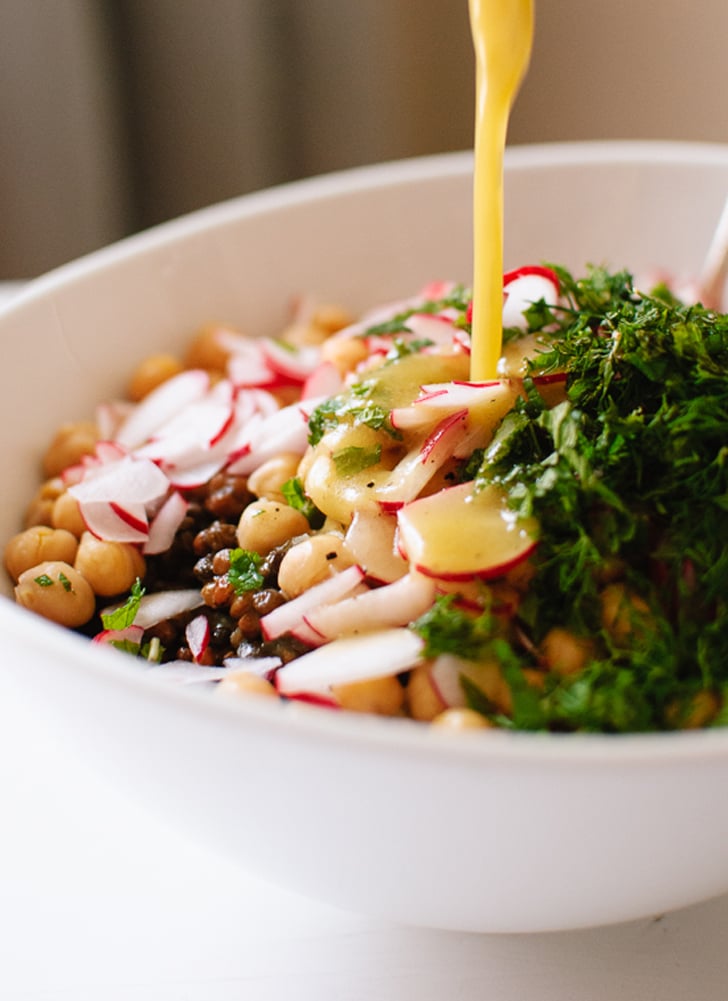 This hearty salad becomes no-cook when made with canned chickpeas and packaged steamed lentils. All told, it'll only take about 20 minutes to prepare.
Get the recipe: lemony lentil and chickpea salad [15]
Cheese, Bread, and Fruit
Less a recipe and more a suggestion for a soul-satisfying solo meal, this is your guide to making a delightful meal of bread, cheese, fruit, and veggies.
Get the recipe: cheese, bread, and fruit [16]
Southwestern Chopped Salad With Cilantro-Lime Dressing
A Greek-yogurt-based dressing adds plenty of flavor and richness to corn, black beans, tomatoes, avocado, and lettuce.
Get the recipe: southwestern chopped salad with cilantro-lime dressing [17]
Spicy Tuna Salad With Cucumber Noodles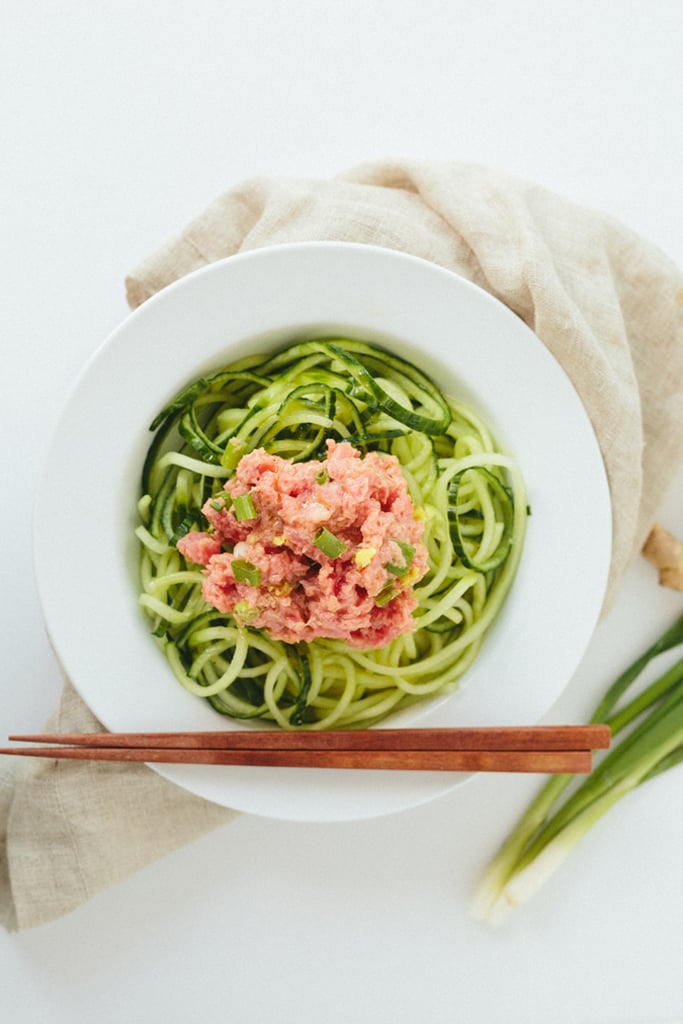 If you love spicy tuna rolls, this cucumber-noodle-based salad is for you.
Get the recipe: spicy tuna salad with cucumber noodles [18]
Italian Deli Sandwich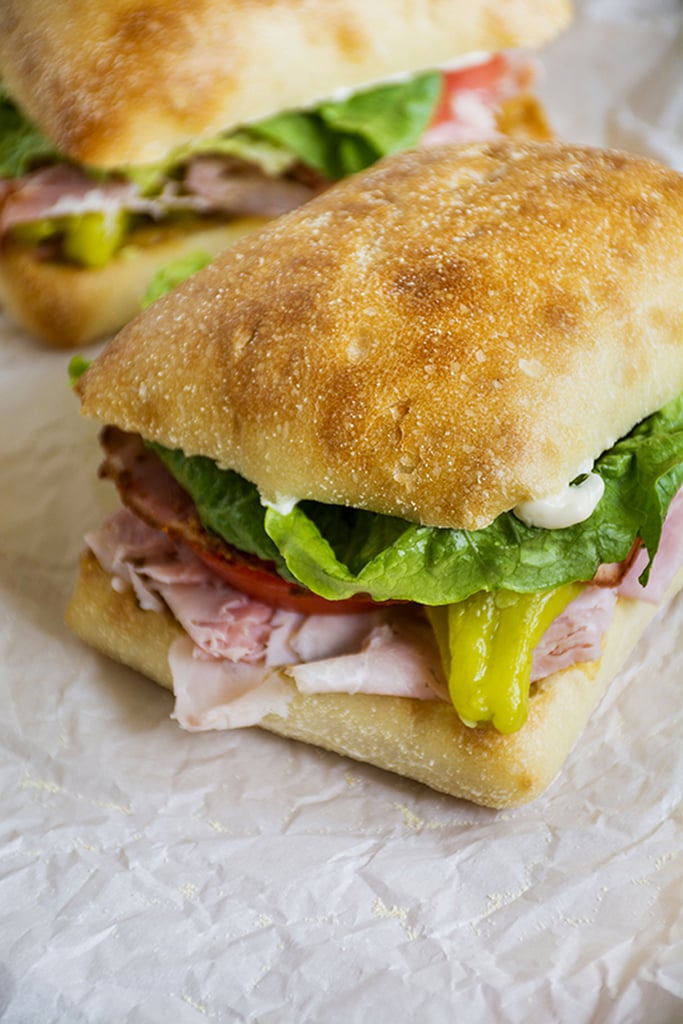 Treat yourself to a three-meat Italian deli sandwich — a perfect lunchtime meal!
Get the recipe: Italian deli sandwich [19]
Watermelon, Radish, and Avocado Tacos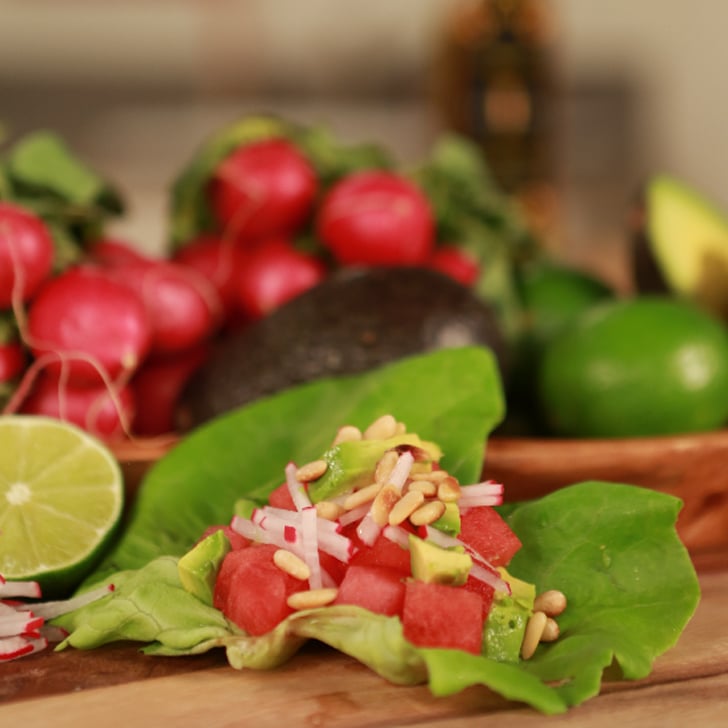 Whether you call them tacos or lettuce wraps, these refreshing nibbles let bright summer produce shine and are an ideal light meal.
Get the recipe: watermelon, radish, and avocado tacos [20]
Vegan Veggie and Hummus Sandwich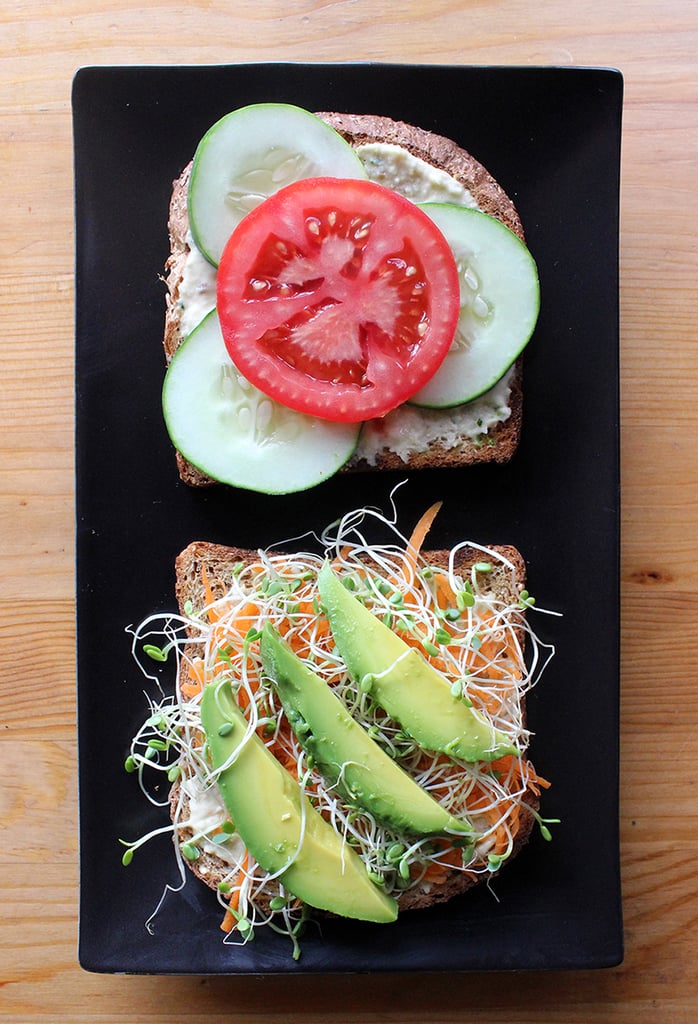 Tuck hummus, sliced cucumber, avocado, sprouts, and tomatoes between two slices of bread for a hearty vegan sandwich.
Get the recipe: vegan veggie and hummus sandwich [21]
Cowboy Caviar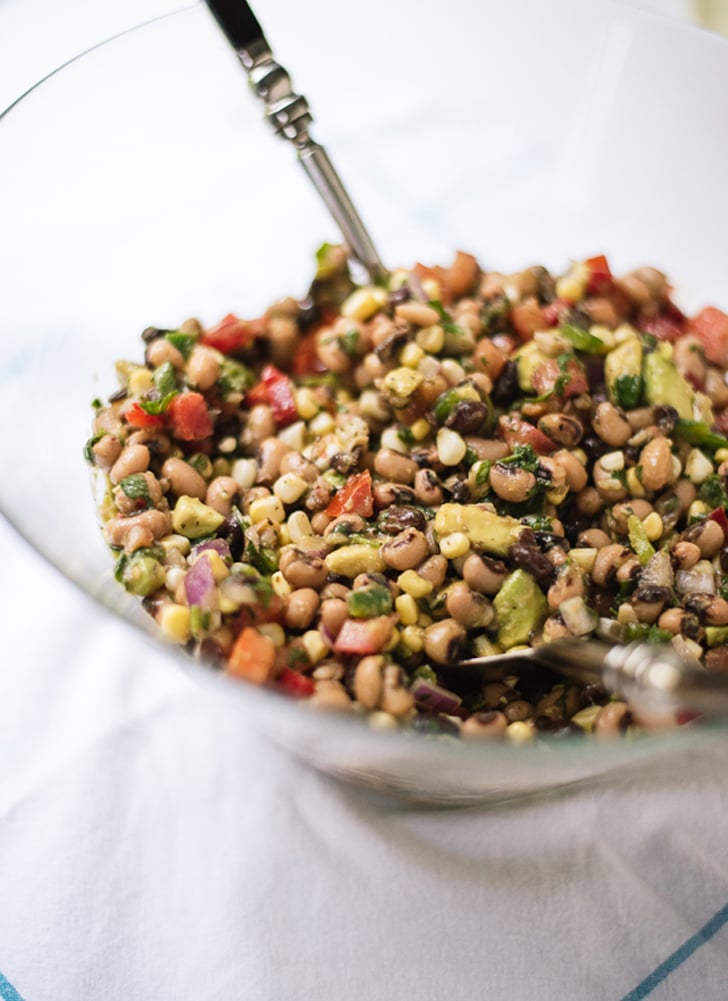 Whether you serve it with corn chips, as a salsa, or eat it plain, this Texan bean salad is a must-try.
Get the recipe: cowboy caviar [22]
Black Bean, Bell Pepper, and Corn Salad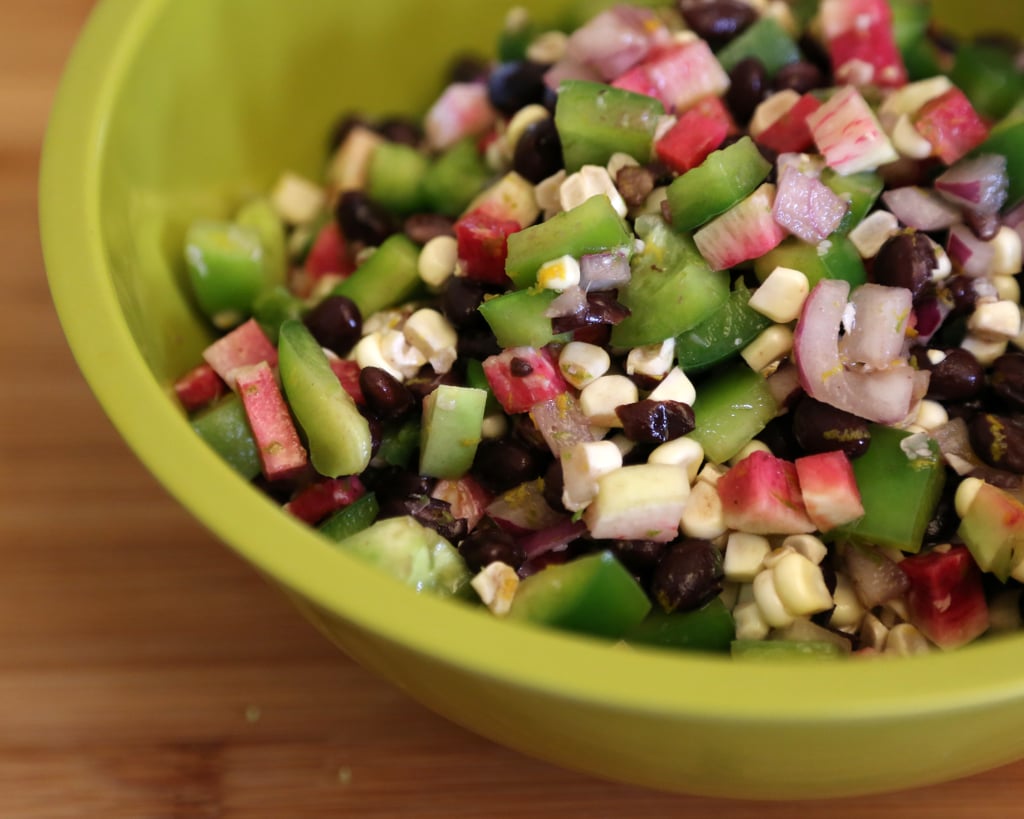 Part salsa, part salad, and all fabulous, this bright combination of black beans, bell peppers, corn, and radishes is finished off with a zesty orange dressing.
Get the recipe: black bean, bell pepper, and corn salad [23]
Marinated Chickpea Salad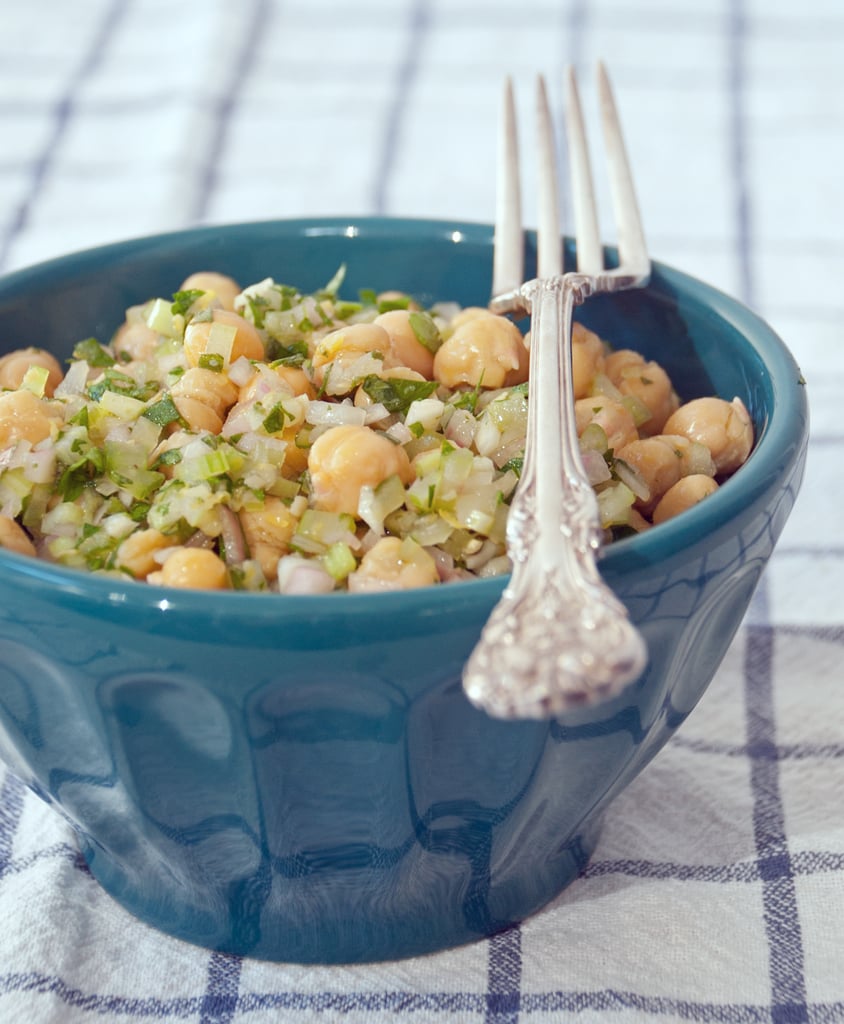 This crave-worthy marinated chickpea salad is more than worth the extra time spent dicing and mincing, as it's even tastier the next day. Take leftovers to the beach for a satisfying brown-bag lunch.
Get the recipe: marinated chickpea salad [24]
Vegetarian Taco Salad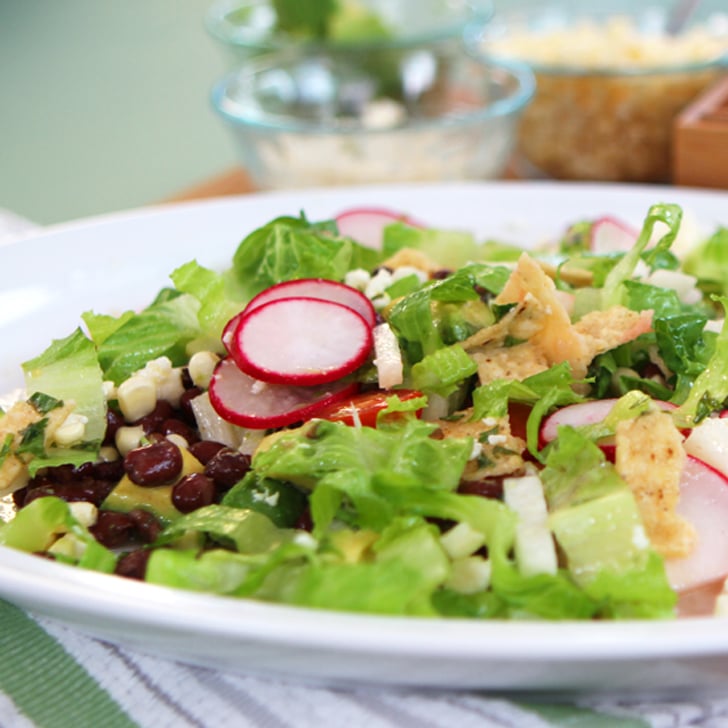 No stove is required to brown beef in this meatless taco salad. Rather, it's chock-full of different textures and flavors, from crunchy jicama to salty queso fresco.
Get the recipe: vegetarian taco salad [25]
Salmon Wasabi Cream Cheese Sandwich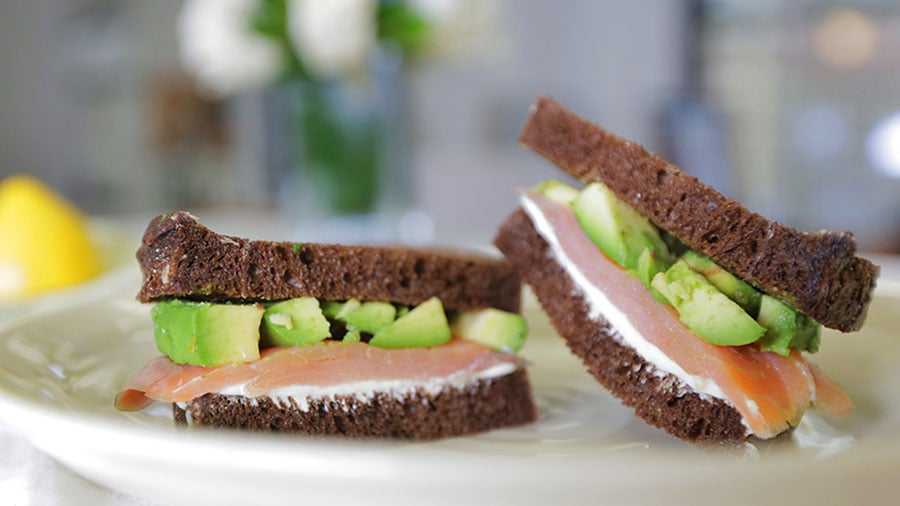 Inspired by a sushi roll, this bold smoked salmon sandwich is a cinch to make.
Get the recipe: salmon wasabi cream cheese sandwich [26]
Taco Salad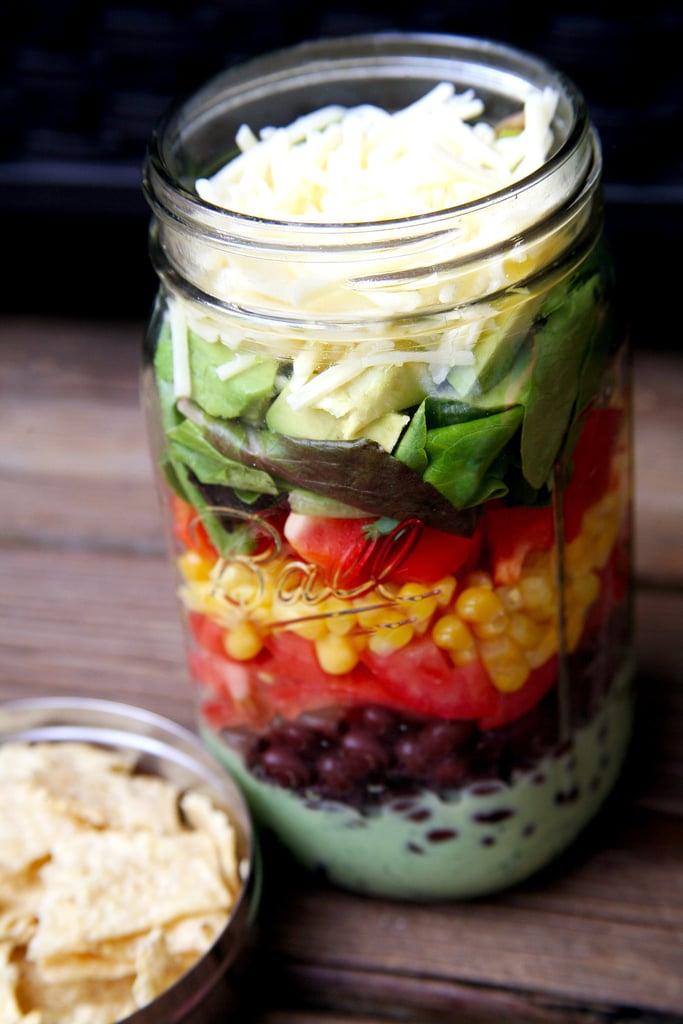 The cilantro-lime dressing gives this taco salad a fresh and zesty flavor, making it perfect for warm days outside.
Get the recipe: taco salad [27]
Watermelon Caprese Salad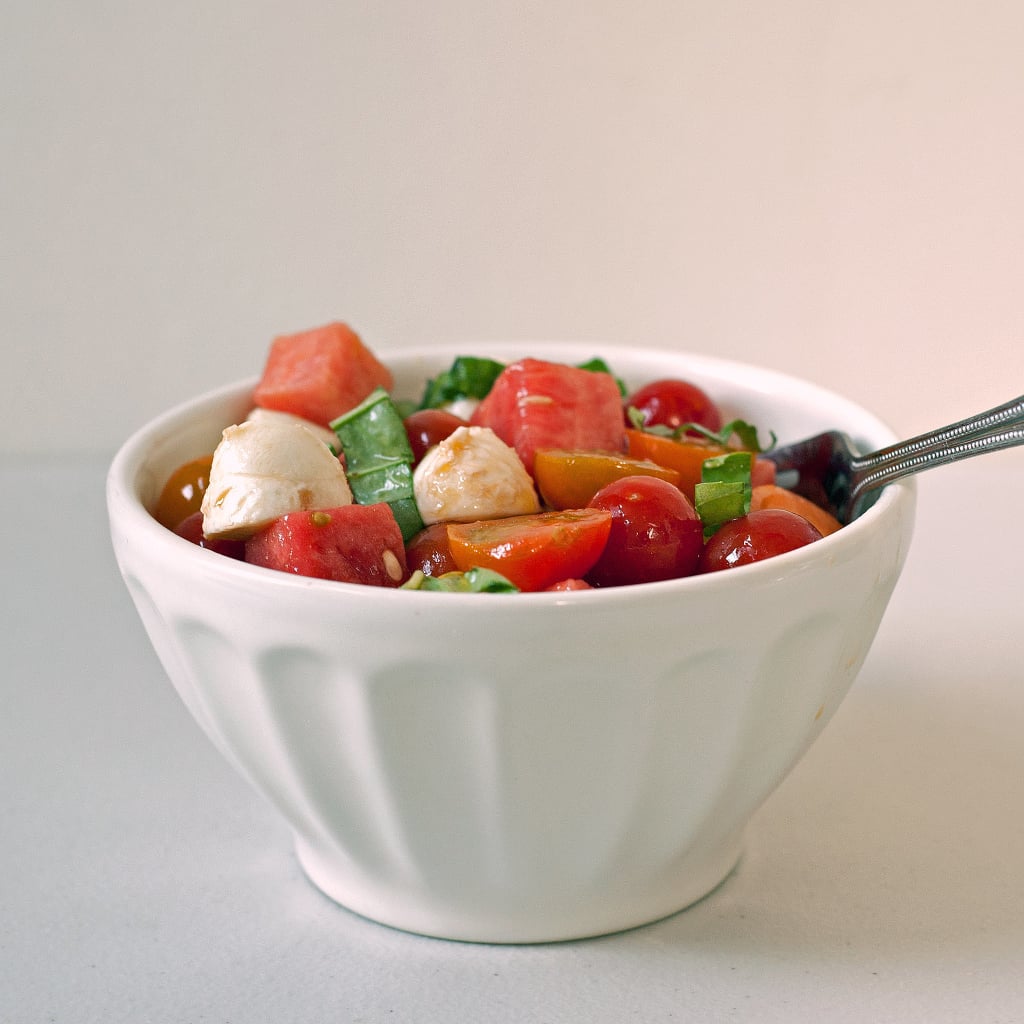 Give your standard tomato and mozzarella caprese a hydrating makeover with this inventive watermelon caprese salad. You'll be surprised what a natural flavor fit cubed watermelon is in this summery favorite.
Get the recipe: watermelon caprese salad [28]
Hemp and Cabbage Detox Salad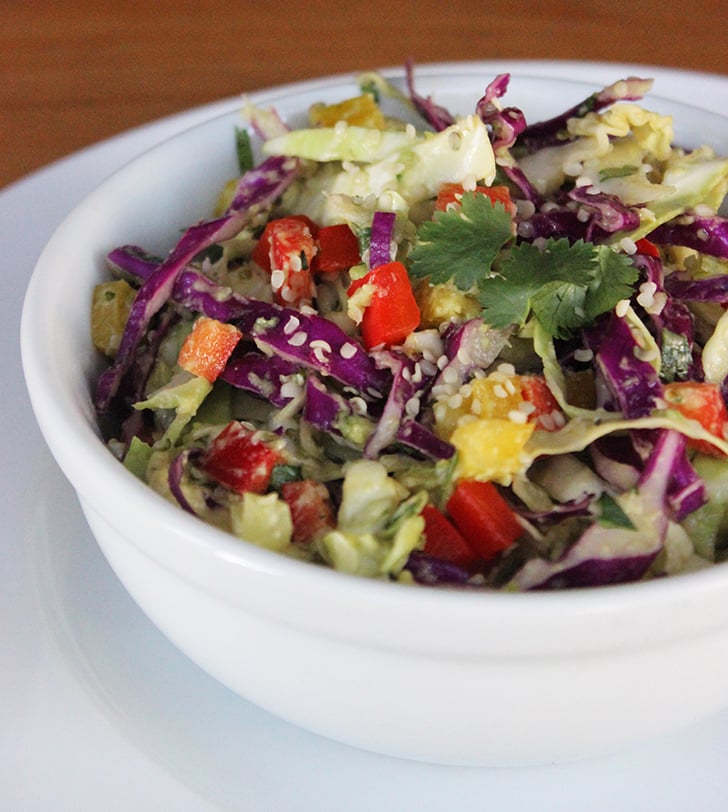 If you're on the hunt for a quick and tasty recipe, this crunchy cabbage and hemp salad is for you. The combination of cold-pressed oil and hemp seeds gives this fresh salad a nutty flavor you'll love.
Get the recipe: cabbage and hemp salad [29]
Eggless Kale Caesar Salad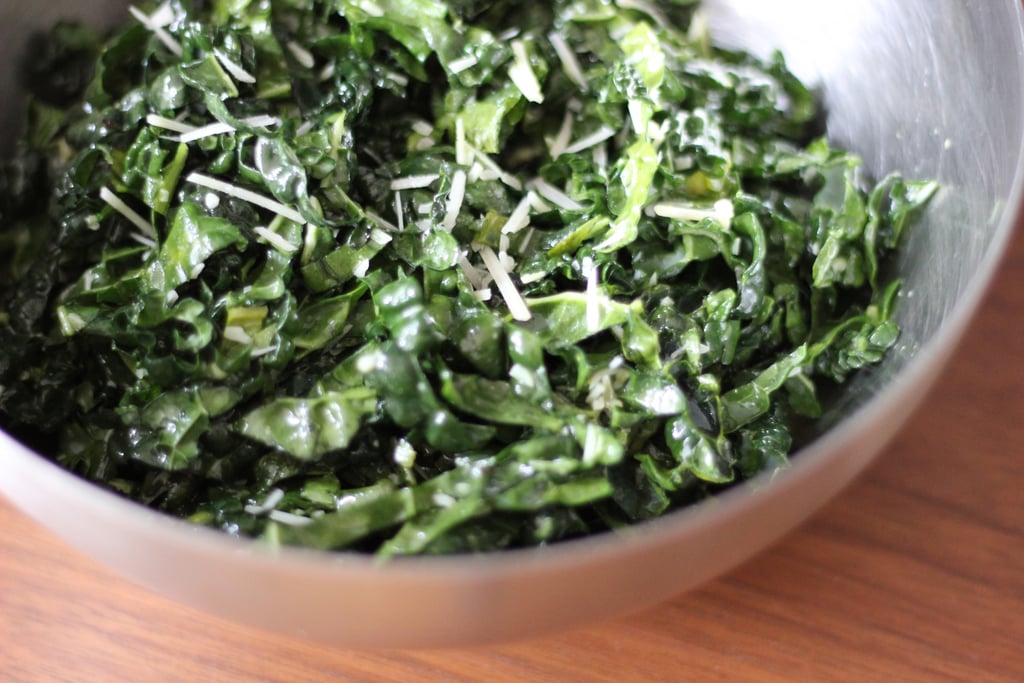 For just the same addictive taste as the original with an added bonus — vitamin-A-rich superfood kale — opt for this lighter caesar salad dressing instead.
Get the recipe: kale caesar salad [30]
Raw Veggie Salad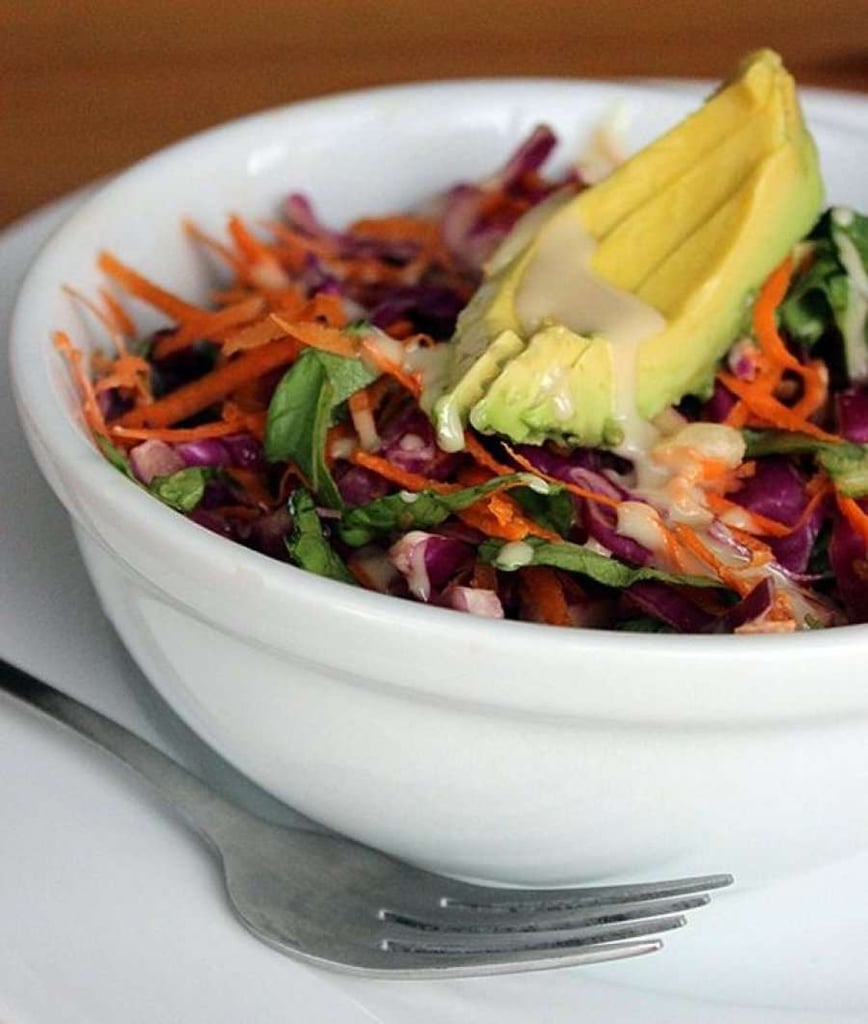 This raw rainbow salad adds color and flavor to any meal. Add avocado to bulk up this salad for a satisfying dinner.
Get the recipe: raw rainbow salad [31]
Cucumber, Black Bean, Avocado, Corn, and Tomato Salad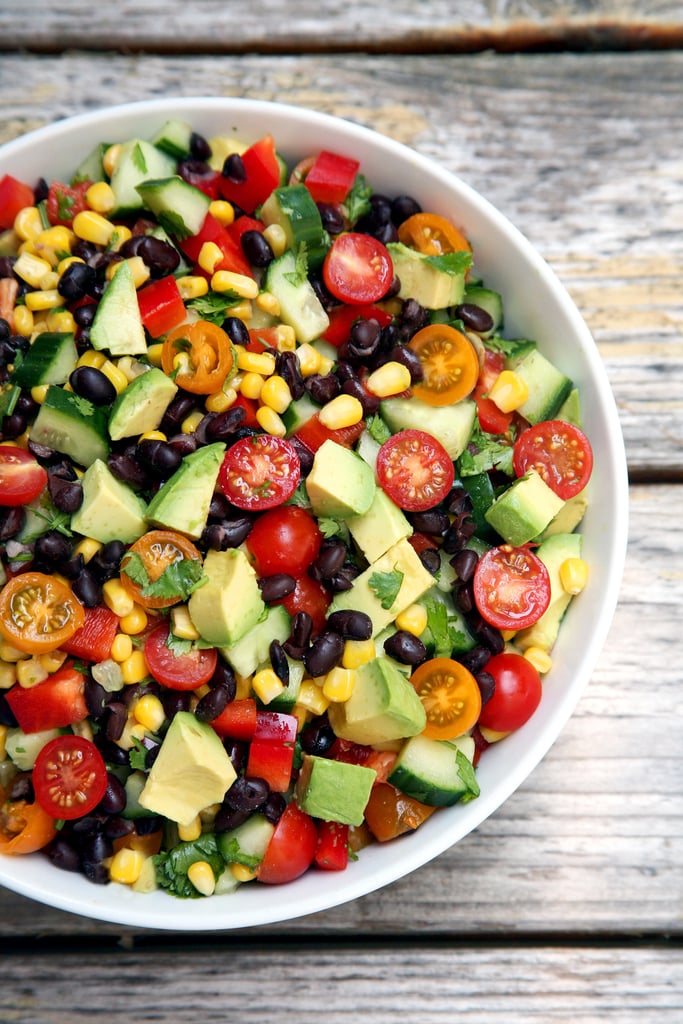 Crafted with basic ingredients, our cucumber, black bean, avocado, corn, and tomato salad is an incredible mix of flavors and textures.
Get the recipe: cucumber, black bean, avocado, corn, and tomato salad [32]
Apple Cabbage Detox Salad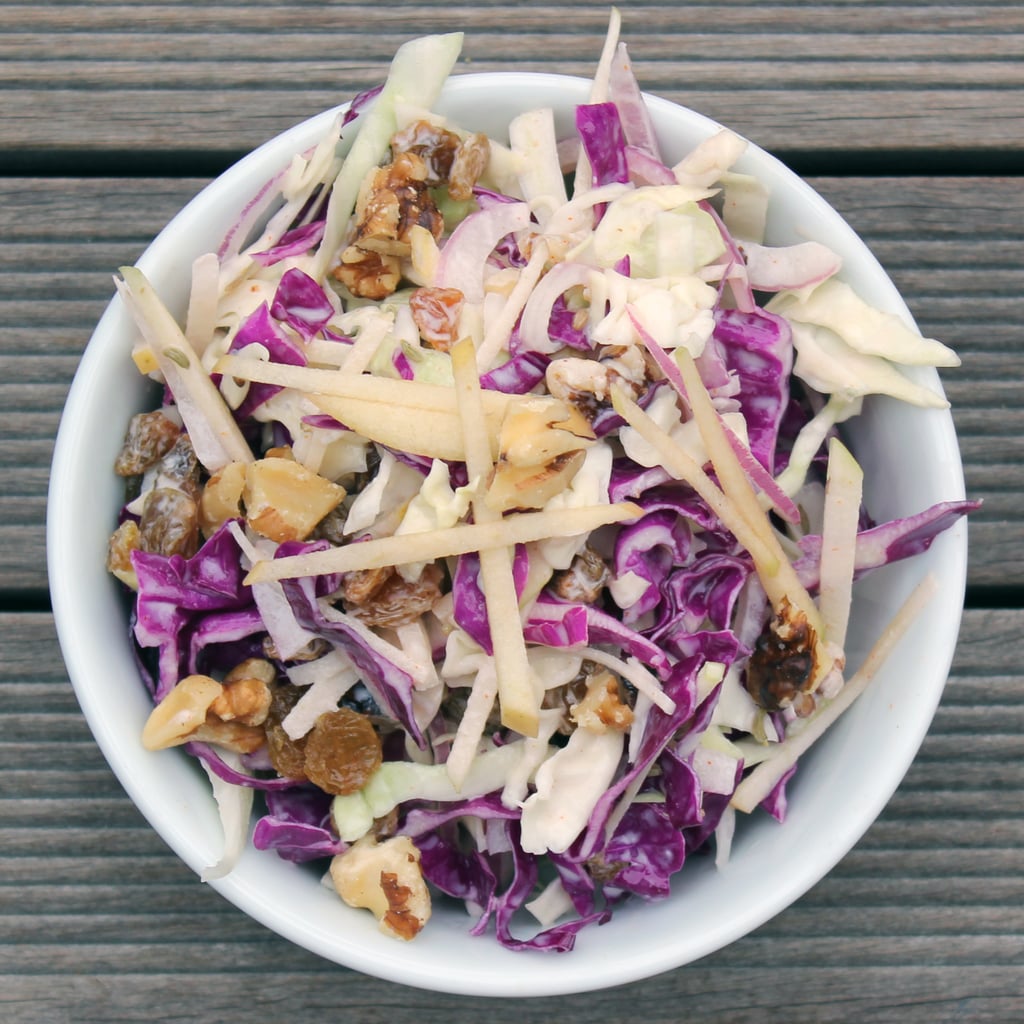 For a lightened-up take on classic coleslaw, whip up this detox salad instead. The apples and cabbage will help aid in digestion after a long weekend in the woods.
Get the recipe: apple cabbage detox salad [33]
Black Bean Mango Salad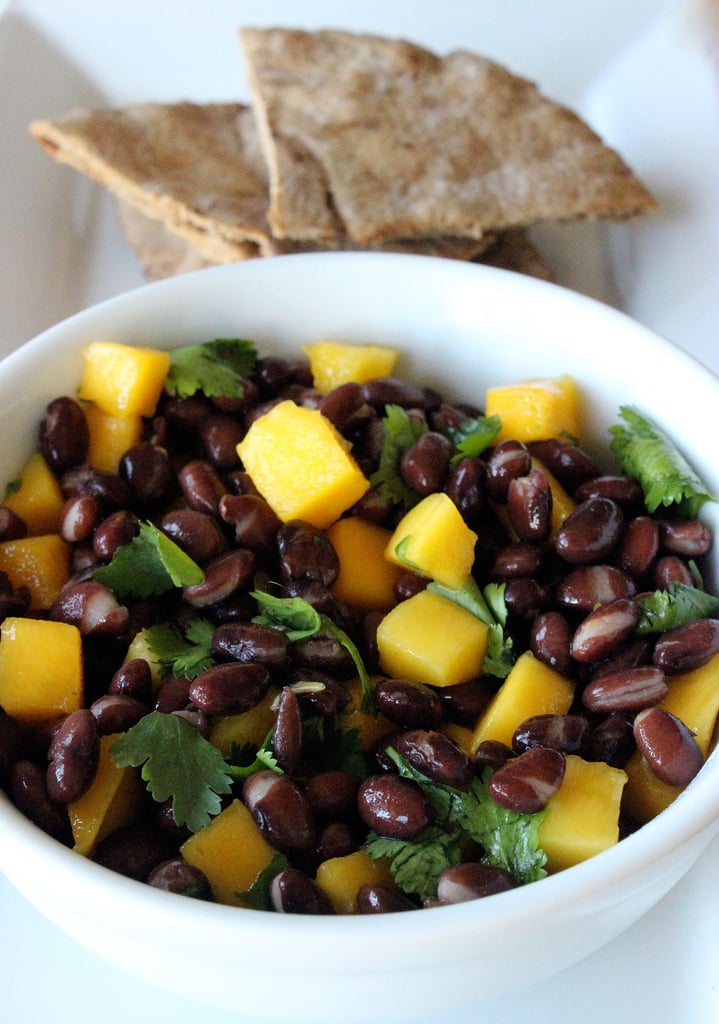 After a day spent outdoors, this vegan bean salad makes a refreshing meal. Light and fresh, you can't beat making this on your next camping trip.
Get the recipe: black bean mango salad [34]
Summer Fruit Salad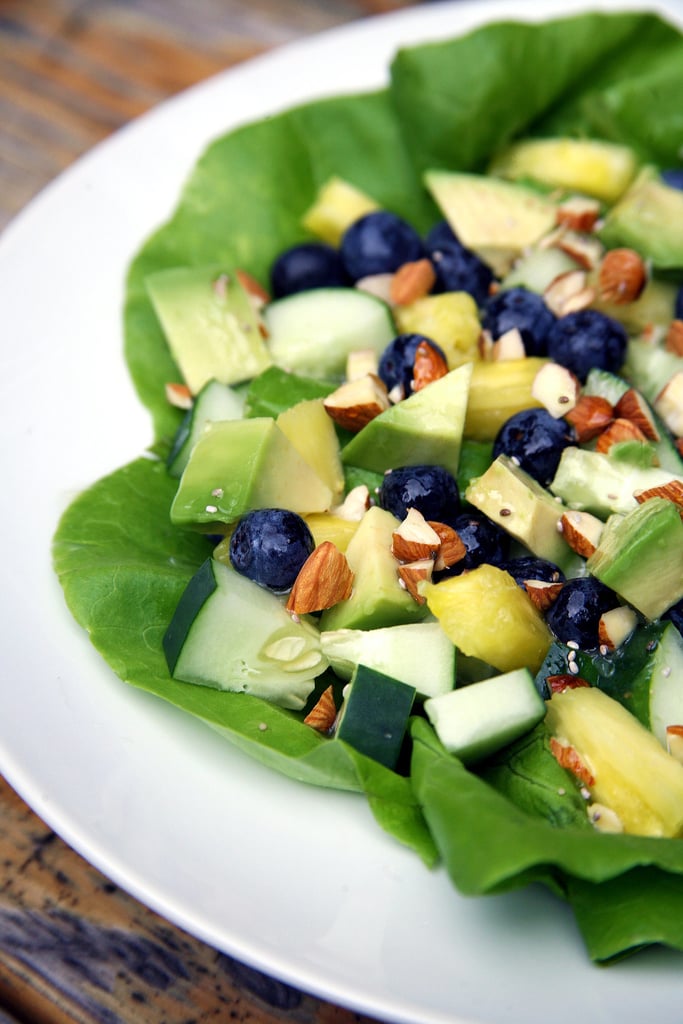 Make a summery salad a little more savory by mixing in avocado and dressing it with a lemon chia seed dressing.
Get the recipe: summer fruit salad [35]
Lemon Tuna Salad
Substituting lemon and olive oil for mayonnaise makes for a lighter, brighter tuna salad that's perfectly in line with the Mediterranean diet. Tuck yours into pita bread, or serve it on top of a bed of fresh greens.
Get the recipe: tuna salad [36]
Turkey and Feta Wrap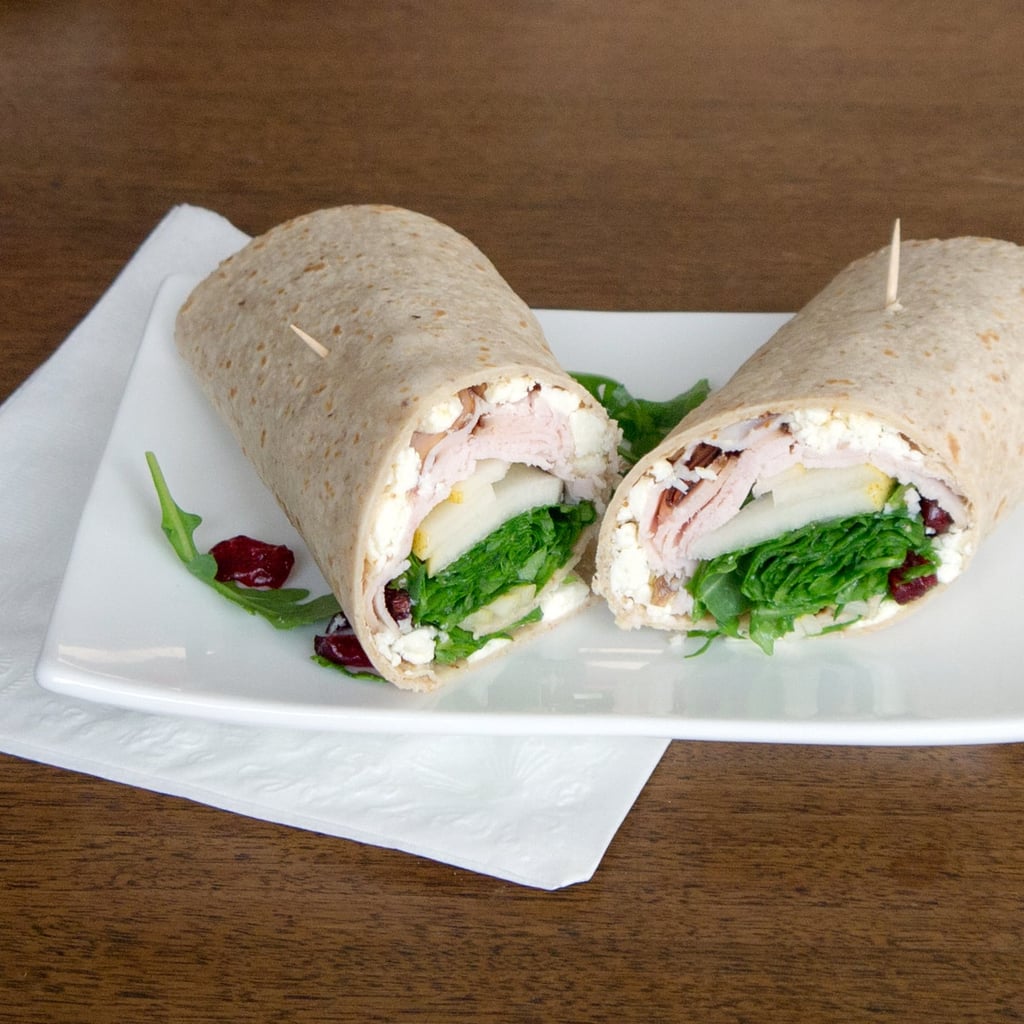 A wrap is the sandwich's close relative, so go ahead and roll one up with turkey, crumbly feta, and spicy arugula for lunch — you'll thank us later.
Get the recipe: turkey and feta wrap [37]
Veggie Sandwich With Turkey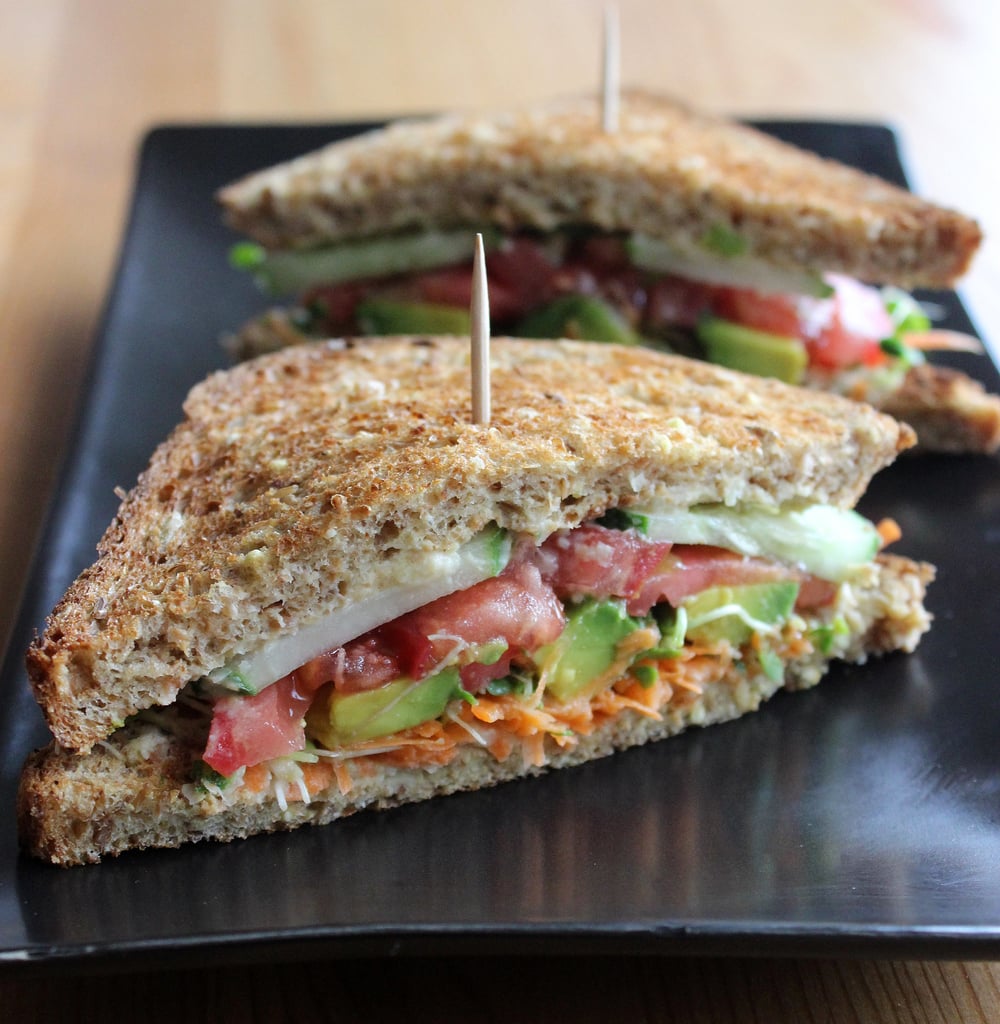 When seeking a lighter, veggie-packed option, fill your sandwich with fresh produce and add a few slices of turkey for tons of flavor. Low-calorie, fiber-rich hummus is the glue that holds it all together.
Get the recipe: veggie sandwich [38]
Cottage Cheese Toast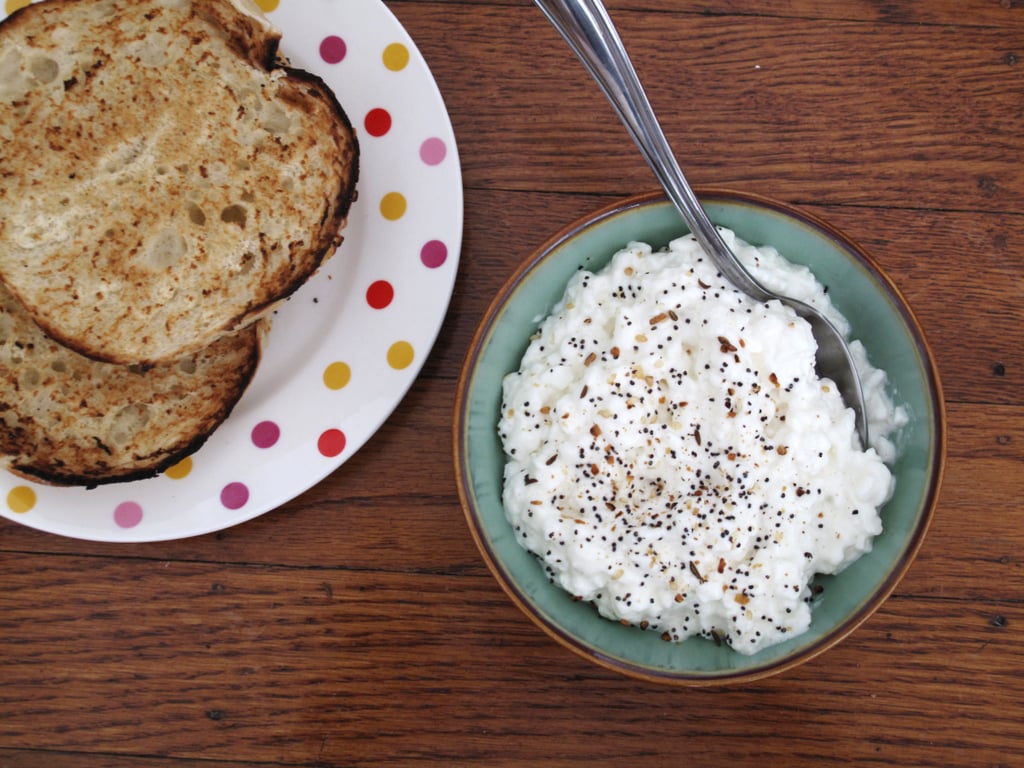 This may be simple, but it sure is good! Mix cottage cheese with a seasoning (we prefer everything but the bagel [39]) and add it to some bread as your morning meal.
Get the recipe: cottage cheese toast [40]
Citrusy Fruit Salad With Pistachios and Goat Cheese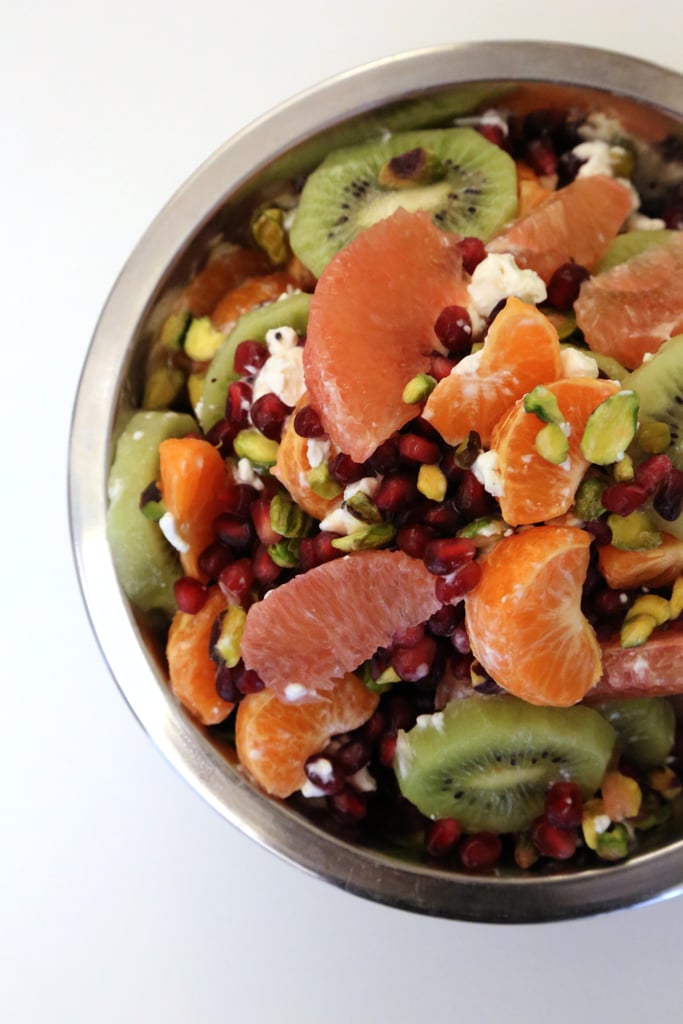 This fruit salad is filled with texture. From crunchy pomegranate seeds to velvety goat cheese and juicy citrus fruit, it's a whole lot of yum.
Get the recipe: citrusy fruit salad with pistachios and goat cheese [41]
Tomato Mayonnaise Sandwich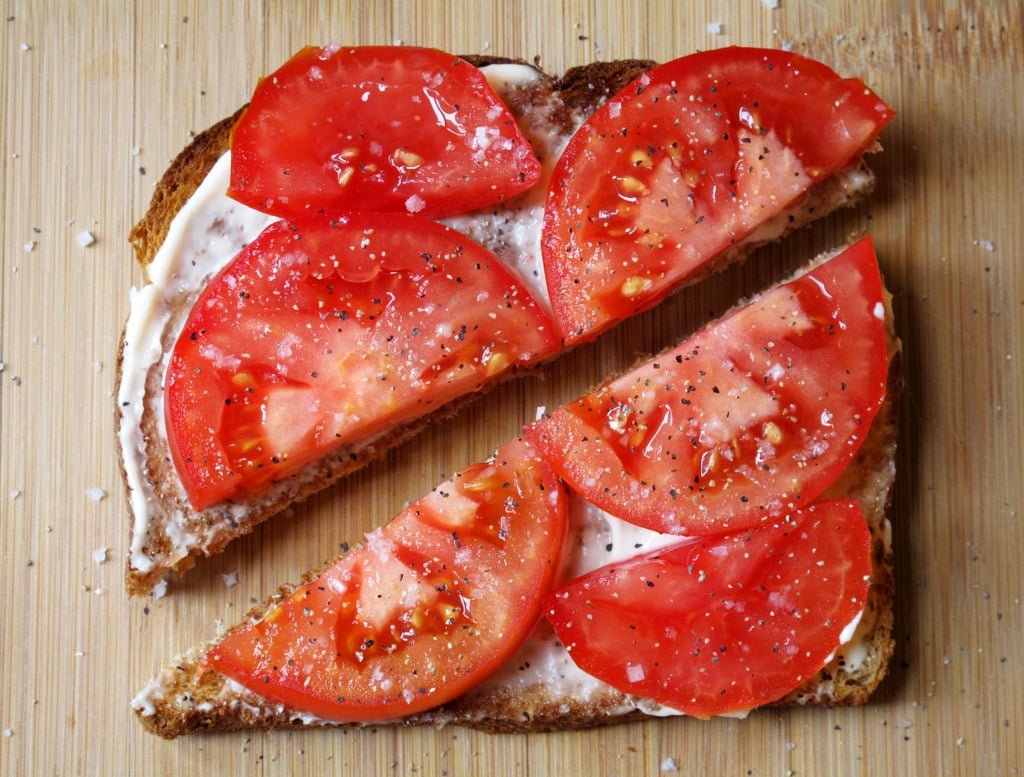 Believe it or not, tomatoes and mayo make the perfect combination, and if you eat it open faced, it tastes even better.
Get the recipe: tomato mayonnaise sandwich [42]
Pita Bread With Mint and Feta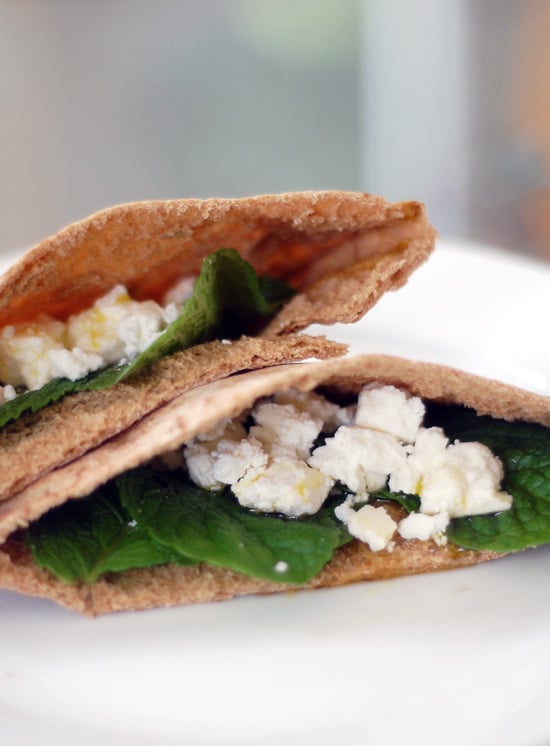 It's the unusually simple recipes that taste the best, especially without all the hard work. Place mint and feta cheese into a pita and enjoy its salty cheese and aromatic leaves.
Get the recipe: pita bread with mint and feta [43]
Cucumber and Cream Cheese Sandwich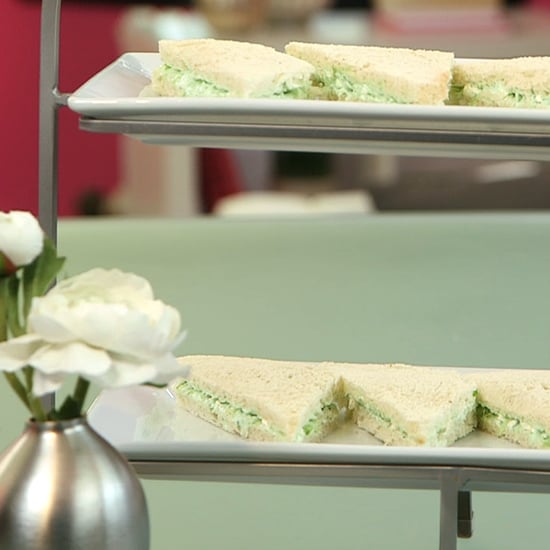 The key to this cucumber and cream cheese sandwich is a. the white bread and b. to cut off the edges. Just trust us, it makes a difference.
Get the recipe: cucumber and cream cheese sandwiches [44]