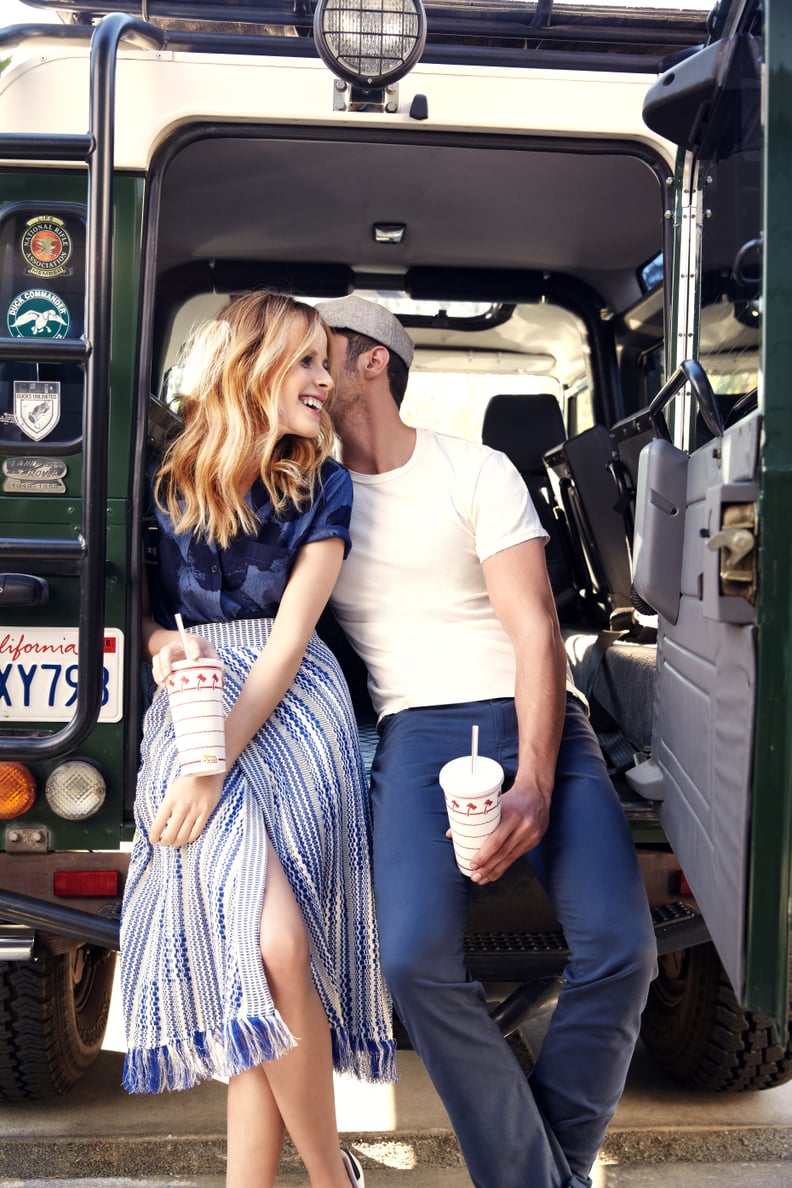 POPSUGAR Photography
POPSUGAR Photography
If your significant other has recently sent you a list of OpenTable's most romantic restaurants in the country, they're dropping you a major hint. Or rather . . . mandatory suggestion.
Just in time for all those Valentine's Day dates, restaurant reservation site OpenTable has compiled a thorough list of the 100 most romantic restaurants in the country — with selections from Brooklyn, NY, to Honolulu. The final list was compiled using five million user reviews and noting those with "romantic" most often selected as a "special feature" by the reviewer.
Check out the list below, and consider making a reservation ASAP — or just cook a romantic dinner at home, because there is certainly no shame in that game.
Addison Restaurant — San Diego

Alizé at the Top of the Palms Casino Resort — Las Vegas

Aly's Restaurant — Solvang, CA

Ambience — Los Altos, CA

Bistro Romano — Philadelphia, PA

Bouchard Restaurant and Inn — Newport, RI

Briarhurst Manor — Manitou Springs, CO

Cacharel Restaurant — Arlington, TX

Café Central — El Paso, TX

Café Matisse — Rutherford, NJ

Café Monarch — Scottsdale, AZ

Cafe Renaissance — Vienna, VA

Canlis — Seattle

Capische — Wailea, HI

Carlos' Bistro — Colorado Springs, CO

The Cellar Restaurant — Daytona Beach, FL

The Cellars — Virginia Beach, VA

Chez François — Vermilion, OH

Chez Nous French Restaurant — Humble, TX

Circa 1886 — Charleston, SC

Coco Palm — Pomona, CA

Collage Restaurant — St. Augustine, FL

Different Pointe of View — Phoenix, AZ

The Dining Room - Biltmore Estate — Asheville, NC

Duling Kurtz House — Exton, PA

Edgewood Restaurant — Stateline, NV

Eiffel Tower — Las Vegas

The English Inn — Eaton Rapids, MI

Erminia Ristorante — New York

The Farmhouse at Turkey Hill — Bloomsburg, PA

Fearrington House Restaurant — Pittsboro, NC

Flagstaff House — Boulder, CO

The Flatiron Café — Omaha, NE

Fleurie — Charlottesville, VA

Forbes Island — San Francisco

The French Room — Dallas

Geja's Café — Chicago

The Goodstone Inn & Estate Restaurant — Middleburg, VA

Harry's Restaurant — Manhattan, KS

The Hobbit — Orange, CA

Hugo's Cellar - Four Queens — Las Vegas

Inn at Barley Sheaf Farm — Holicong, PA

Iridescence — Detroit

Jillian's — Palm Desert, CA

Keystone Ranch Restaurant — Keystone, CO

L'Auberge de Sedona — Sedona, AZ

La Bergerie — Alexandria, VA

La Cremaillere Restaurant — Bedford, NY

La Mer at Halekulani — Honolulu

Latitudes — Key West, FL

Le Vallauris — Palm Springs

Les Nomades — Chicago

The Little Door — Los Angeles

Mar'sel at Terranea Resort — Rancho Palos Verdes, CA

The Melting Pot — National locations

Michael's - South Point Casino — Las Vegas

Michel's at the Colony Surf — Honolulu

Middleton Place Restaurant — Charleston, SC

ON20 — Hartford, CT

Orchids at Palm Court — Cincinnati

Over the Moon Café — Tacoma, WA

The Painted Lady — Newberg, OR

Palme d'Or — Coral Gables, FL

Paseo Grill — Oklahoma City, OK

Penrose Room - The Broadmoor — Colorado Springs, CO

Pepper Tree Restaurant — Colorado Springs, CO

Peter Shields Inn — Cape May, NJ

Primavista — Cincinnati

Rainbow Room Dinner & Dancing — New York

The Refectory Restaurant & Bistro — Columbus, OH

The Restaurant at the Gideon Ridge Inn — Blowing Rock, NC

Restaurant Iris — Memphis, TN

Ristorante Massimo — Portsmouth, NH

River Café — Brooklyn, NY

River's End — Jenner, CA

Russell's Steaks, Chops, and More — Williamsville, NY

Saddle Peak Lodge — Calabasas, CA

Salacia Prime Seafood and Steaks — Virginia Beach, VA

SASSI — Scottsdale, AZ

Seagar's Restaurant — Destin, FL

Second Empire Restaurant and Tavern — Raleigh, NC

Shadowbrook Restaurant — Capitola, CA

Shearns Seafood and Prime Steaks — Galveston, TX

Sir Winston's Aboard the Queen Mary — Long Beach, CA

Ski Tip Lodge — Keystone, CO

St. Martin's Wine Bistro — Dallas

Stonehouse at San Ysidro Ranch — Santa Barbara, CA

The Studio, An Artistic Dining Experience — Hilton Head Island, SC

thirty-two — Biloxi, MS

Thomas Henkelmann - Homestead Inn — Greenwich, CT

Tidepools - Grand Hyatt Kauai — Poipu, HI

The Tree Room @ Sundance — Sundance, UT

TS Steakhouse at Turning Stone — Verona, NY

'Ulu Ocean Grill and Sushi Lounge — Kaupulehu, HI

V.Mertz — Omaha, NE

Vernon's Speakeasy — Los Ranchos de Albuquerque, NM

Viande Rouge — Duluth, GA

White Barn Inn — Kennebunk, ME

Yono's Restaurant — Albany, NY

Zenkichi — Brooklyn, NY