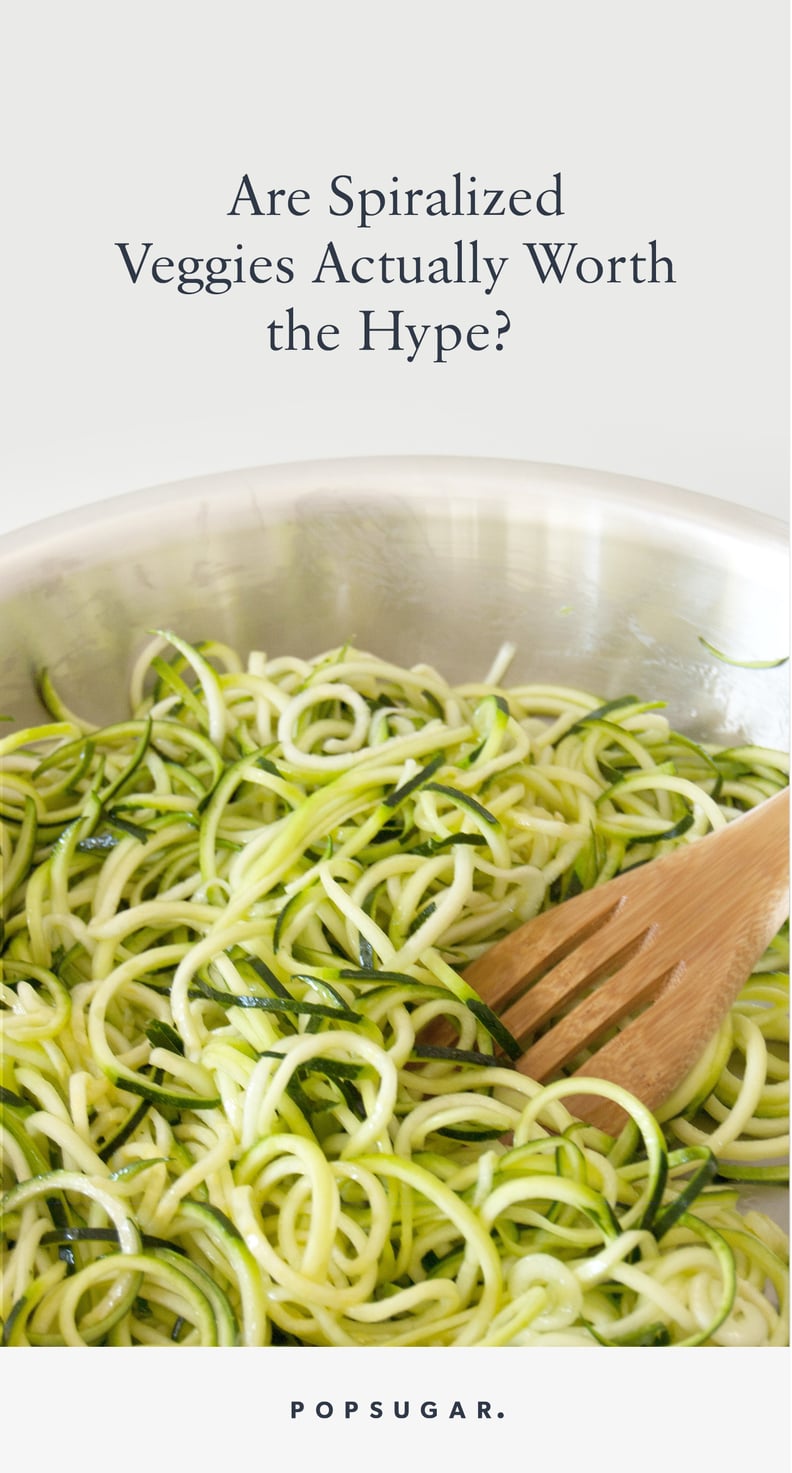 POPSUGAR Photography | Erin Cullum
POPSUGAR Photography | Erin Cullum
Erin, 25, addicted to pasta. Thanks to my upbringing in a large Italian family, my obsession with carbs started early on and has very much carried over into my adult life. My idea of a good dinner involves a big-ass bowl of pasta with plenty of garlic and parmesan cheese, so I've been totally hesitant to get on board with the increasingly popular spiralized-veggie trend.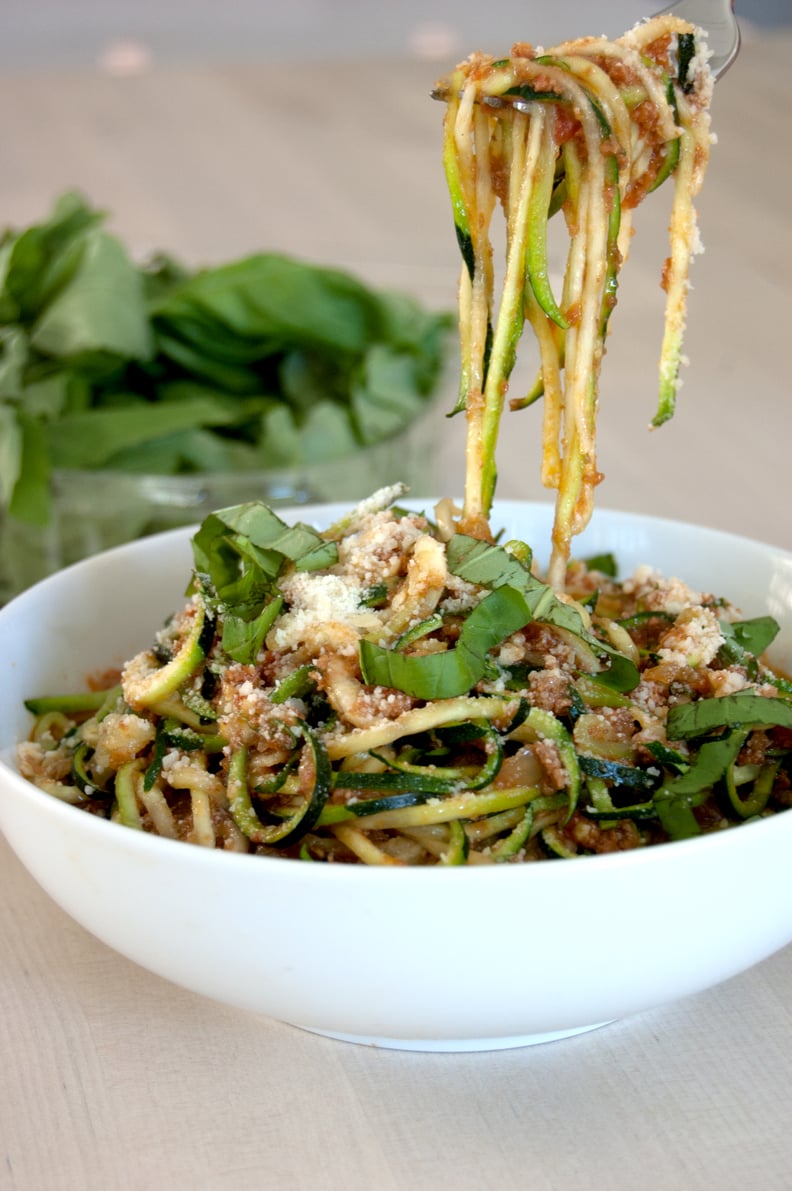 Yes, I love zucchini, but zucchini posing as noodles? Can't fool me. But just when I tell myself I can get by on an 80-percent-pasta diet, Adult Erin chimes in and reminds Young Erin that she can't (well, can, but really shouldn't). So, somewhat begrudgingly, I decided to try zoodles to see if I approve of all the hype. Here's how it went.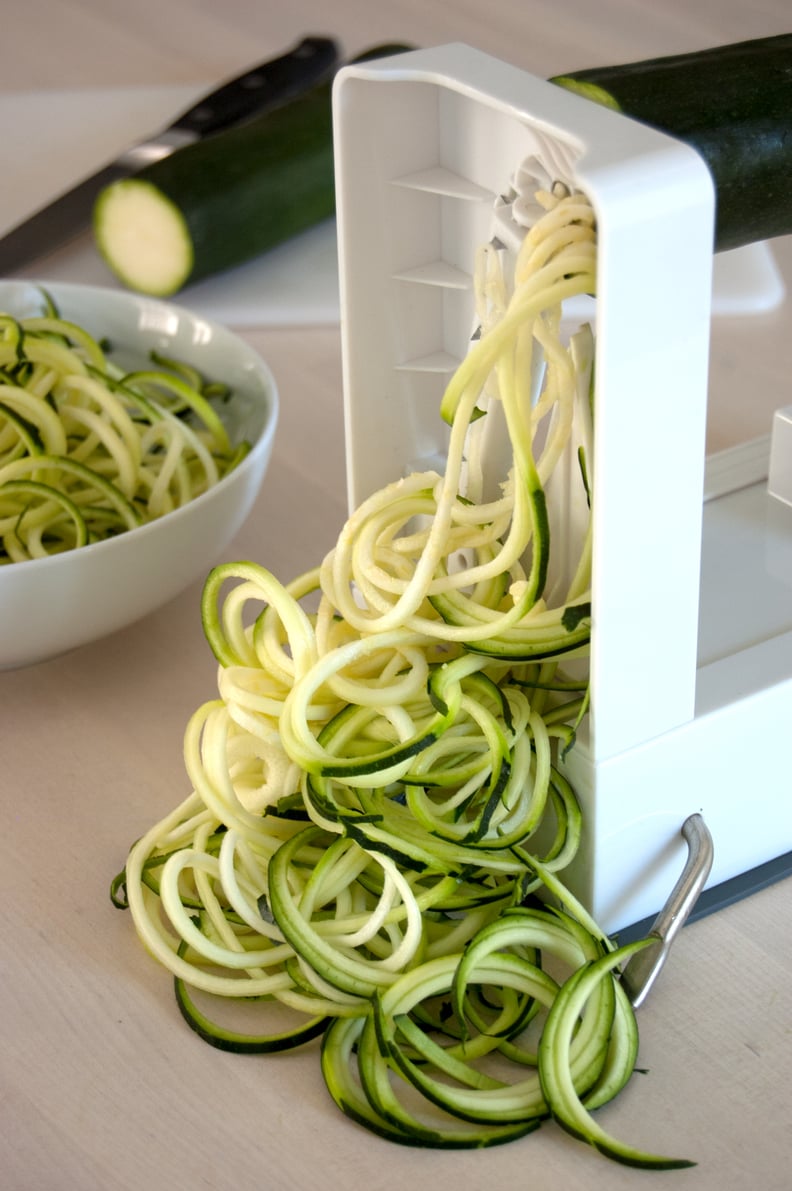 First thing's first — using a spiralizer is FUN. You get to watch a stumpy vegetable transform into tons of twirly strands, and it's pretty mesmerizing. I used the Inspiralizer by the founder of the blog Inspiralized, but you can use any spiralizer or even spiralize veggies without a spiralizer, too. What I liked about this tool is it suctions to your counterop to prevent slipping, and you don't have to handle the different blades with your hands. You turn a nob to choose the thickness you want (ribbon noodles, fettucine, linguine, or spaghetti), and you just use your hand to turn a handle as the zucchini pushes forward into the blade, and zoodles start to spill out on the other side.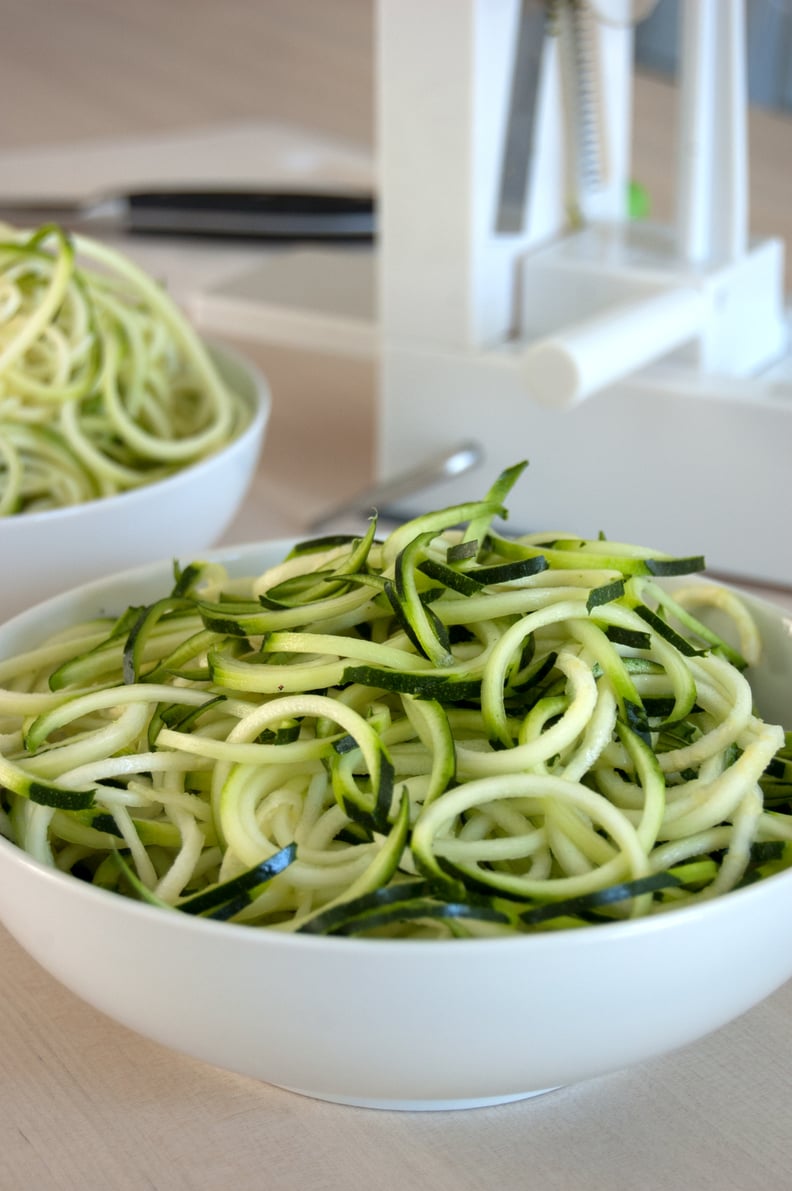 After successfully spiralizing three zucchinis, I took a moment to admire my handywork. Check out all those twirly strands of veggies! Notice how I am not calling these "noodles," because that's just sacrilege.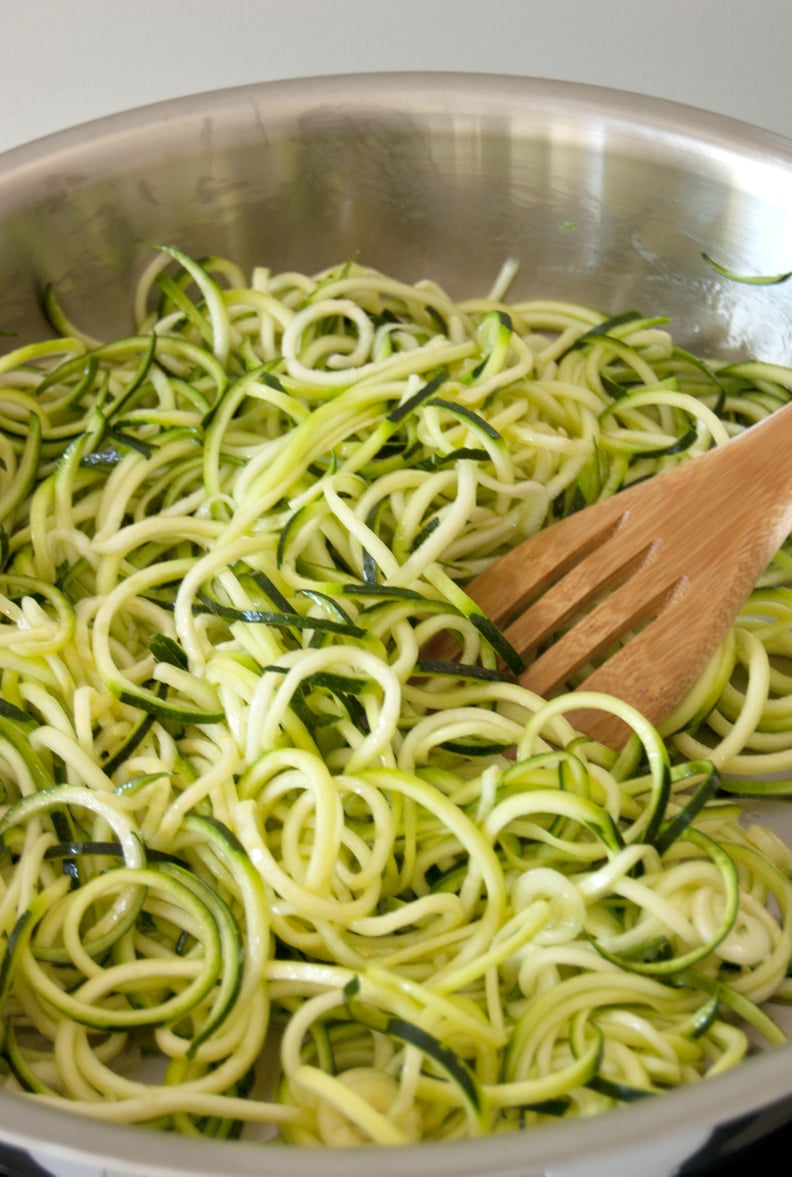 Then comes the cooking. The perk of cooking zoodles is you don't have to wait around for a big pot of water to boil. All you have to do is sauté them in a pan with a little olive oil and salt until they're softened, which takes about five minutes. This is the closest thing you'll get to mimicking the al dente texture of perfectly cooked pasta.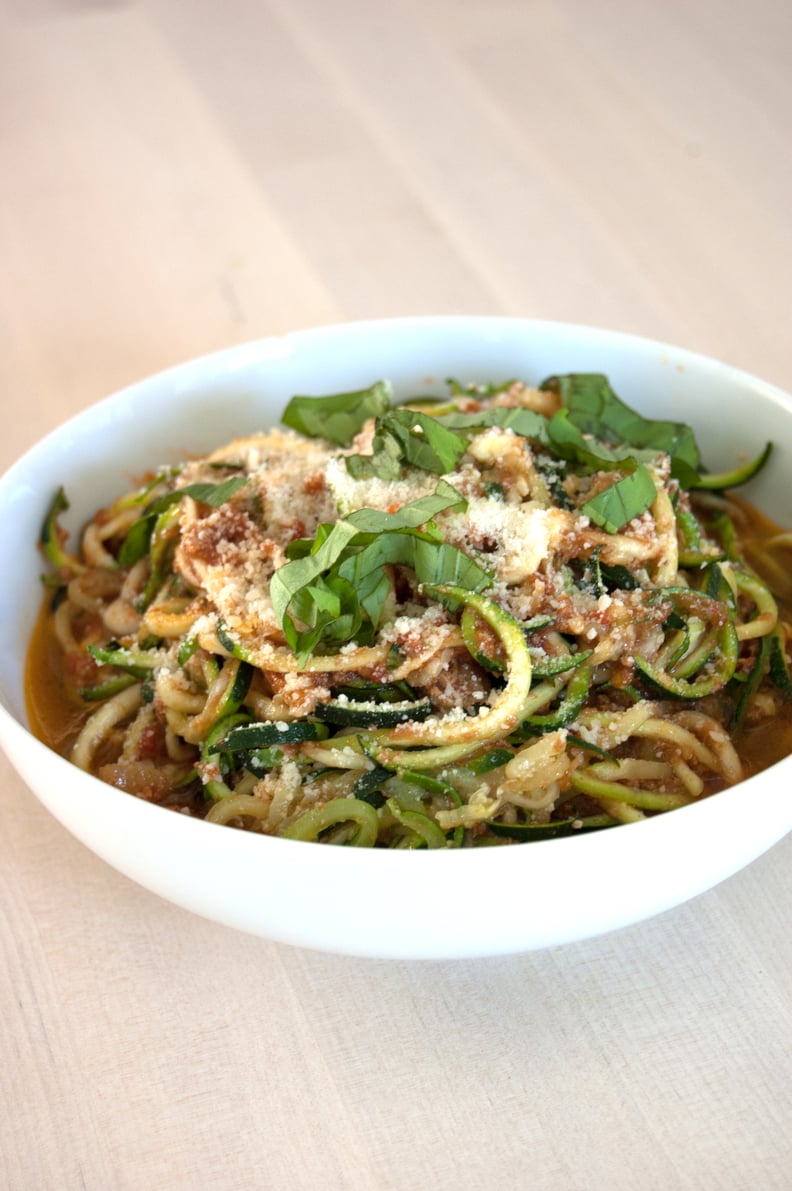 Once the zucchini is cooked, you can customize it just like you would any pasta dish. I added leftover slow-cooker bolognese sauce and topped mine with parmesan cheese and a little fresh basil. After marveling at the final product, I decided I was indeed excited to try it. And guess what? I really, really liked it! The hearty sauce rounded out the vegetable-ness of the zucchini, and getting the satisfaction of twirling the zoodles around my fork almost tricked me into thinking I was eating spaghetti. The best part was the difference in how I felt after eating a whole bowl of zoodles versus actual noodles: no bloated feeling! No carb crash! I was full and satisfied, and I didn't want to immediately take a nap. Also, I decided zoodles are definitely better than the other impasta (get it?), spaghetti squash. I am . . . officially . . . on the zoodles train. I'm definitely going to make this again. But I'm just not going to call it pasta.