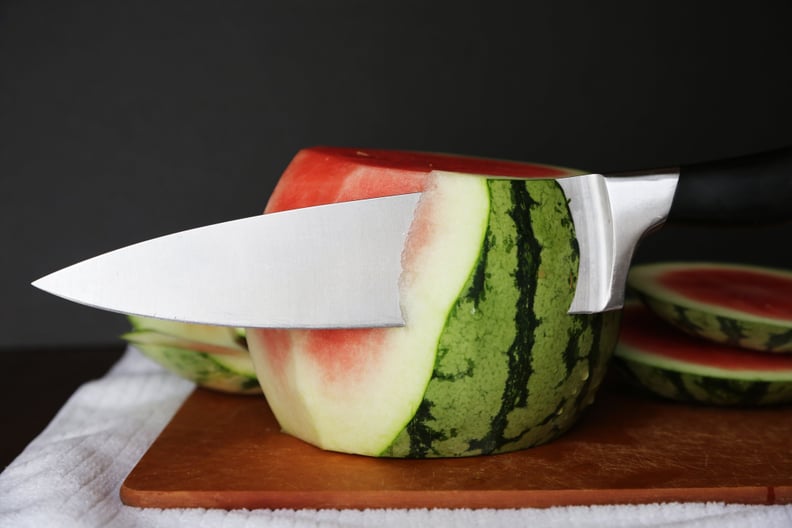 POPSUGAR Photography | Anna Monette Roberts
POPSUGAR Photography | Anna Monette Roberts
Unless you want to make things hard on yourself, you need these food hacks in your life for Summer. These tips for the best way to cut a watermelon, the quickest way to peel a mango, and more will have you saying, "Why didn't I think of that?"
01
Use a glass to easily peel a mango.
02
Soak strawberries in water with a few tablespoons of apple cider vinegar to extend shelf life.
03
Cut a bunch of cherry tomatoes at once by placing between two lids.
04
Slice watermelon on a cutting board on top of a baking sheet to catch all the juice for easy cleanup.
05
Keep leftover avocado from browning by coating the flesh with a little olive oil.
06
Use a (new) toothbrush to get rid of pesky hairs on corn.
07
Freeze fresh lemon juice in big batches so you have it at all times.
08
Freeze fresh mint in an ice cube tray with a little water to add to cocktails or iced tea.
09
Regrow green onions by leaving the stems in a glass of water on your countertop.
10
Core a bell pepper while keeping it whole for easy chopping.
11
Use a pineapple slicer to maintain the perfect shape.
12
Prevent water from boiling over by placing wooden spoons over the pot.
13
Cover watermelon with a stretch-fit silicone lid for easy transportation.