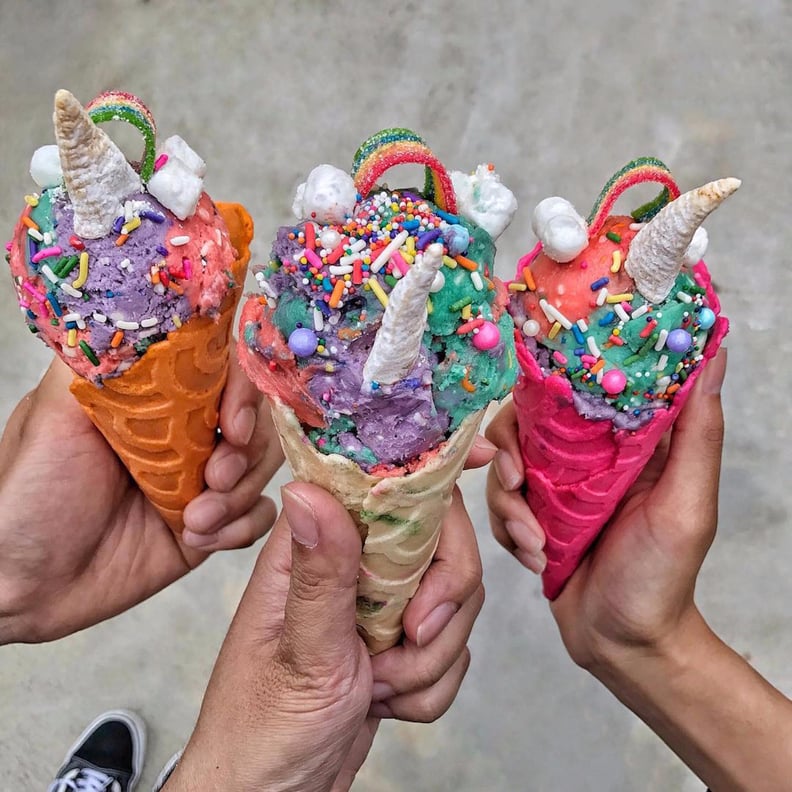 All right, all right. I totally know what you're thinking right now: "Sheesh, another unicorn-related food? Just get over it already!" While we do admit to having a slight case of "unicorn fatigue" due to the hoards of multicolored, Instagram-friendly foods that took over social media the entire universe this year, we simply can't resist falling for the cute horn-topped desserts they're serving up at California Cookie Dough.
This cookie dough looks like Lisa Frank herself could've made it from scratch with its vibrant blue, pink, and purple hues. The sweet treat is topped with a collection of garnishes that'll definitely give you a sugar rush, including sprinkles, rainbow belt candy, marshmallows, and what appears to be a horn made out of a sugar-coated Bugle. Man, what a combo! Though this pretty-as-can-be dessert may look complicated to make with its various dyes and toppings, we actually have a similar homemade unicorn cookie dough recipe that's just as enchanting.
Naturally, as soon as California Cookie Dough launched this unicorn-themed goody, it spread like wildfire all over social media because, well, how could you possibly resist snapping a photo of it? Scope out the epic pictures ahead, and you'll certainly become convinced to hop right back on the unicorn bandwagon.