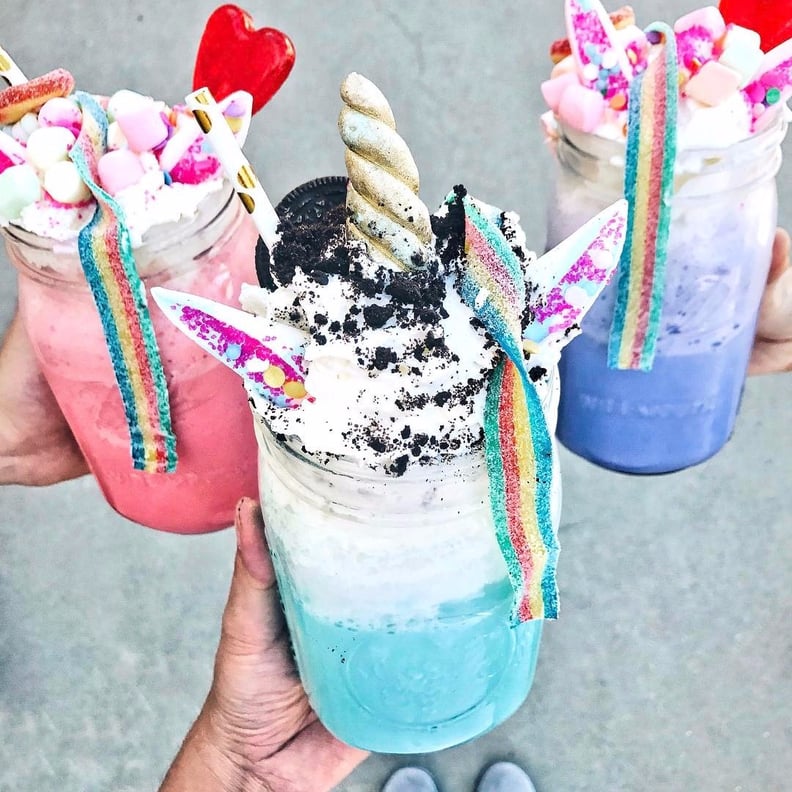 If the closest thing we'll get to meeting a unicorn IRL is drinking one of these unicorn milkshakes, we're totally fine with that. Quite possibly the most realistic-looking unicorn-inspired dessert we've seen thus far (and that's saying a lot, considering unicorn macarons, unicorn Oreo pops, and unicorn doughnuts have made a case for themselves, too), unicorn milkshakes fill our souls with sparkles and our eyes with glittery tears of happiness.
These over-the-top milkshakes can be found at Caked LA, a cafe serving up rainbow sweets in Chino Hills, CA. Clearly the most Instagram-friendly item on the menu is the unicorn milkshake, which comes in a variety of flavors (we're partial to the Dirty Monster, a blue shake with a chocolate chip cookie on the side). There's also the Rainbow Crush, an ombré beverage that appears to be iridescent layers of tea with whipped cream on top.
Feeling inspired just by looking at one? Get ready for a magical ride as you explore all the unicorn milkshakes and creations Caked LA has to offer, and be prepared to add this place to your must-visit list the next time you're in LA. In the meantime, you can decorate you own homemade milkshake with plenty of DIY unicorn sprinkles to get a little closer to the real thing.