POPSUGAR Photography | Erin Cullum
POPSUGAR Photography | Erin Cullum
Trader Joe's new July foods were good to us, but August is already coming in hot. Kick off a new month with the best new launches from the best grocery store, including dangerously addictive chocolate crepes and a sweet yogurt coconut-lovers will go nuts for. We've tried every new item this month so far and will continue to add more as they arrive, so read on to see which ones are speaking to you and add them to your next Trader Joe's grocery list.
01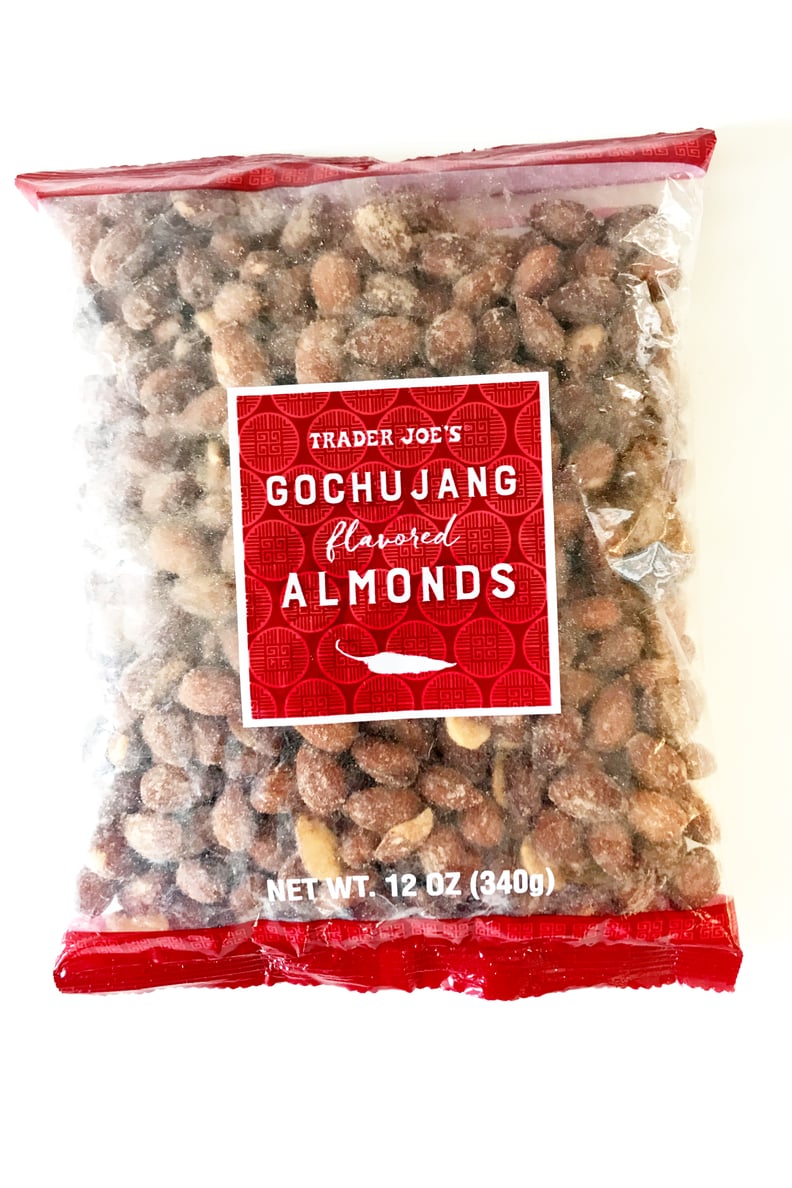 Pick Up: Gochujang Almonds ($5)
Spicy almonds don't get much better than Trader Joe's Gochujang Almonds. Seasoned with the flavors of gochujang — a Korean paste made from red chili, rice, fermented soybeans, and salt — these crunchy almonds are smoky and not too spicy. They're worth picking up if you want an upgraded afternoon snack to look forward to.
02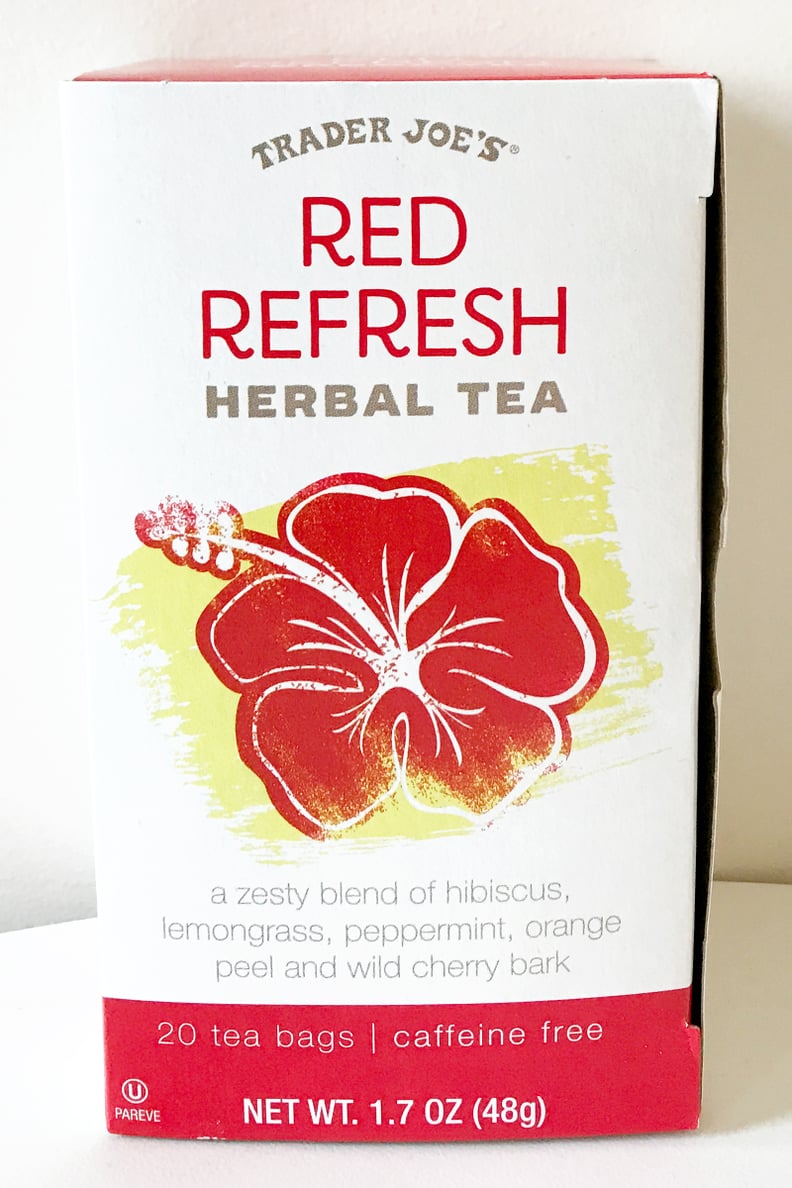 Pick Up: Red Refresh Herbal Tea ($2)
If you're looking for a tea that will mentally perk you up without the caffeine, try Trader Joe's Red Refresh Herbal Tea. The pink-hued hibiscus tea has a blend of lemongrass, peppermint, orange peel, and wild cherry bark, and it's pleasantly sweet and refreshing.
03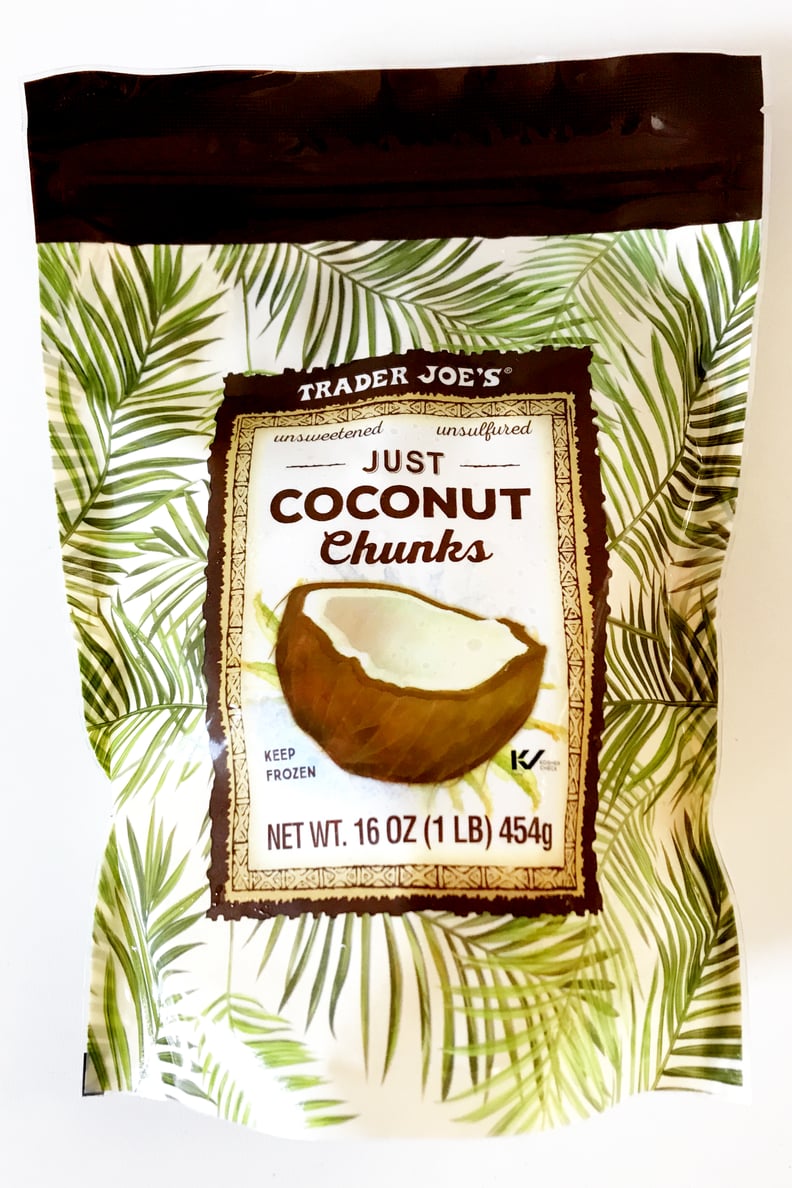 Pick Up: Just Coconut Chunks ($3)
OK, these Just Coconut Chunks are pretty freaking ingenious. The frozen bags are packed with exactly what they promise: just chunks of coconut. You can eat them on their own (thawed) or use them instead of ice in smoothies for an extra flavor boost. The coconut meat is fresh and will last for months in the freezer.
04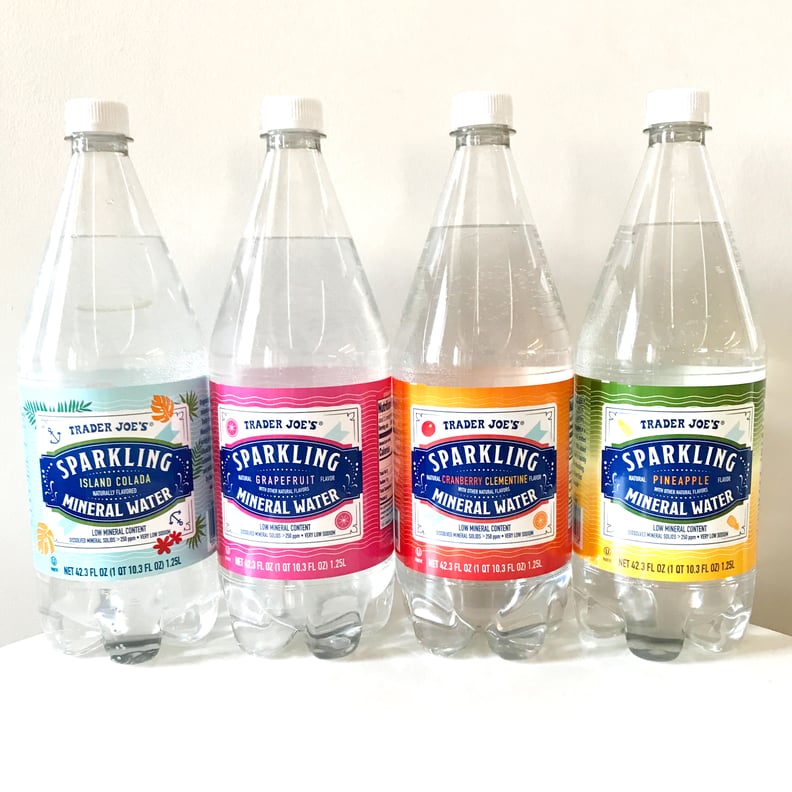 Pick Up: Naturally Flavored Sparkling Waters ($1)
Watch out, La Croix. Trader Joe's released Naturally Flavored Sparkling Waters for $1 per 42-ounce bottle, and they're good. So far the flavors are Cranberry Clementine, Island Colada, Pineapple, and Grapefruit, and we can confirm each flavor is fruity and tasty, with no artificial ingredients. The bottles are big and you have to go through them quickly before they go flat, but you could maximize their use by pouring them in any sparkling cocktail recipe.
05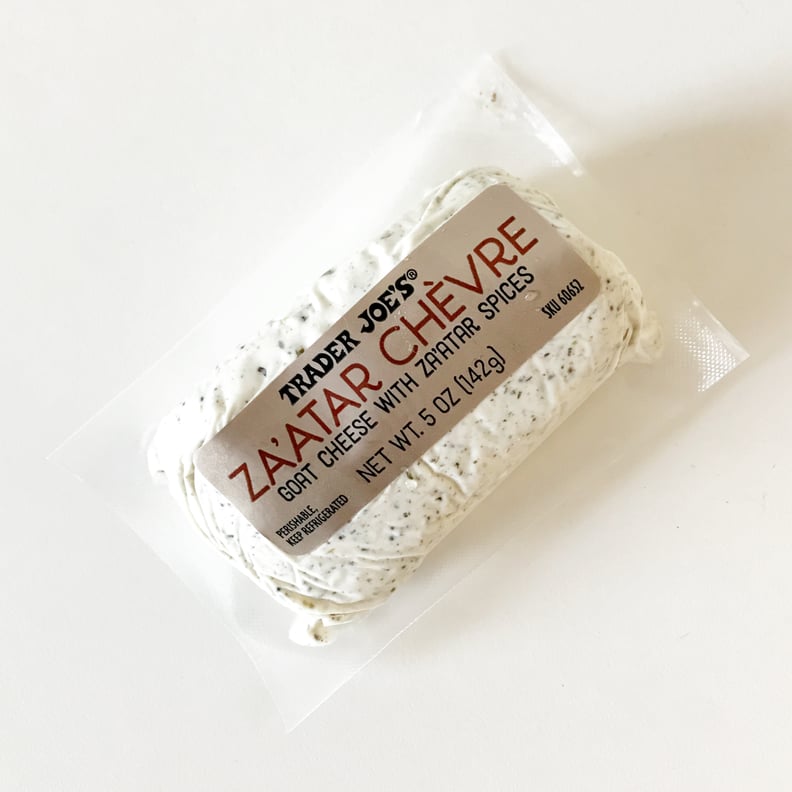 Pick Up: Za'atar Chèvre ($3)
We've got a new contender for the best cheeses from Trader Joe's: the Za'atar Chèvre. A delicious Middle Eastern spice blend, za'atar tastes good on just about anything, and TJ's has incorporated a combination of salt, sumac, marjoram, oregano, and thyme into this creamy log of goat cheese. Add this to your next cheese plate to give guests something more interesting than a typical goat cheese.
06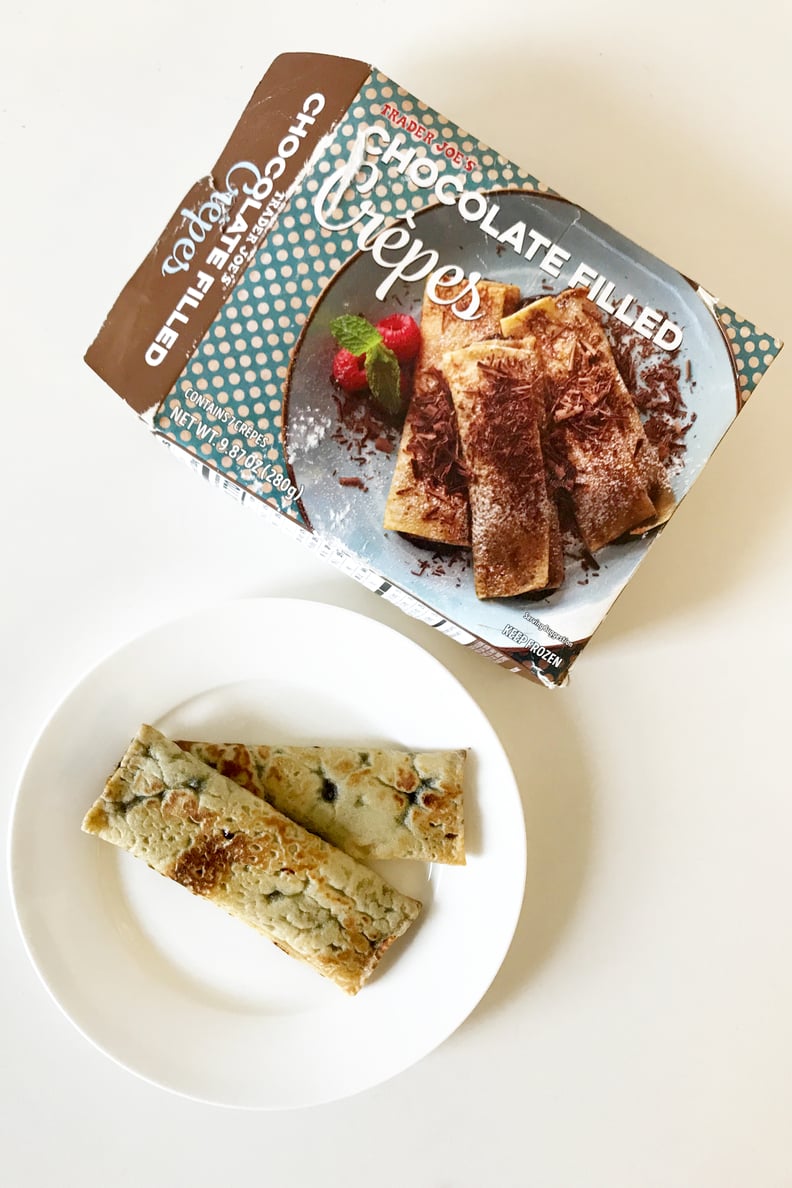 Pick Up: Chocolate-Filled Crepes ($3)
Sweet tooth, meet Trader Joe's Chocolate-Filled Crepes. While these frozen crepes weren't freshly made, you could probably trick people into thinking you whipped them up from scratch. These thin, golden crepes are filled with a decadent, creamy chocolate filling that reminds us of Nutella, and we appreciate their small size — we could eat three in one sitting. If you want a gourmet but cheap Sunday brunch, give these a shot.
07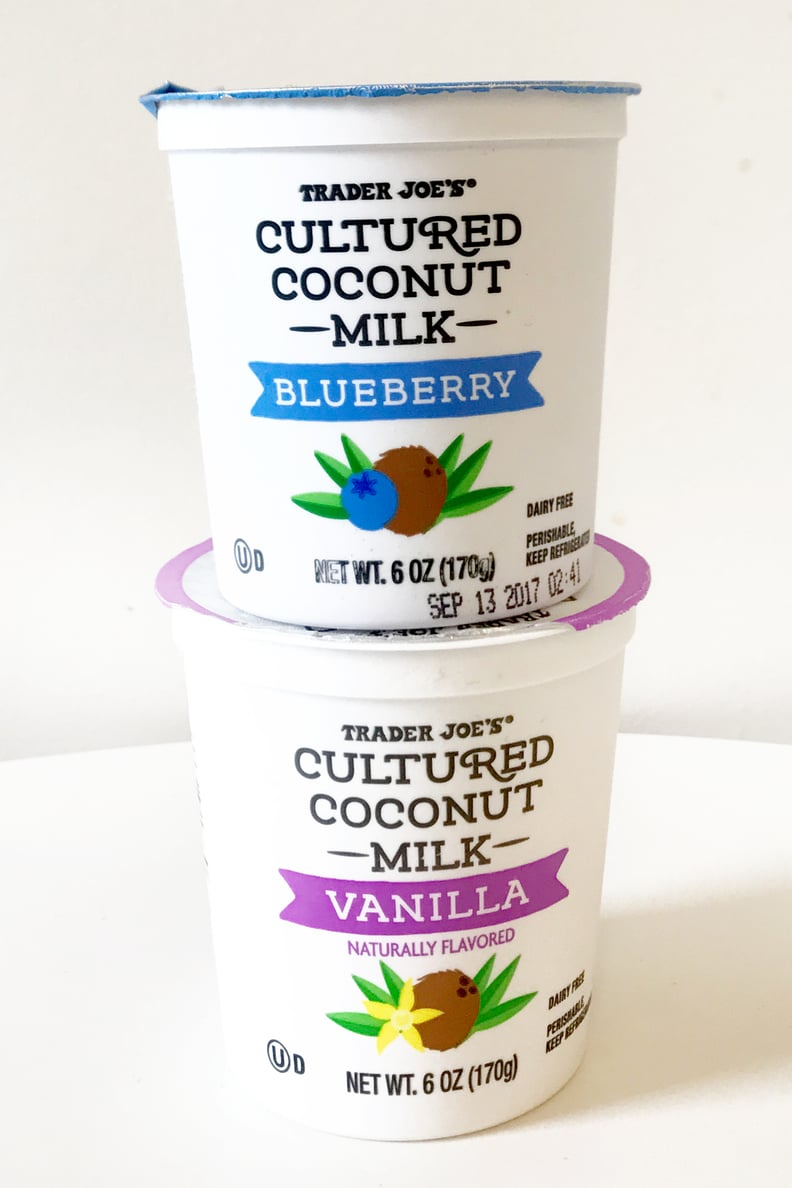 Pick Up: Cultured Coconut Milk ($1)
Calling all vegans! And coconut-lovers. And yogurt haters. This new Cultured Coconut Milk is pretty freaking awesome. Since it's free of dairy and not as fatty as traditional yogurt, it doesn't have quite the same consistency, but the flavor is on point. It's available in blueberry and vanilla, and at just $1 per six-ounce container, this is a fantastic breakfast staple to keep stocked if you're a fan of all things coconut based.
08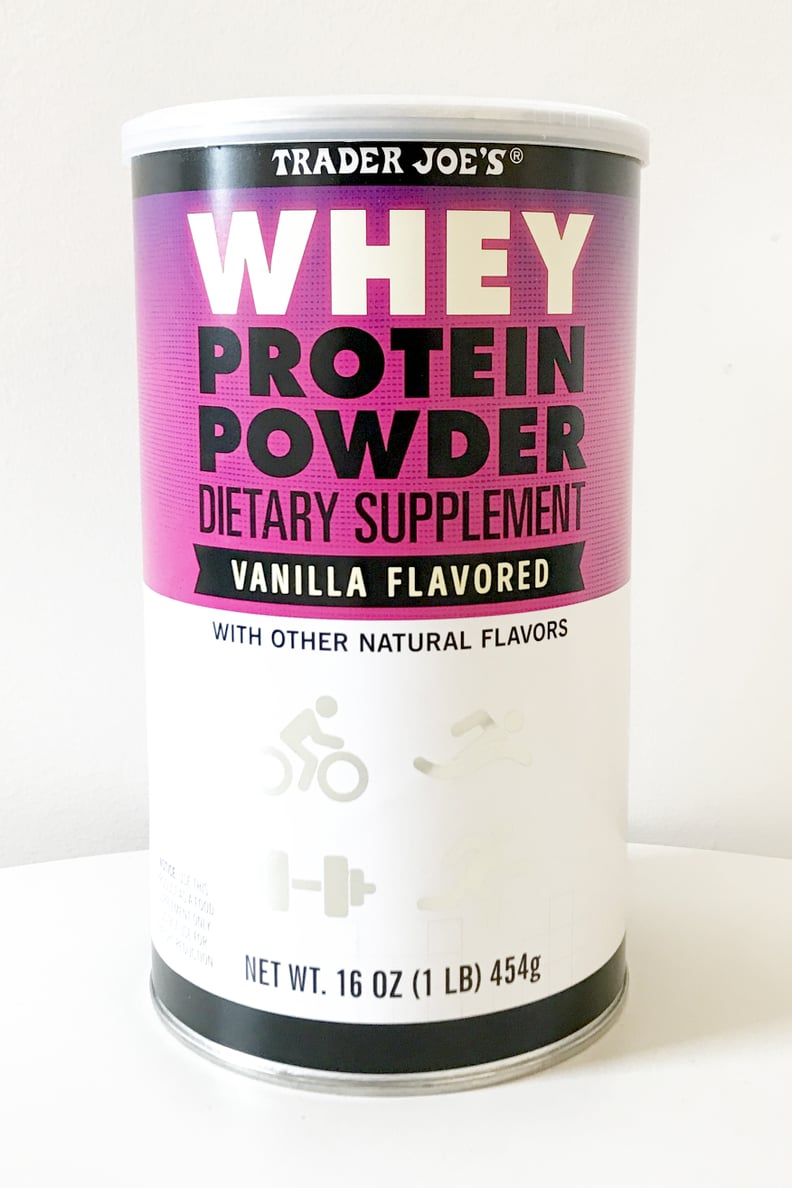 Pick Up: Whey Protein Powder ($13)
On the flip side, there's also new protein powder available. Trader Joe's Whey Protein Powder, which comes in vanilla and chocolate, is worth a buy if you regularly add protein to your smoothies. According to an editor who regularly uses another vanilla-flavored whey protein powder, this Trader Joe's version isn't as strong in flavor, but it also doesn't have any artificial aftertaste and mixes well with almond milk. Add an extra scoop for a more noticeable vanilla flavor and you'll be satisfied.