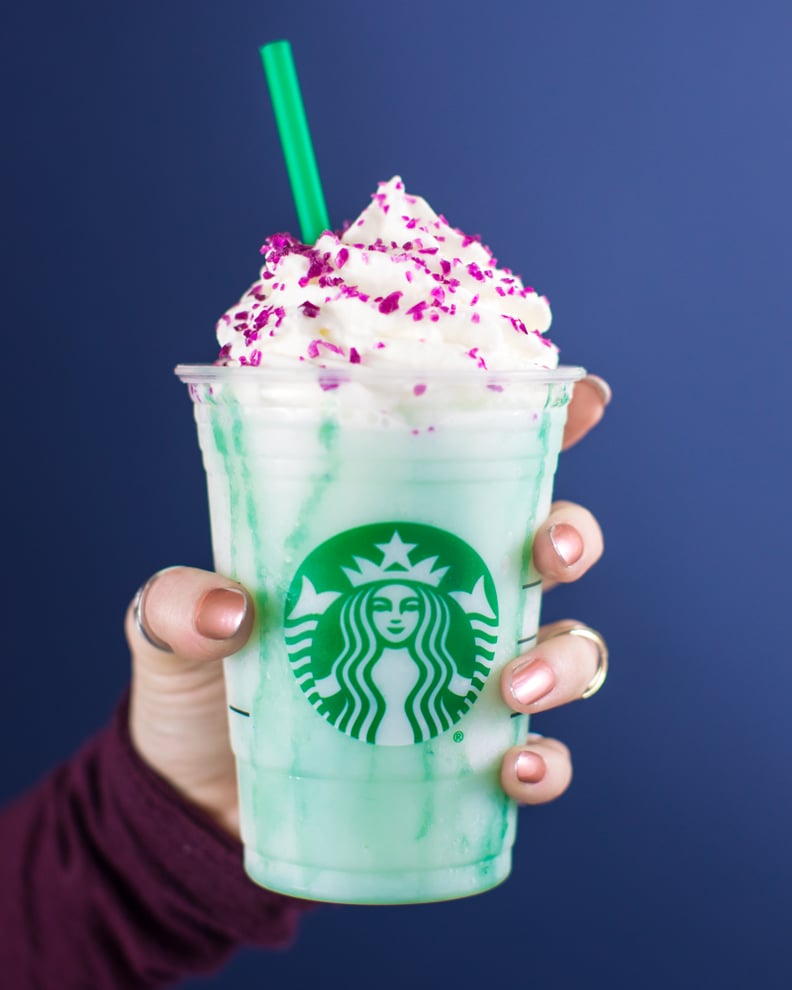 Starbucks
Starbucks
Unless you've been living under a rock for the past week, you're likely well aware that Starbucks just released a Crystal Ball Frappuccino that's sure to go just as viral as that Unicorn Frapp did last year. As soon as the news of this limited-edition beverage leaked, the entire internet collectively freaked out as baristas graciously teased the world with plenty of snea k peeks.
So, what's this mystical, Instagram-worthy drink made of? We touched base with a Starbucks representative to get the lowdown, and they described it as "a crème-based Frappuccino infused with peach flavor and turquoise sparkles that create an enchanting marbling effect." Oh, and it's topped with peach-flavored whipped cream, too. It looks like Starbucks is super excited about peach-growing season, and we're totally not opposed. This sugary concoction sounds effing delicious, and one of our very own POPSUGAR editors confirmed this fact, calling it a "real winner" after her taste test.
Besides the marbled look of the beverage itself, perhaps the most magical aspect of this frozen treat is the colorful candy "gems" sprinkled on top of the whipped cream. The Starbucks rep told us how every customer's Frapp is either topped with blue, green, or purple candy bits, and each color signifies a different fortune. The blue gems mean you're "destined for adventure," while the green ones are a sign of good luck. And the purple candy gems? Those denote that "magic, wonder, and enchantment are headed your way." The baristas decide what color of candy sparkles you'll get, so your fate is up to them. *Cue dramatic music*
Starbucks's Crystal Ball Frappuccino is here for a good time, not a long time, as it will only be available from March 22 to March 26 while supplies last. Get ready for some long lines, fellow Frapp addicts, because this one's sure to be pretty darn popular.