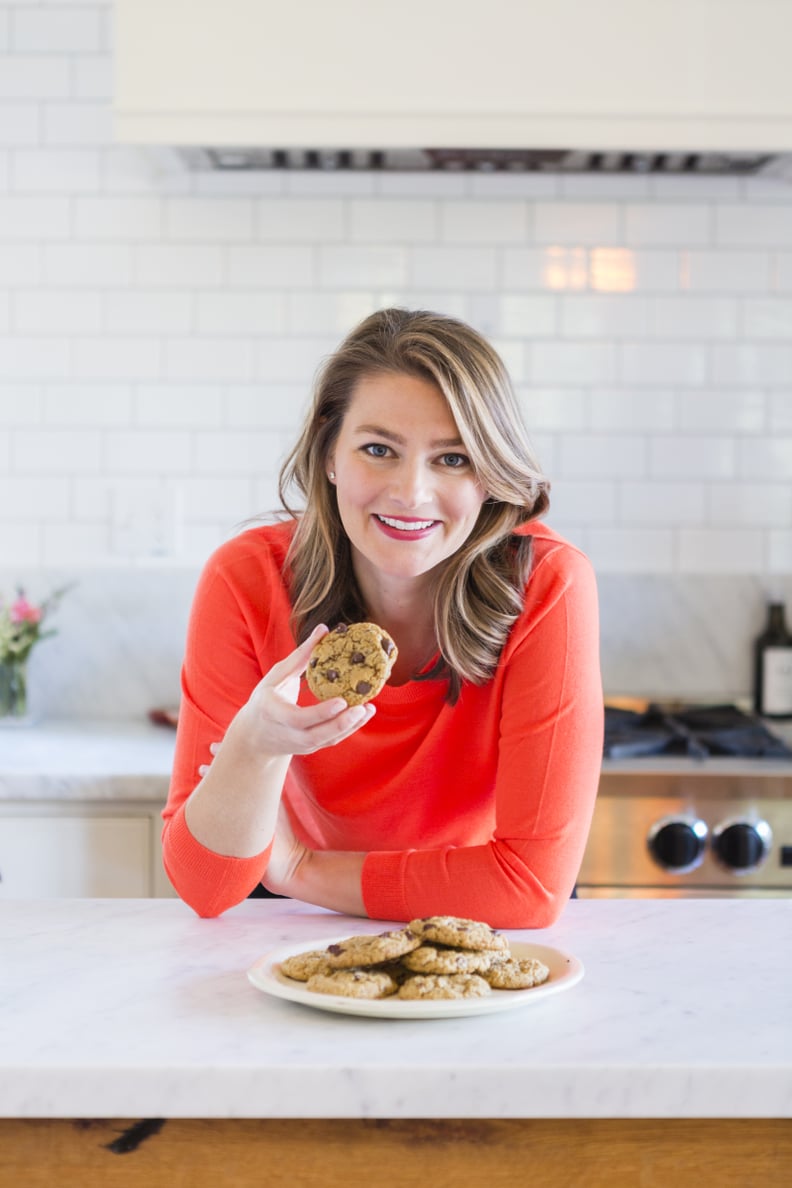 Miss Jones Baking Co.
Miss Jones Baking Co.
Sarah Jones has been called the "Millennial Betty Crocker," but there are multiple reasons this isn't entirely accurate. "It's definitely too soon to be calling me that," she said modestly, "but I certainly take it as a compliment." Jones earned her moniker after launching Miss Jones Baking Co., a line of organic cake mixes and ready-made frostings that's redefining at-home baking. That's where she really diverges from the fictional baking icon: she's disrupting the standard that Betty Crocker set, not following in her footsteps.
"I said to myself, there has to be other consumers out there like me, who want a from-scratch taste with simple ingredients."
Miss Jones Baking Co.'s products use high-quality ingredients that consumers can actually pronounce without any of the artificial flavors that home bakers have had to accept for decades too long. Every product is non-GMO and free of soy and hydrogenated oils, and the frostings are also gluten-free and vegan-friendly. "I was working at Apple, and I saw that the baking aisle was stuck in whatever decade, with old-school branding, ingredient lists a mile long, and artificial-tasting products," Jones recalled. "I said to myself, there has to be other consumers out there like me, who want a from-scratch taste with simple ingredients." A lifelong baker, Jones took matters into her own hands and proceeded to fill this glaring gap in the baking industry.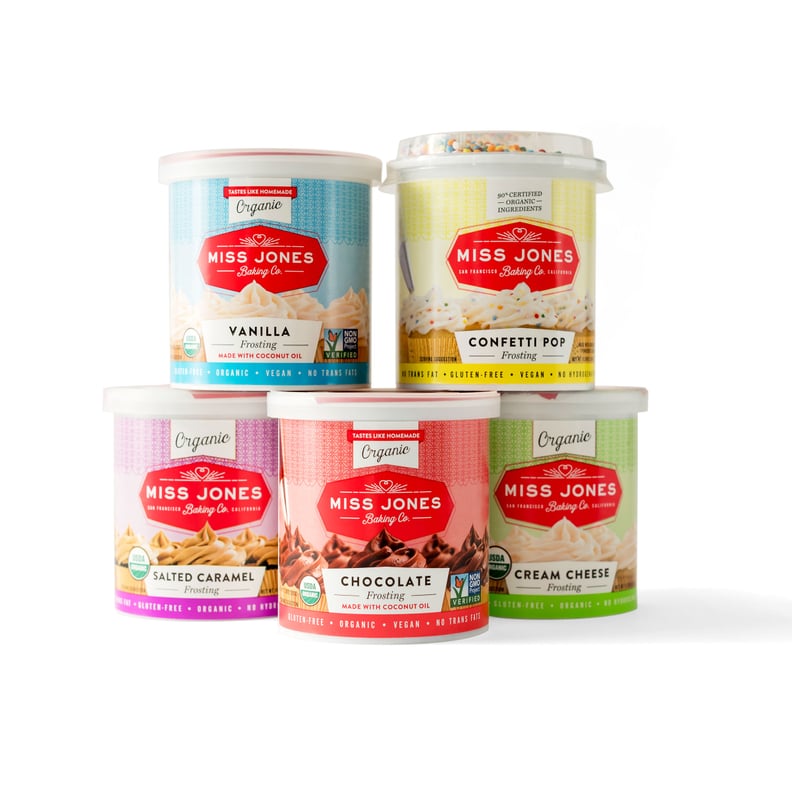 When I say lifelong baker, I mean lifelong baker. Her mom started teaching her at the ripe old age of 2. "Baking has always been my passion," she said. But it wasn't until high school when she realized that baking was more than a hobby to her. "From that point on, I made a conscious decision to explore different ways that baking could be or be part of my career." True to her word, Jones went to work at a bakery during college, toiling away from 5 a.m. to 9 a.m., completing an entire shift before most students had even rolled out of bed. After college, Jones started a baking blog to broaden her repertoire. When she left Apple to head up operations and finance at Brit + Co, she happily took on extra responsibility as the media company's food editor.
Today, every step and decision Jones has made throughout her life has culminated in her company. Of course, her passion for baking is the crux, but she's also flexing her media savvy with Miss Jones Baking Co.'s colorful and well-curated Instagram, which features fun, creative baking recipes. "As food editor at Brit + Co, I learned how to create mouth-watering recipe content," she said, "and we brought that into our social media strategy at Miss Jones."
But perhaps the skill that truly sets her apart from the rest of the industry is her knack for innovation. This month, Miss Jones Baking Co. launched Desserts-in-a-Cup, a line of portion-controlled cakes, brownies, and cookies in microwavable cups.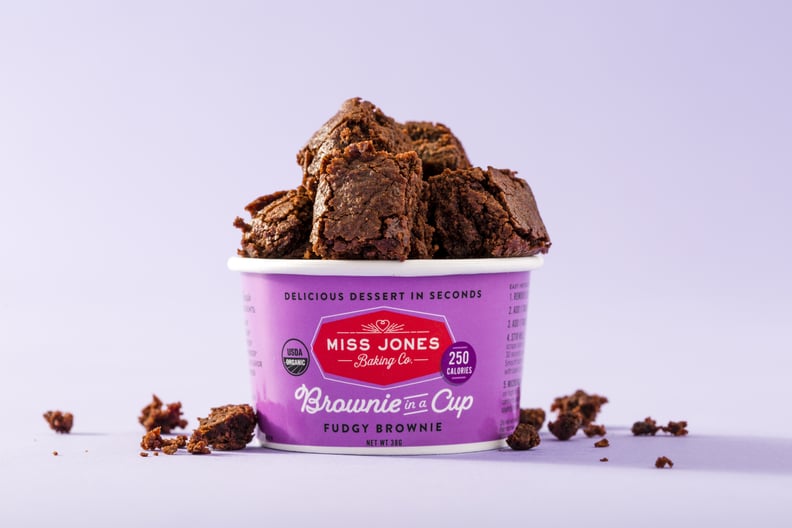 At 150 to 250 calories each and requiring just seconds to "bake," dessert has never been this convenient or guilt-free. "We are so excited for this launch," Jones said, "because it increases the accessibility of our freshly baked treats in an easy, immediate, and portion-controlled format that won't break your daily calorie bank." The cups come in six flavors: Confetti Pop cake, Vanilla cake, Chocolate Chip cake, Warm Double Chocolate cake, Fudgy Brownie, and Gooey Chocolate Chip Cookie. Just add a little bit of water to each one, pop it in the microwave for 30 to 40 seconds, and you have a warm, comforting dessert in your hands. "Looking back, it's odd we didn't create this line sooner."
That's not all. Culling from Jones's experience at a lifestyle media company, she has also included a line of quirky, supergiftable apparel in her collection of products. With t-shirts and sweatshirts emblazoned with phrases like "Bakers Gonna Bake," "Bake It Easy," and "Baker Babe," it's easy to see why even Martha Stewart and Snoop Dogg are fans.
What's next for Miss Jones? "Right now we're very focused on the baking aisle and building the No. 1 organic baking brand," she said. "I've always thought of us as a brand platform that could extend into adjacent categories like packaged cookies and refrigerated doughs, so when the time is right we'll get into one of those new categories."
So, in summary, Jones has made the art of baking easier and more efficient, turned her love for baking into a lifestyle with her media and branding know-how, and continues to challenge baking norms in general. Dare I say that she is not the Millennial Betty Crocker, but perhaps the Steve Jobs of baking?