An Astonishing List of Whole Foods' Bestselling Products in 2016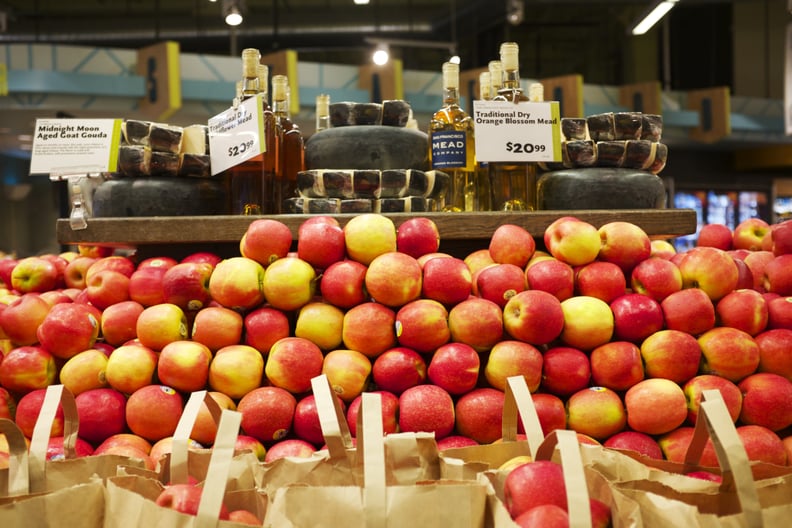 POPSUGAR Photography | Jae Payne
POPSUGAR Photography | Jae Payne
We asked Whole Foods to share its bestselling products from 2016, and the grocery store responded with this list. While none of my favorite Whole Foods products made cut, a few are certainly trendy (dill pickle chips and riced cauliflower). Some are a little obvious (avocados and boneless skinless chicken breasts). Then, there's a few that will send you running toward the prepared food section (mac and cheese and freshly baked cookies). Truth is, who doesn't go to Whole Foods to stock up on essentials and end up with half a cart full of chips, pasta, cheese, and pints of ice cream? Life is about balance, and this list proves it.
1. Hass Avocados
"Avocado toast, guacamole, the smoothest thing you can put in a smoothie. Avocados were everywhere this year, and they were a top seller at WFM."
2. Apples
"Specifically, Fuji and Honeycrisp."
3. 365 Everyday Value Dill Pickle Potato Chips
"Totally addictive limited-edition chips seasoned with flavors of salt, vinegar, and dill."
4. Whole Foods Market Potato & Pea Samosas
"Featur[es] a savory combination of potatoes and peas slow-roasted in herbs and spices. Lots of folks love these, because they're a little smaller than traditional samosas, so they're not as filling."
5. Whole Foods Market Lime Italian Sparkling Water
"It has been LaCroix's year, no doubt, but our lime Italian sparkling mineral water was still a bestseller nationwide. All our Italian sparkling waters have something of a following, but this one is particularly popular."
6. 365 Everyday Value Organic Riced Cauliflower (Frozen)
"We predicted this as a trend for 2017 partially because of its success in 2016. Everyone wants carb-less rice, and this is the answer. You can also use it for pizza crust."
7. 365 Everyday Value Coconut Water
"The coconut water trend continues, and we believe its strength will encourage folks to venture out into other coconut-based products in 2017."
8. Grass-Fed Ground Beef
"This is our bestseller and a customer favorite in the meat department. Ground fresh daily by our butchers and only comes from farms certified by the Global Animal Partnership's 5-Step Animal Welfare Rating System. Last year we predicted a surge in grass-fed products all over the store for 2016 and we continue to see growth in sales of grass-fed milk, cheese, and protein bars."
9. 365 Everyday Value Boneless Skinless Chicken Breast Fillets
"An oldie but goodie. Versatile and lean chicken breast fillets are a great value. Many customers stock up and store them in the freezer before using them in anything from chicken parm to Moroccan tagines to chicken soup."
10. Farmed Salmon
"Whole Foods Market's Responsibly Farmed salmon is our number one seller in the entire seafood department. Our fishmongers report that sometimes customers are reluctant to try farmed salmon, but when they learn how we raise it and then give it a try, they're hooked. Our aquaculture standards include: No use of antibiotics, added growth hormones, and poultry and mammalian products in feed; minimizing the impacts of fish farming on the environment; no added preservatives such as sodium bisulfite, sodium tri-polyphosphate (STP), and sodium metabisulfite; farmers do not treat nets with toxic chemicals to get rid of algae and no pesticides are used; traceability from farm to store; and third-party audits."
11. Parmigiano Reggiano
"Among our customers' favorite cheeses is Parmigiano Reggiano. Each year our cheese team visits the Emilia Romagna region of Italy and selects wheels from just five producers, ensuring the authenticity of this very special cheese. Each wheel of Parmigiano Reggiano carries proof of its authenticity with an impressed rind and brand. Only cheese made in area specific area in Northern Italy — Reggio Emilia, Parma, Modena, and portions of Bologna and Mantua — can bear the Parmigiano Reggiano name. Check out the wheels getting their impressions in this IACP Award-winning video."
12. Macaroni and Cheese (Off the Hot Bar)
"Actually, hot- and salad-bar takeaway, overall, is among the top sellers across all stores, because the food is delicious, made in house, and adheres to our quality standards including no artificial preservatives, sweeteners, colors, or hydrogenated fats. The most popular dishes in Bay Area stores are macaroni and cheese, mashed potatoes, roasted chicken, and steamed or roasted vegetables."
13. Cookies (From the Cookie Bar)
"Whole Foods Market started selling small individual cookies a couple years ago, and the program has taken off. Selection varies depending on where you live, but cookie stands invite customers to choose from everything from chocolate chip to alfajores, crispy rice bars, and macaroons."