Affordable Home Office Holiday Gifts
Gift Guide: Desk Accents For Favorite Girlfriends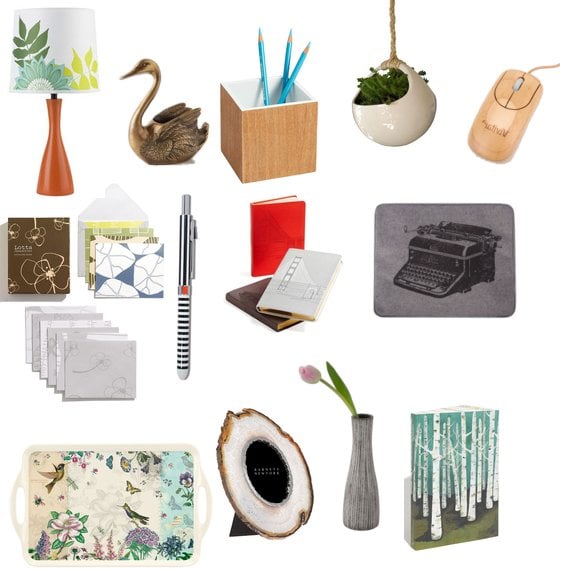 Whether your best friend is still in college or graduated years ago, everyone knows that a few charming accents will help bring a smile to her face as she tackles that chemistry assignment, tax return, or those endless work emails. Here are some of my favorite finds for adding style and charm to your home office space.
To get everything organized, gift your friend with a tray where she can assemble pens, pencil cups, paper clips, and other desk needs. The Melamine Hummingbard Botanic Tray ($16, bottom row, left) adds a lot of loveliness for a low price point and is perfect for any lady you love who favors romantic style.
If your gal pal is in the writing profession, she'll appreciate this charming Chronicle Books Wood Journal ($5, bottom row, right), which she can write in using the striped Acmestudio Sing Sing Pen ($39, middle row, middle left). This clever little pen is the world's thinnest four-function pen and is made of hand applied lacquer on brass with German made components. When your girlfriend totes her laptop from her desk to the cafe, she can embrace retro technology trends with the
Thomas Paul Luddite Laptop Case ($68, middle row, right), made of hand silkscreened denim.
And while almost all of my choices are quite affordable, I did have to include one major and beautiful splurge. The Rablabs Crystal Frame ($365, bottom row, middle left) is simply gorgeous. It would be perfect for displaying a treasured portrait of a friend, family member, or child.
To shop the rest of the items from my gift guide, just click on each image.