Anonymous Shakespeare Movie Decor
Unabashedly Over-the-Top Romantic Decadence From the New Shakespeare Film Anonymous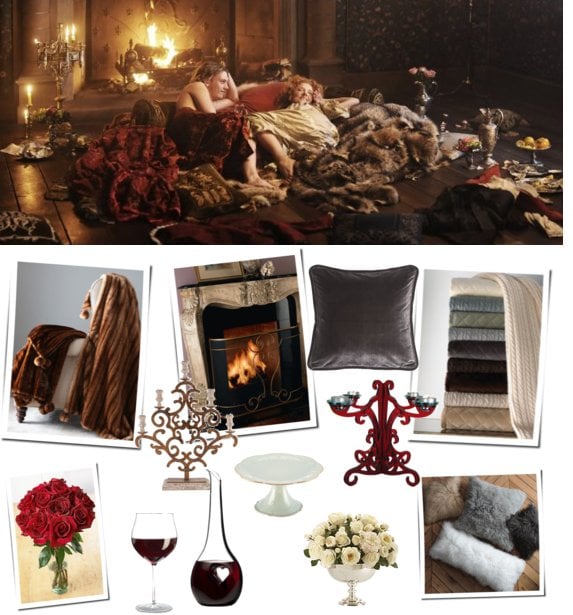 Opening Oct. 28, Anonymous posits the question, "Was Shakespeare a fraud?" The theory has been raised many times throughout literary history, and the upcoming drama directed by Roland Emmerich and starring Rhys Ifans and Vanessa Redgrave is only the latest.
While Anonymous may not answer any definitive questions about Shakespeare's identity, it does address the luxurious look of Queen Elizabeth's castle, seen in the photo below. The look may be a bit over the top, but when you're lazing with your lover in Elizabethan England, a warm fire and furs are sure to warm up the nippy air in the drafty castle.
Want to get the look at home? Start with some luxe-looking furs — cruelty free, of course — with the Austin Horn Collection
Faux-Fur Throw ($550). The soft faux-fur throw is crafted in the style of clean-edge French mink and finished with handmade fur pom-pom tassels. Made of cotton and backed with silk, it won't shed.
To add some ambience, mix a historical chandelier with a modern one. Start with the traditional Bree Candelabra in Distressed Gold by Aidan Gray ($580), whose traditional materials will contrast beautifully with the modern lucite and artistic shape of the Boom Lucite Candelabra ($90).
For the rest of the look, from romantic organic roses to an actual fireplace mantel, just click on each image!