Baby Animal Photographer Sharon Montrose Interview
Meet the Woman Behind These Popular Animal Photos
You may have noticed a common denominator in the chic nurseries (or grown-up spaces!) you've pinned lately: chances are, they're related to animal photographer Sharon Montrose.


A darling among design bloggers, she takes a strikingly modern approach to capturing her subjects — which range from farm inhabitants to exotic species — for her wildly popular Animal Print Shop series. She's a relatively private person, so we were delighted to peel back the layers during a long chat. Aside from talking animal shop, we discovered other intriguing traits, like her self-described crass sense of humor, Angeleno drawl, and something that could be dubbed as a sixth sense. Keep reading to catch up on the conversation!
POPSUGAR: How did you get introduced to photography?
Sharon Montrose: I took photography as an elective in the 11th grade — it feels like a hundred lifetimes ago!
PS: Have you ever thought about doing something else, career-wise?
SM: I have fantasized about shutting all of this down and doing something completely different. Or maybe even retiring young and doing something good for the world.
PS: I think that your choice to help support animal organizations through the Animal Print Shop series is actually a smart way to leverage your artistic passion.
Sharon Montrose: It keeps me humble. I've also gotten emails from parents telling me that I've inspired their kids to want to become a vet or work in wildlife conservation. Just learning that I've helped some kids figure out what they want to do stoked me out!
PS: When did you realize that you wanted to work with animals?
SM: At first, I had a very tough time turning what I loved doing into a way to earn a living. I floundered a lot before I became established as a working photographer — I was shooting a lot of head shots and weddings and doing OK at it, but I wasn't happy doing either and had lost the love I had for photography. Around the same time, I adopted my first dog (several members of my family also had dogs), so I started taking photos of all the dogs in my life to see if it reignited the love I once had for photography. It did, and I learned an important lesson as a result: I had to have an authentic connection with my subjects.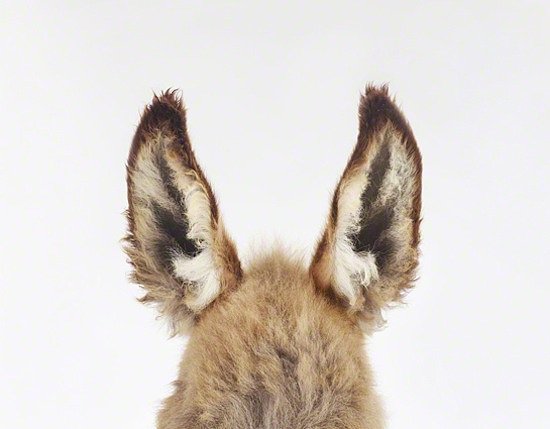 PS: How did you leverage your newfound niche into a career?
SM: Shortly after, I began to work on my first book Dogtionary. The book came after many failed attempts at marketing myself as a private-party pet photographer. Back in 1998, people didn't spend money on their dogs like they do today. The book (and subsequent books) established me in my niche because the Internet was still new, so being published was actually productive in those days and there were very few published photographers with dog books in the United States.
PS: How did you get the idea to feature them against a white studio backdrop?
SM: This series started off as a personal project when I was on a set build job. During downtime, I grabbed a floor I liked that wasn't being used on outset and shot off a few rolls of film. The series was born there.
PS: If you could only photograph one animal for the rest of your career, which would it be?
SM: If this ever happened, I'd probably just retire!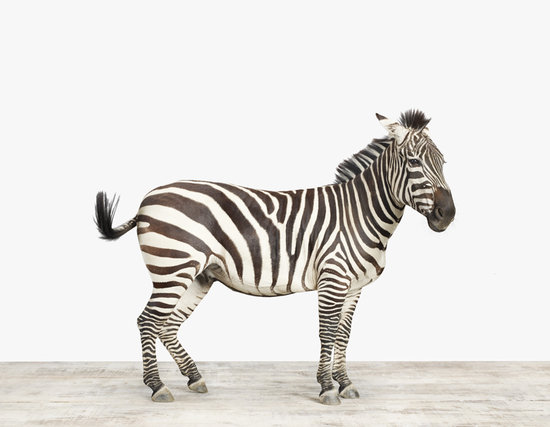 PS: Have you ever felt nervous or afraid during an animal shoot?
SM: No. We go to great lengths to make sure everyone, including the animal, is safe.
PS: What's the funniest or craziest thing that's happened during an animal shoot?
SM: A lot of people ask me this question, and I wish I could get into their heads to see what they envision my sets are like. I wonder if people think there are monkey's hanging from ceiling rafters and donkeys sitting on people's laps. The truth is, my set is very mellow and professional. Animals do best around calm energy, so we keep it mellow and organized. Nothing crazy happens.
PS: You've made an effort to keep your animal prints at really accessible price points. Why is that important to you?
SM: I want everyone to be able to afford my work if they want it. It's also very important to produce high-quality art at an affordable price. Our range of editions (both open and limited) offers options for various budgets.
PS: What's your bestselling print from the series?
SM: It's a tie between "Baby Monkey" and "American Buffalo"!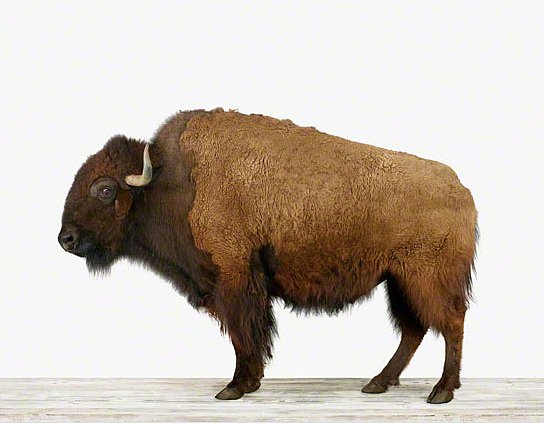 PS: Where do you shop for art?
SM: All over. Thrift shops. Etsy.
PS: How do you stay inspired?
SM: I get to earn a living doing what I love — that keeps me inspired!
PS: Do you follow any blogs?
SM: Yes. A Cup of Joe, Swiss Miss, and The Brick House, among many others.
PS: What do you love most about living in LA?
SM: I love that my friends are here!
PS: How would you describe your decorating style?
SM: Unintentional. Clean, but lived in.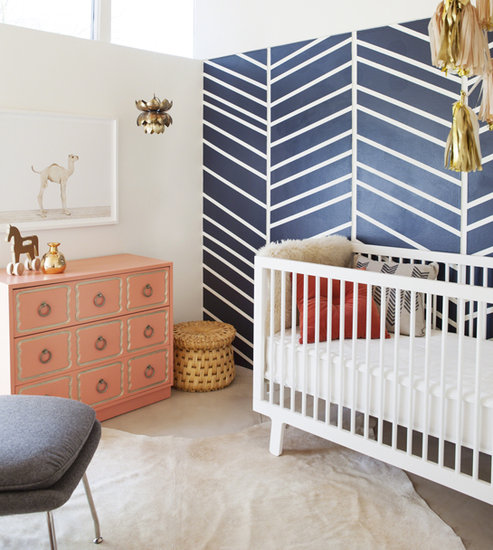 A picture from The Animal Print Shop Nursery Project, designed by Morgan Satterfield and photographed by Laure Joliet.
PS: What's your favorite room in your home?
SM: Our living room, because you can feel the history of the house in there. We live in a 1926 French Normandy-style home. We still have the original bathroom — all marble — and peacock sconces that date back to the '20s. It's neat to think about how many people have lived in our home and all of the things that have happened here. Even when we first bought the house, I could actually feel all of that history when I walked into the living room.
PS: What's your most cherished home possession?
SM: My dogs, because they make our house a home.
PS: What type of dogs do you have?
SM:A Dachshund mix and a Hound mix.
PS: Are they allowed on the furniture?
SM:They pretty much own the furniture!
PS: I heard that you have a second home in Palm Springs. Tell me about it!
SM: We have a sweet little midcentury-modern home with a butterfly roof. I go there to hang out with my dad and to reenergize.
Thanks for letting us into your world, Sharon! We might be knocking on your door soon to check out those peacock sconces in person.