Summertime or not, incorporating tropical flair into your home gives your space a relaxed vacation feel. One way to do that is with wicker furniture and home decor made from natural materials [1] like rattan and bamboo — a design trend seen everywhere in recent years.
Whether you have your eye on woven bedroom furniture or ornamental couches [2] and chairs for living rooms and dining rooms, there's a variety of styles that will give your home a staycation feel no matter the season. Dress each furniture item in decorative pillows, cozy cushions, and throw blankets for added comfort, and you'll love the boho style that these pieces bring to your space.
If you're confused about the differences between all the materials and styles, here's a helpful reminder: rattan is a natural vine material, bamboo is a woody grass material, and wicker is a type of weave but is sometimes used as a catch-all term for the materials used to make it (typically plants like bamboo, rattan, willow, or reed). Now that you're informed, shop our favorite furniture picks ahead.
A Dining Accessory: Karp Wide Sideboard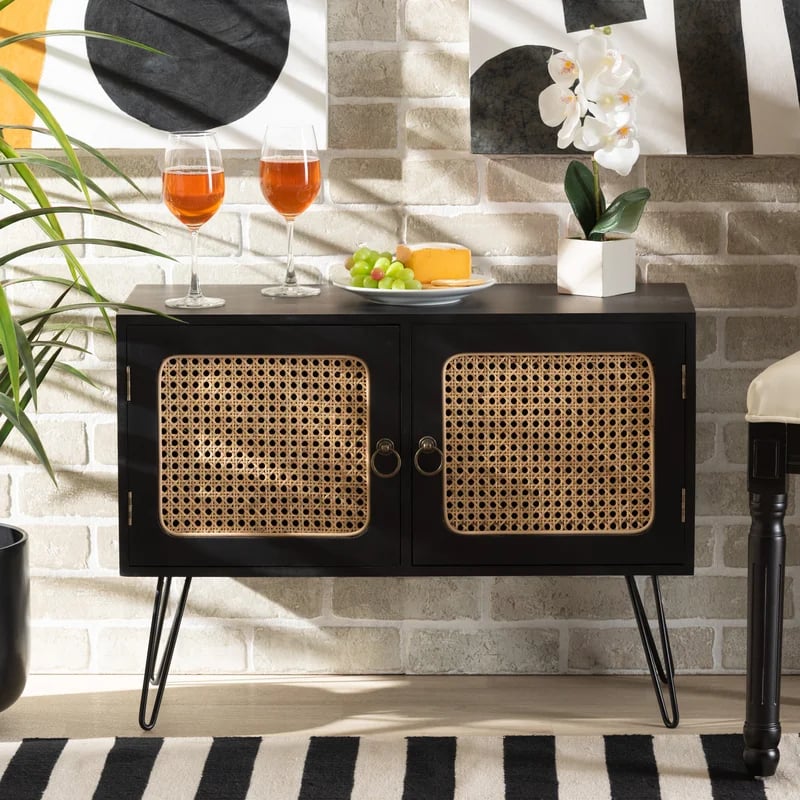 The Karp Wide Sideboard [4] ($184, originally $238) features a wide tabletop that's great for buffets, while its cabinet can hold dishes and cookware. Featuring a sturdy frame with hairpin legs, this piece makes a captivating addition to your home's decor.
A Boho Bar Cart: Melody Rattan Bar Cart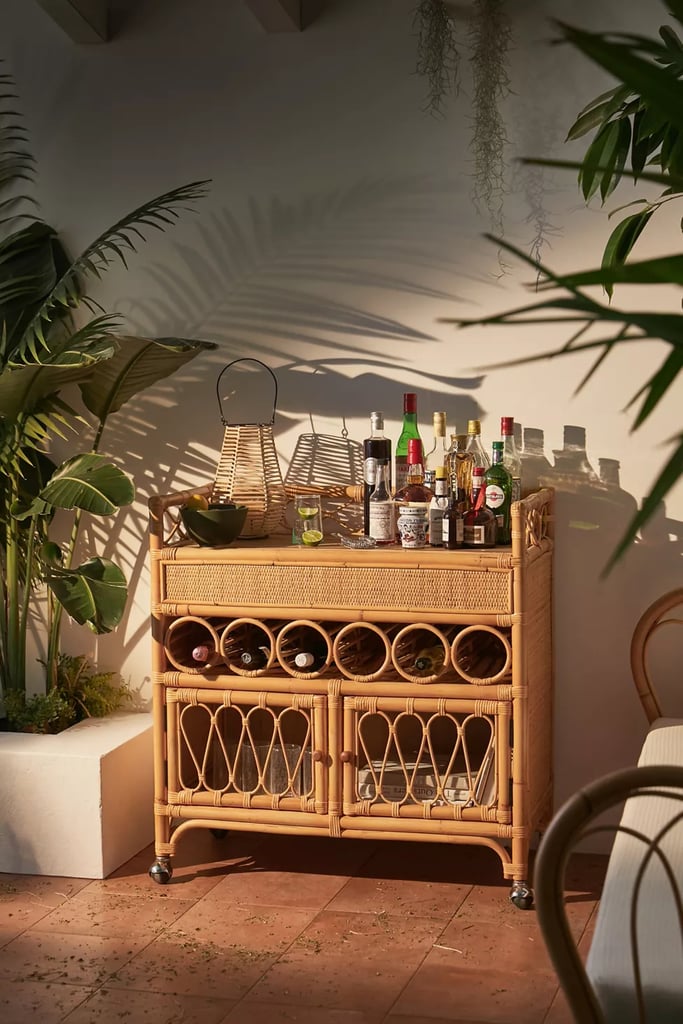 What's not to love about the Melody Rattan Bar Cart [5] ($499)? It features an open-top shelf, six bottle holders, and a two-door cabinet at the base for storing spirits and so much more. Finished with wheels for moving around, this cart is the perfect addition to your kitchen.
A Wavy Wall Mirror: Malorie Wicker Wall Mirror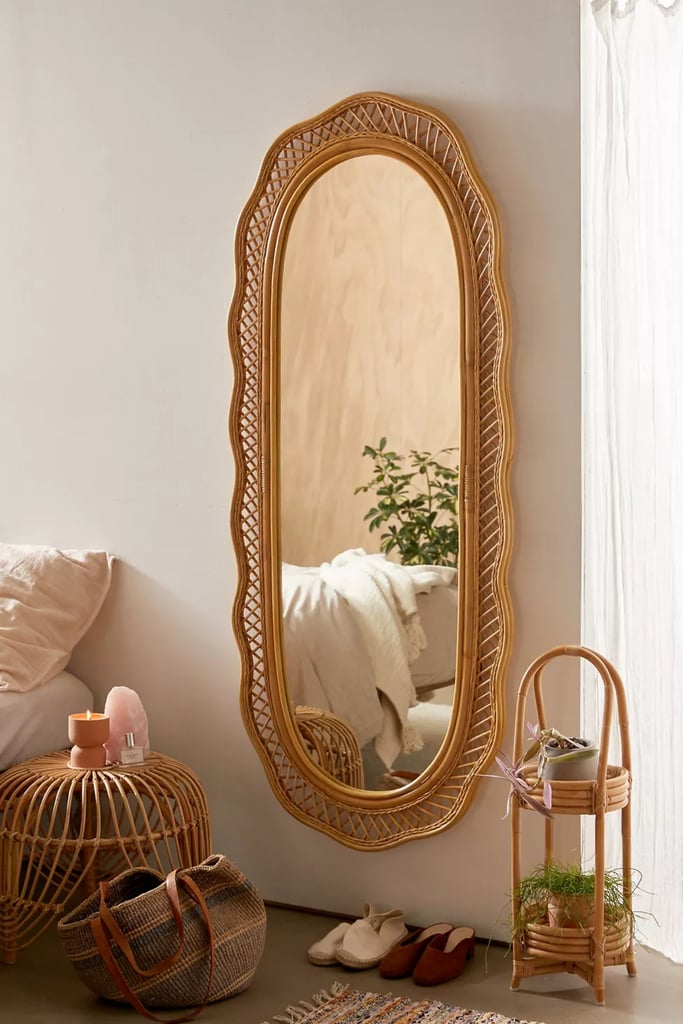 Prepare to take the best selfies with the Malorie Wicker Wall Mirror [6] ($249). Its wavy rattan frame adds so much character. This mirror is one of a kind and will be made to order just for you.
A Stylish Cabinet: Bilson Natural Cabinet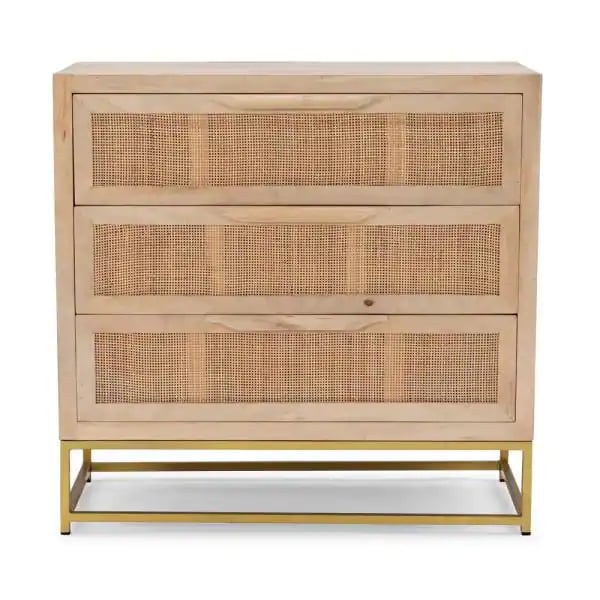 There's no sacrificing style with the Bilson Natural Cabinet [7] ($476) in your home. Its rattan drawers offer texture, while its gold frame adds a high-end touch.
A Six-Drawer Dresser: Nordic Natural Bedroom Dresser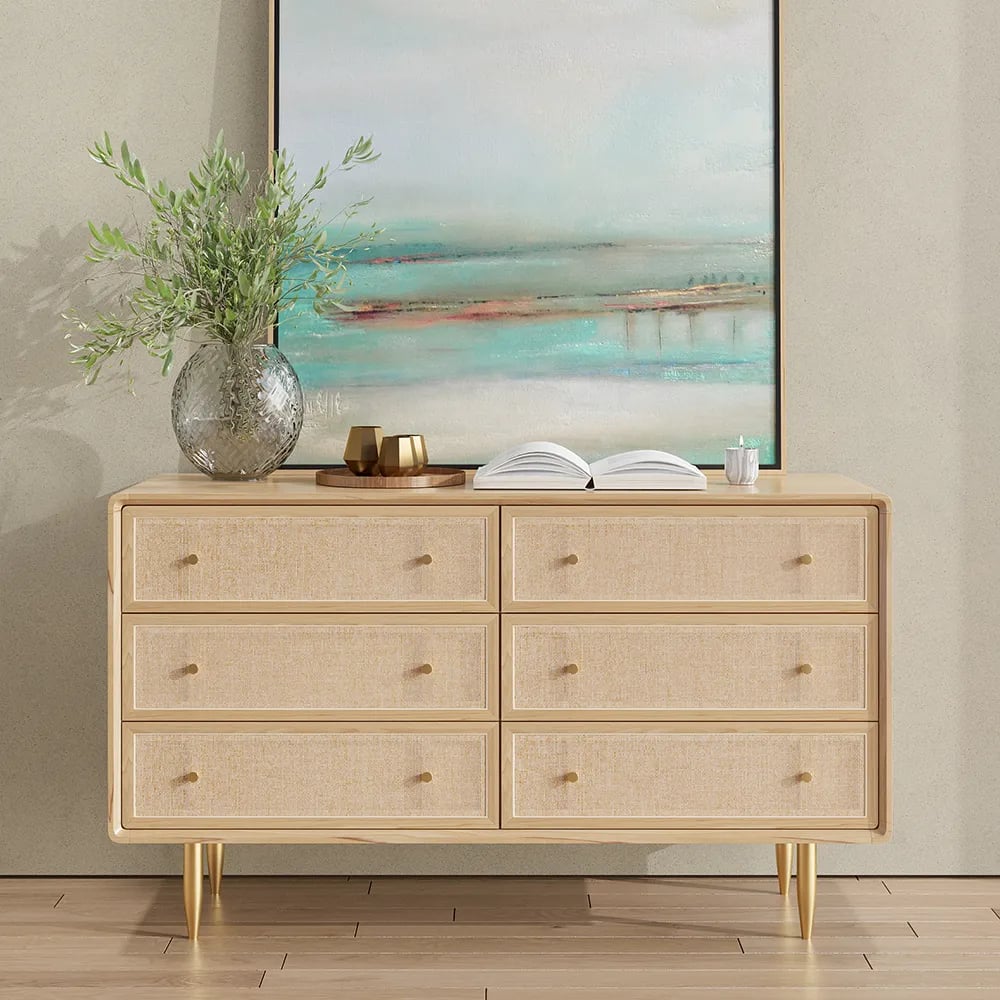 If your closet is overflowing, the Nordic Natural Bedroom Dresser [8] ($1,470, originally $1,957) is what you need. The six-drawer dresser offers ample space for clothing items and can even look good in a dining room or living area. The clean lines, brass knobs, and rattan detail are so aesthetically pleasing.
A Unique Nightstand: Ria Nightstand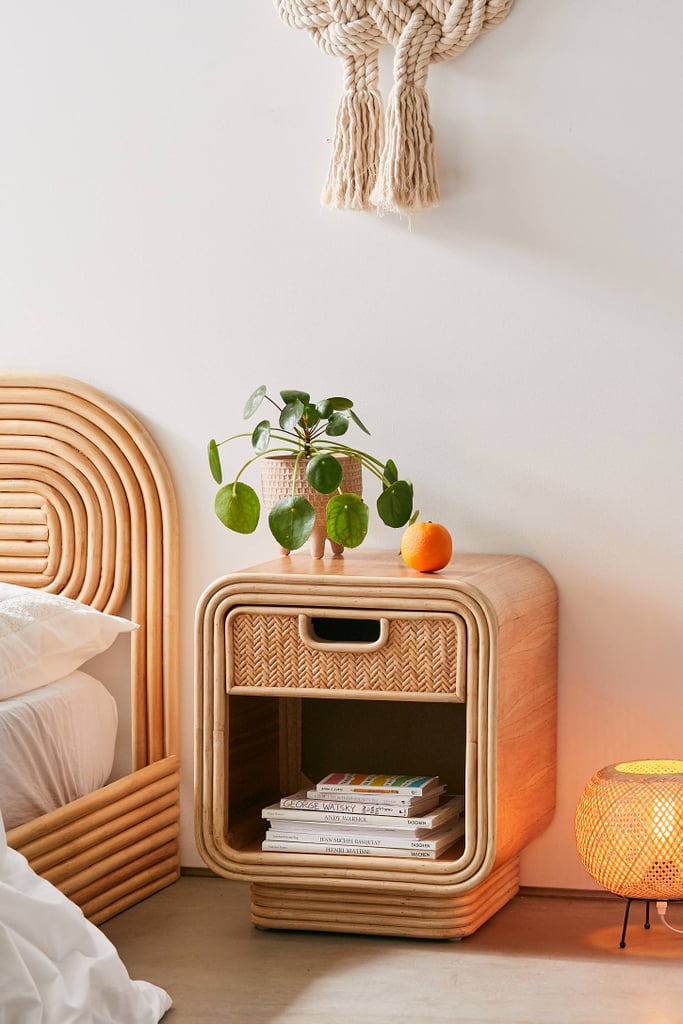 This retro-looking Ria Nightstand [9] ($279) is made of rattan and mahogany wood, and its drawer and shelf come in handy for extra storage. We love the side detailing and ample storage space. It's recommended that you have two people available for assembly, so keep that in mind before you order.
A Boho Stool: Skye Rattan Stool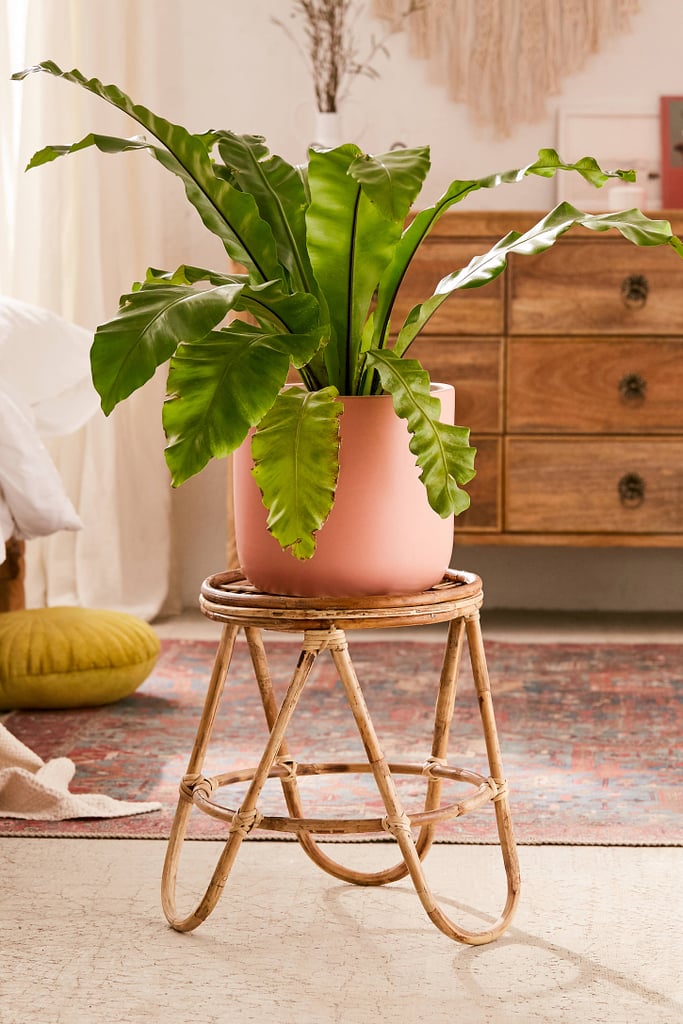 The Skye Rattan Stool [10] ($59) can be used to elevate a favorite plant or as a side table to accent a beloved furniture piece. It's an essential addition to a boho space, and its rounded legs add so much character.
A Relaxing Daybed: Boho Rattan Daybed
The traditional daybed just got an upgrade with this Boho Rattan Daybed [11] ($1,299). The daybed's whitewashed, airy panels will make you want to sit back and relax while listening to a podcast or reading your favorite book.
A Woven Cabinet: Marte Storage Cabinet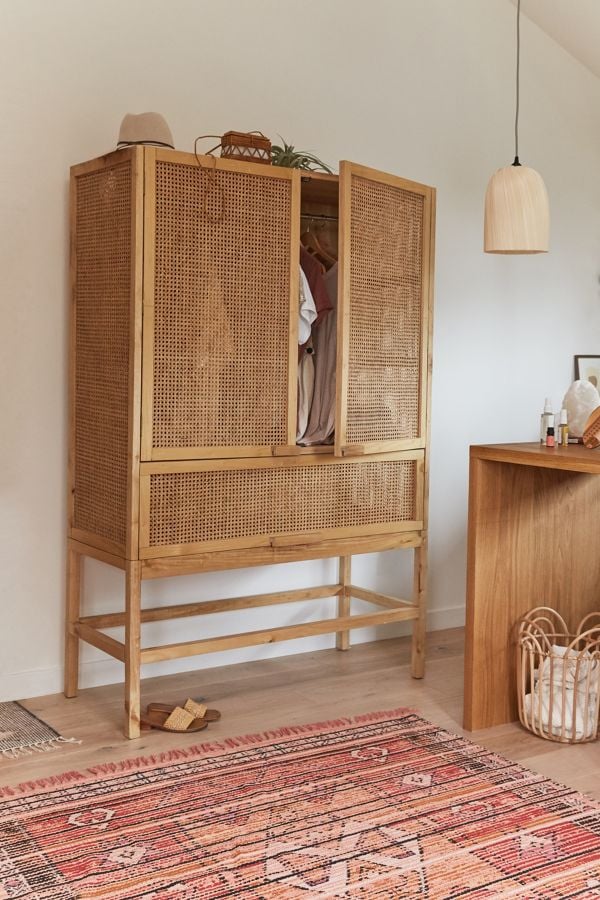 Complete with three shelves and a hanging bar inside, the Marte Storage Cabinet [12] ($749) is hard to beat. Store shoes, clothes, and so much more with this unique cabinet in your bedroom.
For the Bedroom: Marte Platform Bed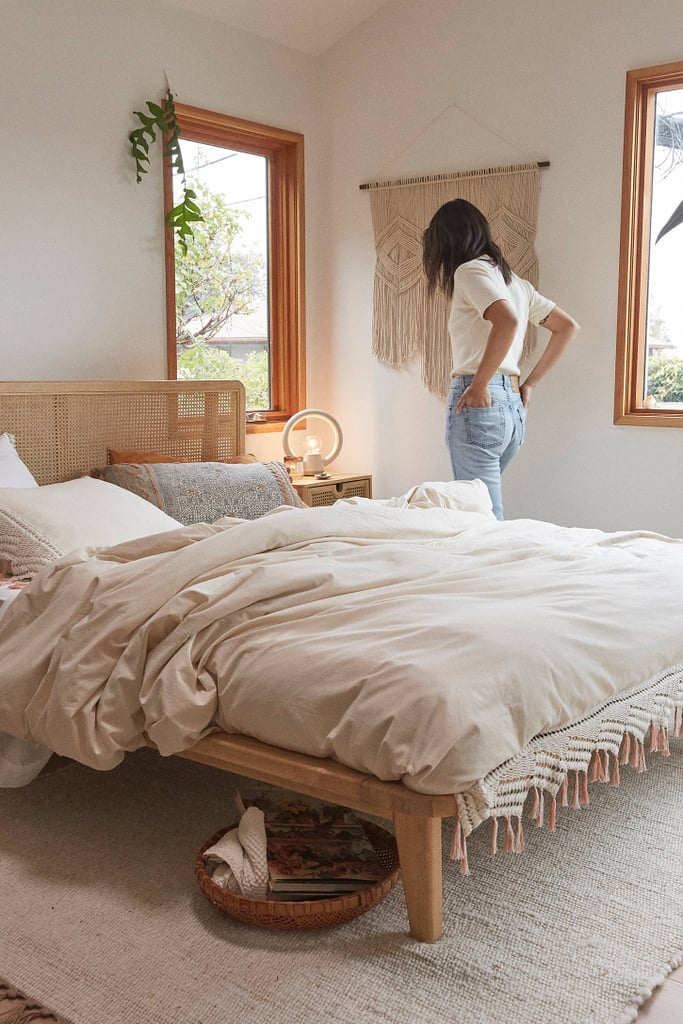 You'll feel as though you're on a permanent vacation with the Marte Platform Bed [13] ($999) in your bedroom. Its airy frame has rounded corners and a supportive slatted service that doesn't require a box spring.
A Rounded Bookshelf: Ria Bookshelf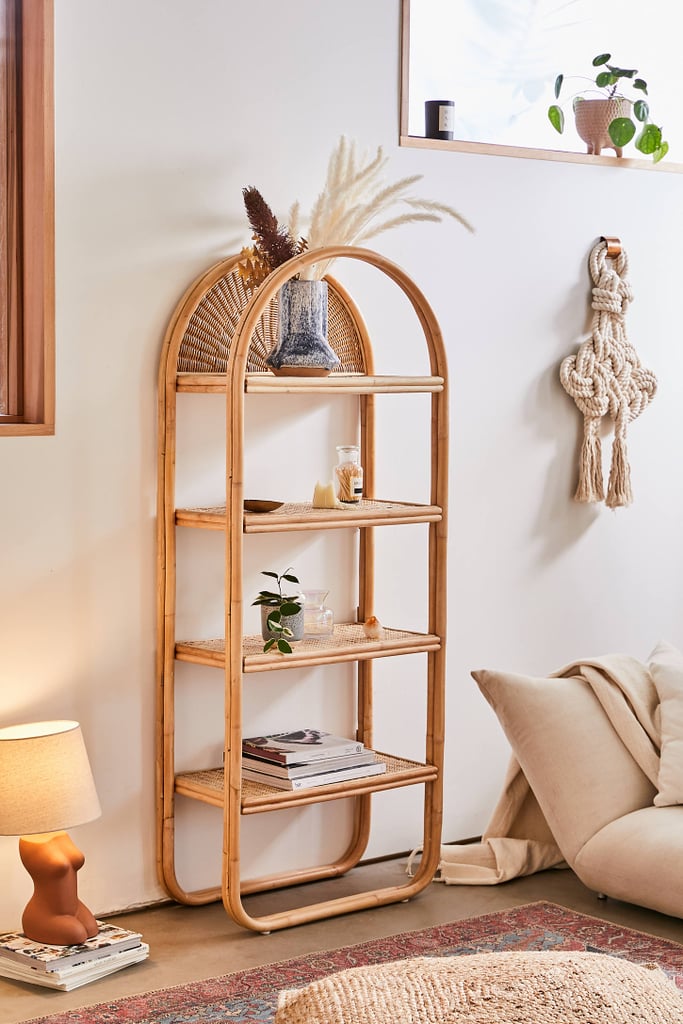 Show off all of your favorite reads, art displays, and trinkets on the Ria Bookshelf [14] ($399). Its rounded edges and rattan detailing will steal the show wherever it's placed.
A Midcentury Vanity: Marte Vanity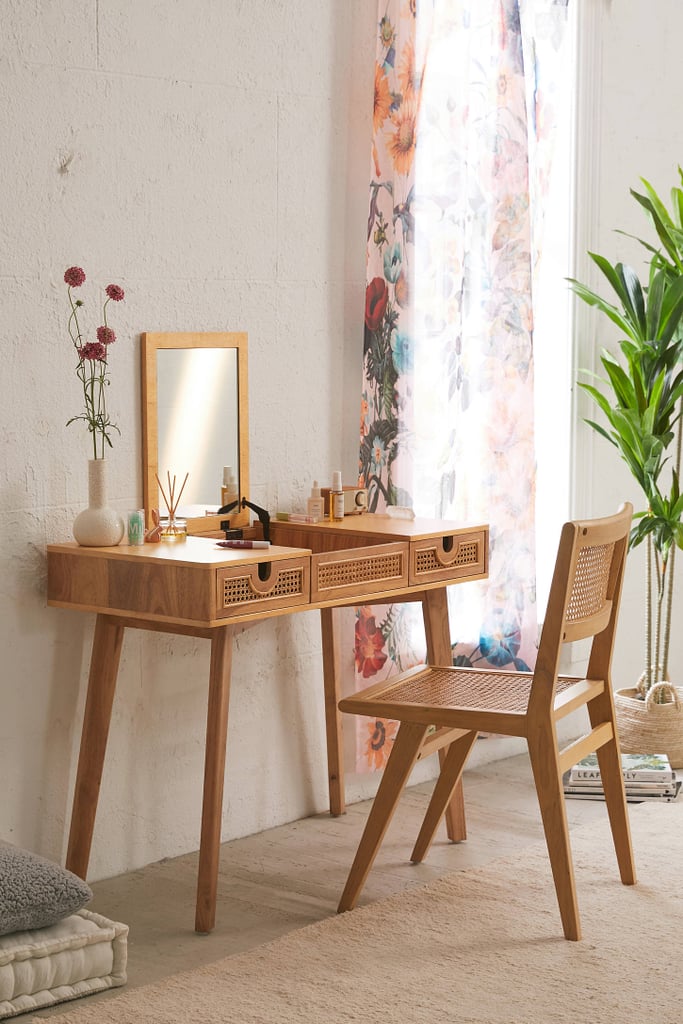 The Marte Vanity [15] ($379) makes getting ready a breeze with its fold-down mirror and handy drawers. Its midcentury silhouette can blend in with a number of interior styles.
A Cool Bed Frame: Canoga Rattan Bed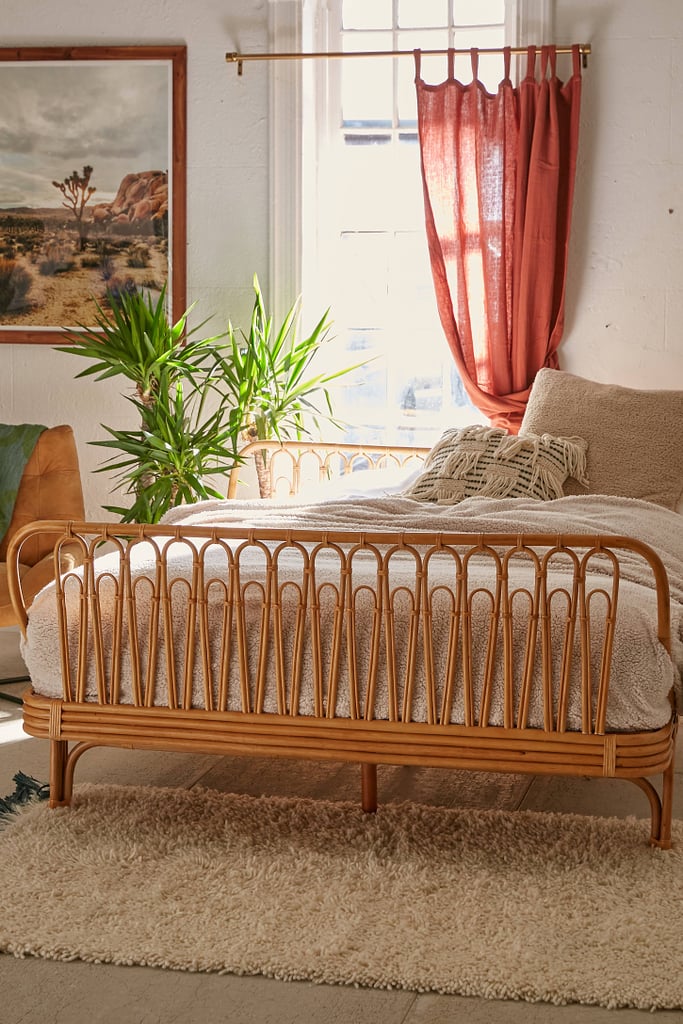 A bohemian-lover's delight, the Canoga Rattan Bed [16] ($899-$1,299) is made of rattan wood and topped with a unique looped design that's as free-spirited as any boho being. The bed comes in standard twin and queen sizes.
A Modern Chair: Marte Lounge Chair
The Marte Lounge Chair [17] ($499) is the piece your living space has been missing. Incorporate it into your home, and let its bold style do the talking. Made from sustainable wood, this is a piece that will look good and feel good to own.
A Midcentury Chair: Delphine Linen Natural Legs Cane Accent Arm Chair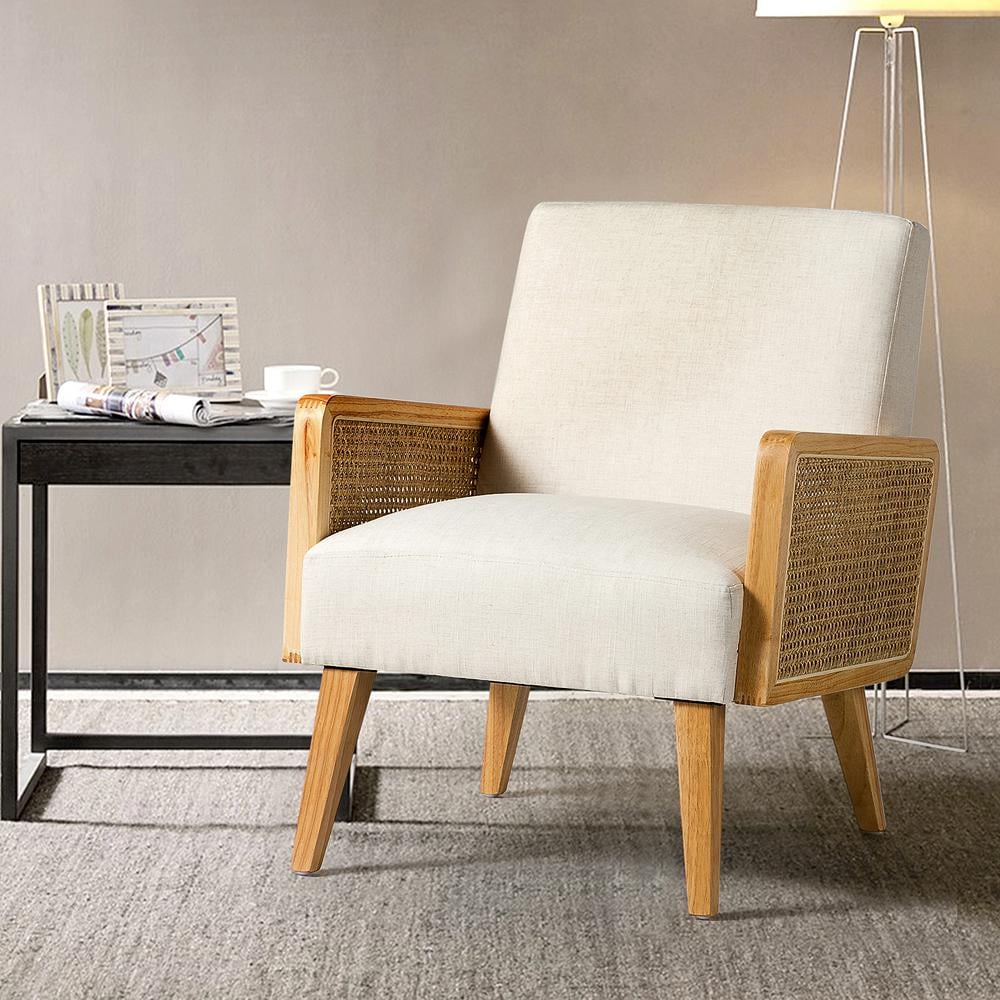 The Delphine Linen Natural Legs Cane Accent Arm Chair [18] ($279) will give your home an open and airy feel. This chair will have no problem blending into your home's decor, no matter what interior style you have.