Black and White Vases Shopping
Shopping For: Black and White Vases for Technicolor Blooms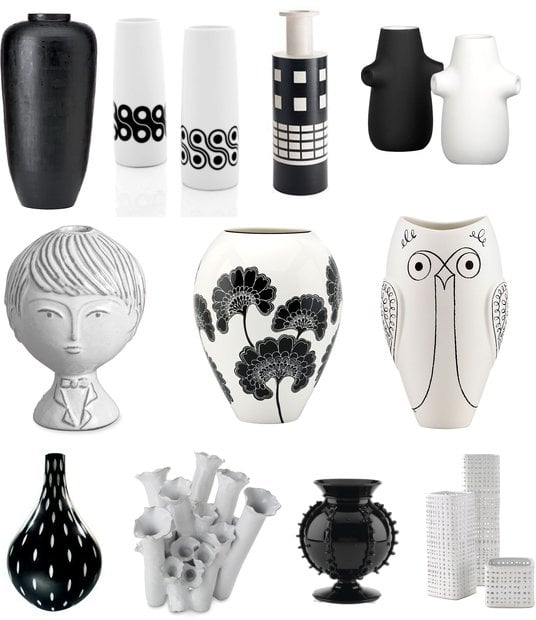 When it comes to the vibrant shades of Spring flowers, you don't want to distract from the bright colors of the flowers with an overly busy or colorful vase. Instead, let the flowers' beautiful hues shine through by pairing them with a vase that sticks to black and white tones.
.
There are so many great vases on the market in black and white colors that it was hard to narrow down the choices for this roundup. Even now, I'm having a hard time deciding which one is my favorite.
Let's start by highlighting the Kate Spade New York Japanese Floral Vase ($90, middle row, middle).The lovely, fan-like pattern is from Australian artist Florence Broadhurst. I can imagine it beautifully offsetting a clustered arrangement of purple and yellow calla lilies.
For a more unusual arrangement, try the Barnacle Tube Vase ($160, bottom row, middle left). Add a single bloom to each of the cylindrical openings in this handmade, white-glazed ceramic vase. To showcase the sculptural look of the vase, use smaller, contained flowers, such as rosebuds. Or, to camouflage the shape a bit more, pack if full of more boisterous blooms, like hydrangeas.
Do you have you eye on another vase? Start shopping when you click on each image!