Bohemian Outdoor Furniture Shopping
Shopping For: A Bohemian Modern Backyard Patio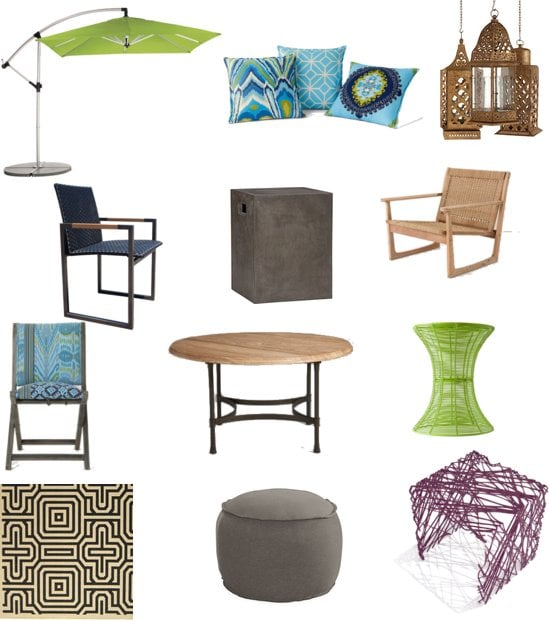 When it comes to outdoor decorating, don't settle for one staid set of patio furniture — mix it up by choosing various seating options, tables, and other pieces from a variety of sources. By mixing pattern, color, and materials, you'll create a bohemian modern vibe for your patio or deck space.
Set the mood by hanging a trio of Marrakesh Burnished Lanterns ($245 and up). They'd look particularly charming hanging from an arched pergola, or a majestic live oak tree.
Add an eclectic mix of chairs to your dining table. I'd definitely include an Overdyed Terai Chair ($200, third row, left). While it's not intended for outdoor use, it's a folding chair, so you can easily transport it from a living room or bedroom to your backyard table. The
Otero Wire Accent Table ($90, third row, right) is short enough to use as a chair, or slide it next to a lounge chair to hold your glass of vinho verde.
Add some neutral balance in the form of the Room and Board Marco Outdoor Pouf ($300, bottom row, middle). It's made from weatherproof and easy care materials, with special details including a flange seam and hidden feet.
Did something else catch your eye? Click on each image to start shopping!