Closet Chandelier Inspiration Photos
Shop Chic Chandeliers For a Glam Closet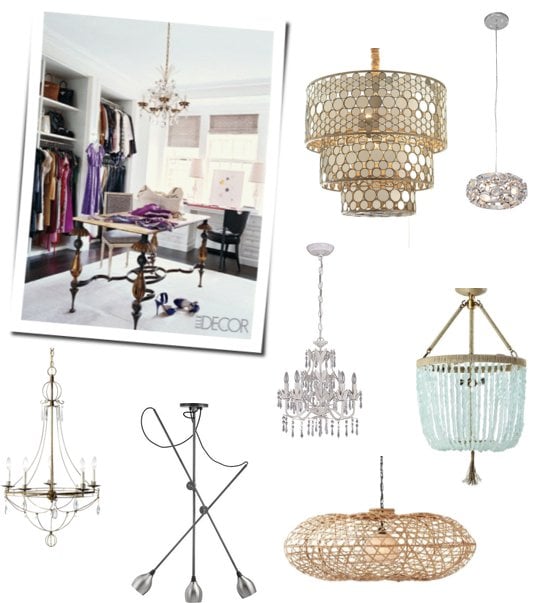 You visit your closet at least once a day — so why not dress it up a bit? Adding a stylish chandelier to your closet ceiling can make the space feel more like a glamorous dressing room than a haphazard collection of your clothes. Both chic and functional, a chandelier adds elegance and charm to any room. Whether you like to go all-out glitzy or more low-key, there's a chandelier to suit any style.
Simple and elegant, the Ethan Allen Five Light Scarlet Chandelier ($670, bottom left) manages to be both ritzy and refined. We love the classic wrought iron design — perfect for anyone who likes understated fashions.
For a small but striking dose of glam, the bubbly Fascination 3 Light Halogen Chandelier ($400, top right) does the trick. It's more affordable, it won't take up much space, and there's just enough bling to be noticeable without overdoing it.
The shiny golden Janice Minor Three-Tiered Chandelier ($2,195, top middle) is a major splurge — and a major style statement. Hundreds of mirror-finished disks make this extravagant piece feel extra luxurious but the simple shape keeps it timeless.
To shop any of these chandelier picks, simply click on the image. Love the trend but hoping to save money? Try creating a DIY bubble chandelier or a DIY recycled glass chandelier.
Photo courtesy of ELLE Decor