Colored Pendant Lamps Shopping
Add Candy-Colored Pop to Your Ceiling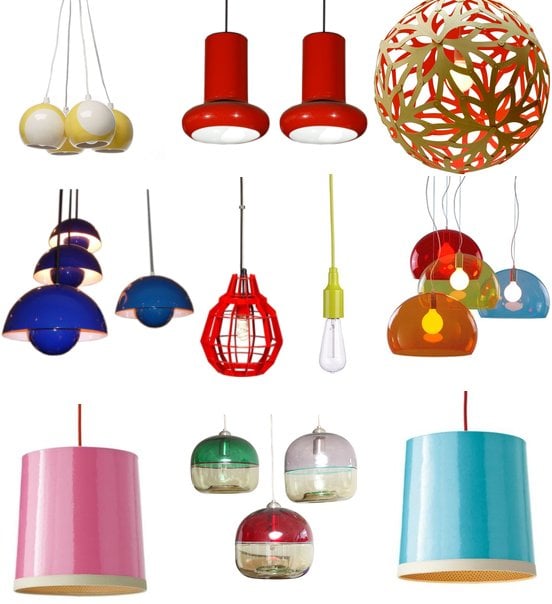 While it's fun to add a splash of color in the form of a throw rug or bright neon pillow, don't leave all of the bright-hued fun for your textiles alone. When thinking creatively about how to add color in an unexpected way, it's always smart to look up. I've rounded up a veritable rainbow of choices for your ceiling lighting needs.
My absolute favorite find is the Trio of Murano Pendant Lamps ($3,000, bottom row, middle). Don't they look good enough to eat? The three colors play off of each other so beautifully, while the stripe bisecting these glass pendants gives them a sporty, fun touch.
Flanking this trio of pendants are two different colors of the Serena & Lily Gumdrop Pendants ($120 each, left and right sides, bottom row). Available in pink, aqua, and yellow, these pendants are made from glossy coated canvas with a cotton-covered cord. And while it's hard to see in these pictures, each has a coordinating polka-dot interior lining.
Bare bones and pleasantly affordable, the Utility Chartreuse Pendant Lamp ($40 each, middle row, middle right) creates an unusual color pop wherever you hang it. I'd love to see it paired with cobalt blue walls in a funky den. Hang it solo, or go big with half a dozen or so hung over a table or clustered as a minimalist chandelier.
Interested in another colorful pendant? Click on its image to learn more about it!