DIY Floating Shelves
Fabulous Floating Shelves You Can Actually DIY
While House Tweaking blogger Dana has a day gig as a pharmacist, her styling and DIY skills could rival any industry insider's. After spotting her do-it-yourself shelving tutorial, we felt inspired by the beautiful design moments of this focal point. While the perfect piece of furniture is undoubtedly important, it's really the styling that takes a piece to the next level. Read on for our four no-fail tips on how to trick out any shelving unit!
Four Bookshelf Styling Secrets to Live By
Incorporate something from nature

If the idea of shopping for fresh flowers seems overwhelming, get yourself a plant! You don't necessarily need to have a green thumb to make sure your plant thrives, you just need to have the right one. See our list of five foolproof houseplants anyone can keep alive.

Store your stuff in style

Boxes, baskets, trays, and bins help banish clutter, but they should also serve as decor. Look for pieces with interesting textures, patterns, or color, like this roundup of chic boxes.

Rearrange your books

While it's tempting to get stuck in the vertical stacking method, don't be afraid to mix it up. Try separating your books into vertical and horizontal stacks. Organize horizontal stacks into small, neat piles and top them with decorative objects like vases or framed pictures. Organize vertical stacks in a similar way, but accessorize them with bookends.

Scope out sculptural elements

Adding some eye candy to your bookshelf will help to keep it from looking like a hanging storage unit. Objects with beautiful shapes like vases (even without flowers!) or metal spheres will create visual interest.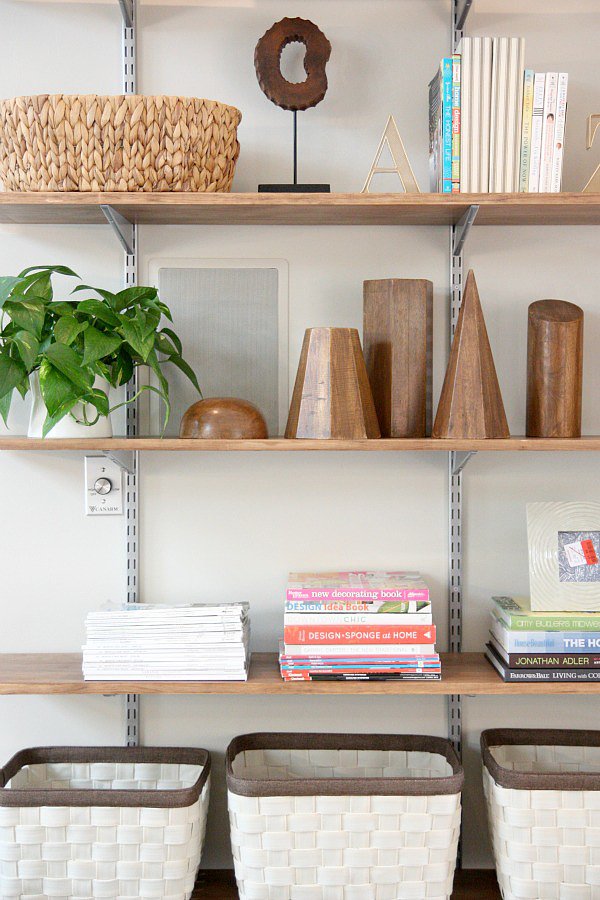 Visit House Tweaking for Dana's DIY shelves tutorial and check out our Home Makeover Heroes board on Pinterest to discover even more DIY bloggers!