Decorate Your Table With Flowers and Colors For Spring
Ring in Spring With a Colorful Breakfast Setting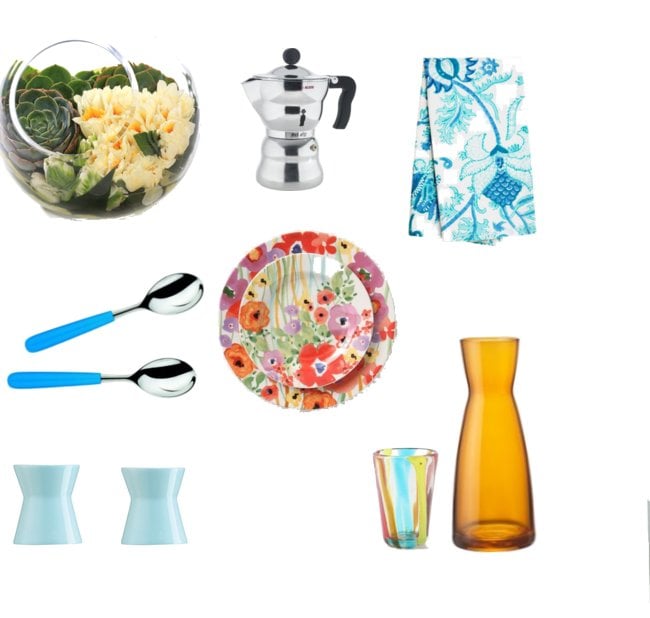 The easiest way to celebrate seasonal shifts in your home is by switching out smaller decorative accessories. I'm already fantasizing about setting the perfect Spring table, and for me that means a modern but colorful spread in a sunny breakfast nook.
Instead of the traditional flowers in a vase centerpiece, I like the idea of creating a more sculptural version that becomes the focus of the table. I love the idea of taking a terrarium vase and filling it with shallow water, pale yellow freesia, and green succulents for a fresh take on Spring posies. Make your own or save yourself the time by snagging this Zen World arrangement ($150, top, left).
Known for having exquisitely designed wares for foodies and hostesses alike, Alessi's new 1-cup size Moka Alessi Espresso Coffee Maker ($40, top, center) is just as handy as it is adorable. Breakfast for two becomes even more fun with a pair of these mini espresso makers sitting on the table.
These Arzberg Tric Egg Cups ($20 for two, bottom, left) also double as napkin rings! There's nothing better than tabletop items that can serve double duty, especially when they have sleek, powder blue silhouettes.
Click on the items above to shop directly to create your own Spring breakfast setting!