Design Within Reach CasaSugar Giveaway Picks
My Picks From DWR's $1,000 Giveaway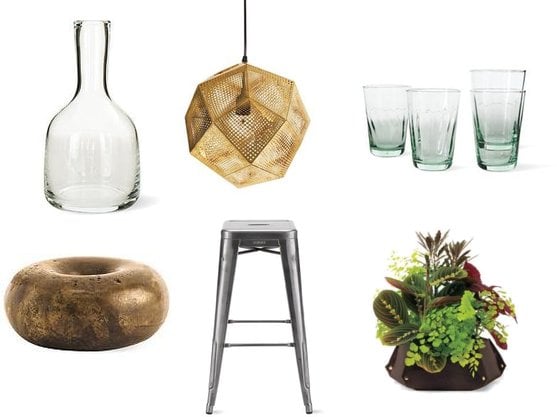 Have you entered our 15 Days of Holiday Giveaways $1,000 Design Within Reach Giveaway yet? The lucky winner will be gifted with a $1,000 Design Within Reach gift card. And while I'm definitely not eligible for the giveaway, I'm still dreaming about my favorite items from the store.
If I were eligible for the giveaway, I have a few pieces I'd love to add to my home with the $1,000 gift card. I'd start with the Tom Dixon Etch Pendant ($375, top row, middle center). This unique shade is made by employing the same industrial process used to produce electronic products such as circuit boards. This method allows for intricate patters to be cut directly into the metal. I love how the very high tech production method results in a very organic and delicate looking piece.
Speaking of organic, the Alma Allen Bronze Candleholder ($275, second row, left) has that covered and then some. This unique piece is part of a limited edition series of 250, and is hand cast out of solid bronze. I'd love to mix this with other metal tones on a mantel or coffee table.
I'd also love the Woolly Pocket Tina Plant Container ($20, second row, middle). Though these planters look and feel like felt, they're actually made from recycled post-consumer plastic bottles. Since they won't scratch tabletops or leak onto surfaces, they're a perfect addition to any surface in your house. Fill it with a mix of gorgeous succulents and use it as a living bouquet for your dining table, or fill it with edible herbs for a kitchen window garden.
To shop the rest of my picks, just click on each image.