Designs Tricks to Make a Ceiling Seem Higher or Lower
Magic Tricks: Make a Ceiling Seem Higher (or Lower!)
I'm excited to present a post from one of my favorite sites, ShelterPop!
Whether you feel like the roof is closing in or you can't evoke even a remote sense of hominess due to those sky-high ceilings, stay calm. We've got the fix.
There are some homes with ceilings so low that you feel claustrophobic just standing still. And believe it or not, there are folks out there who have ceilings so high that it's a problem, too (yes, yes, like our friends who are "too thin," we don't feel that bad for them. But decorating either type of room can prove be pretty trippy, to say the least.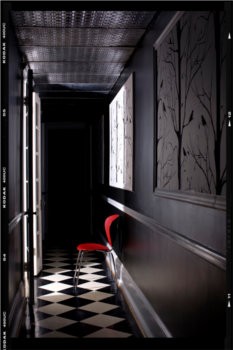 How to "Hoist" a Low Ceiling Low Ceiling Idea #1: Use Paint (and Finish) to Lift Ceilings and Walls
You may have heard it before but we'll say it again: Paint is by far the easiest and least expensive way to revamp a room -- with astonishing results. Use it in a low-ceiling-ed space and the payoff is extra-sensational. Here, three paint techniques to employ:
Paint the ceiling a luminous metallic hue, such as bronze, silver, gold or nickel. "Light just bounces right off of it, opens up the room and makes the ceiling look as if it goes on forever," says Chicago-based interior designer, Jessica Lagrange. (Need the paint? Ralph Lauren has an extensive line of shimmering metallics — from Faded Peony to Turquoise Sea.) Better yet, "To make a ceiling look like one of Miles Redd's glass-like lacquered walls, coat any type of finish — flat, eggshell, metallic — with high-gloss poly-acrylic," says Brian Patrick Flynn, aka the Décor Demon and lifestyle blogger for HGTV's Design Happens. "It doesn't smell and dries in minutes."
Coat crown molding and the ceiling with the exact same color used on walls. "Contrasting colors on all three pinpoint, rather than downplay, exactly where a lower-than-normal ceiling begins and ends," says Lagrange.
Make the ceiling smaller by extending wall paint well past the architectural line where both meet. "Choose a point anywhere from five to eight inches from where ceiling meets wall. Measure, then tape off, a running border along the ceiling diameter. Paint the taped-in area with a lighter color; choose a darker hue for walls. Frank Lloyd Wright did this all the time. It tricks the eye into seeing a higher ceiling and taller walls," says Flynn. (Doing the opposite of this works in making a ceiling appear shorter, too. Just measure and tape off about one foot past where the natural line of a high ceiling ends. Paint everything above the line a dark color, and everything below a lighter one.)
Continue reading for more tips!
Low Ceiling Idea #2: Be Attuned to Furniture Proportion
As a rule, low ceilings should beget lower profile, smaller-scale furniture, says Lagrange. Choose uncomplicated pieces with vertical, tailored lines. Also pay attention to your home's architecture, says Flynn, "Furniture should always be proportional with ceiling scale." Say your home is a traditional Tudor, characterized by small rooms and low ceilings. Choose shorter wingback side chairs instead of standard-size ones. "Be sure they're just tall enough to lean on; four-foot high furniture may be too tall in your home," says Flynn. Also, keep every piece the same basic height and you'll further call attention away from a short ceiling.
Low Ceiling Idea #3: Fool the Eye with Accessories and Artwork
Mirrors? Check. Window treatments up to the ceiling? We're up to our eyeballs in that advice.
A lesser known stylist's trick is to set out a tall urn or vase filled with seasonal grasses or blossoming branches. It adds super-oomph and hides flaws (read: low ceilings) in small spaces by really slowing down the eye's movement and pacing it while it travels gradually from the floor, to mid-room and then up to the ceiling, says Flynn.
Create an impactful salon-style art wall. "It keeps the eye moving around the room, never focused on the shape or height of your ceiling," says Lagrange. Whether you're creating a ceiling-lengthening vertical display or an off-kilter floor-to-ceiling grouping in one corner, space each piece evenly — or else the arrangement ends up looking chaotic. Make a template before you get started, suggests Flynn.
How to "Shorten" a Mile-High Ceiling High Ceiling Idea #1: Drop Lighting Down to Meet You
Try tall torchieres arranged among furniture, a large pendant lamp hung over a dining table or a statement-making chandelier suspended at precisely the right height. They should be closer to the furniture than to the apex of the ceiling to create balance in high-ceiling-ed rooms, says Flynn. Even better? Up and down-lit fixtures. They keep the eye focused on the room's midsection, rather than its rafters. If a fixture isn't long enough, invest in an extension rod (or two!).
High Ceiling Idea #2: Use Bold Colors and Big Patterns
Utilize printed wallpaper and daring hues in areas where you'd like to evoke a sense of warmth and intimacy. "Large-scale patterned wallpaper and dark, dramatic paint colors on ceilings and walls draw the eye downward and make a cavernous space feel cozier," says Lagrange. Highlighting architectural accents such as crown molding, trim and wainscoting with a color that stands out against your wall color is yet another clever way to steal the spotlight away from a soaring ceiling.
High Ceiling Idea #3: Add Structural Elements
Put up some trim. Chair rails, a 2-foot baseboard, beadboard paneling, decorative ceiling medallions, ultra-thick crown molding -- you name it. And if you (and your wallet) are so inclined, you could add some gorgeous wood coffers or dark-wood ceiling beams, says Lagrange. Not only will they physically bring ceiling height down, but they'll add texture to break up the large expanse. Floating planes (basically extended squares of drywall added to the existing ceiling) are another way to add onto the ceiling structure and are especially useful when someone has a towering solid-concrete ceiling that's impossible to run electricity through.
Here are a few more of our favorite ShelterPop posts this week!