Easter Egg Decorating Ideas | Video
Video: A Modern Twist on Easter Egg Decorating
Are you looking for a modern spin on traditional dyed Easter eggs? I have three creative decorating alternatives that only look like you've spent the entire weekend working on them. The time-saving trifecta boils down to three miraculous tools: decal ink-jet paper, a gold leafing pen, and chalkboard spray paint. Pick your poison — or make them all! I promise, you'll have time.
Keep reading for a step-by-step tutorial, plus tips on how to style them (without an Easter basket!)
My garden-themed eggs (ahem — faux decoupage quickies!) were inspired by this tutorial. Instead of temporary tattoo paper, I picked up some clear label printing paper in full-sheet size from an office supply store. I found tons of free botanical-themed downloads on The Vintage Moth and dragged my favorites into a blank word document. Then I just resized them to fit an egg, printed them on my clear label paper, cut them out, and stuck them on my eggs. Easy, right?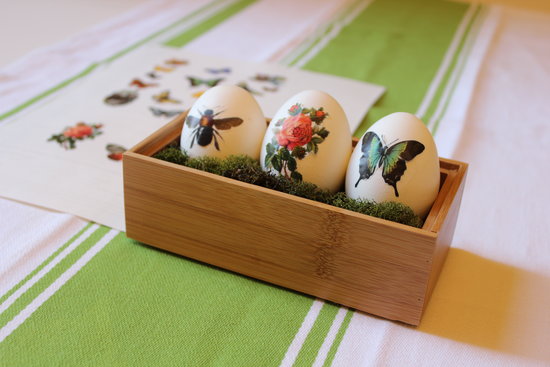 For the gold leaf eggs, I picked up some brown eggs to achieve that pretty nude-and-gold color combination. Then I used a gold leafing pen to draw the patterns I tend to decorate with most — polka dots, chevron, and ikat — and voilà!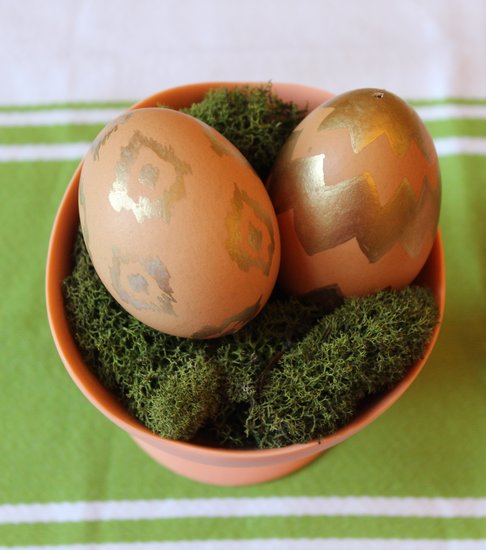 For the chalkboard eggs, I decided to use chalkboard spray paint instead of a bucket and brush. The spray paint went on easily, creating an even and smooth surface, and dried in about 15 minutes. Tip: If you make a mistake, don't sweat it. This is the beauty of chalkboard paint, after all. Just wipe it with a damp cloth, and you can start over as many times as you need to.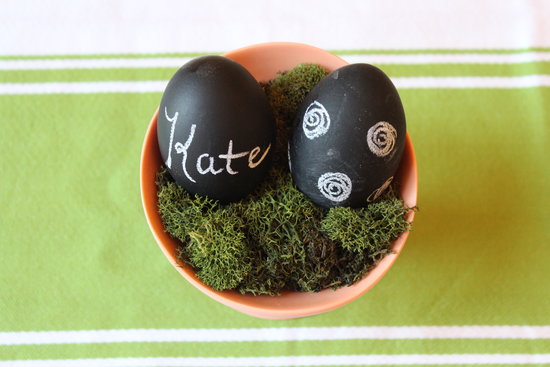 Instead of a traditional basket, I laid a bit of moss inside these pastel vessels. Aren't they pretty?
To store them for next year (and beyond), consider blowing the yolk and egg white out to get a hollow shell. This video tutorial shows you how!