Eco Modern Houseboat
Live a Seaside Life With This Modern Houseboat
This morning on my way to work, I listened to an NPR story about Kiribati, a tiny island nation in the central Pacific Ocean that may be completely under water by the end of the century, if climate change predictions are correct. While that's a frightening possibility, there are some thoughtful designers who are preparing for such situations with grace and beauty — and houseboats.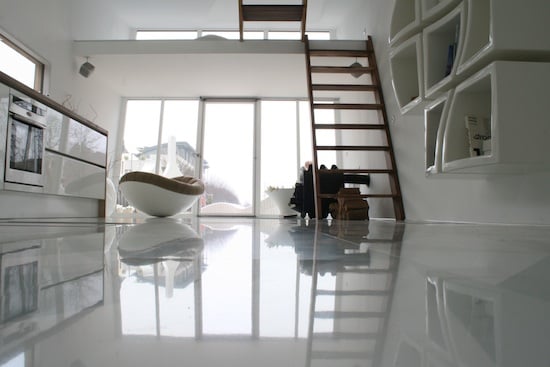 Since coastal lines across the world may also be underwater due to rising tides, a move to a houseboat, especially for those residents living seaside, is a practical solution to potential issues with changing and disappearing shorelines. And while that's a scary thought, you might as well make the best of the situation by living in one of these loft-style houseboats by SchwimmHausBoot.
Featuring an open minimalist design, this small houseboat, named the Silberfisch, feels spacious thanks to the thoughtful interior design. Extensive glass throughout welcomes in sunlight and enhances the interior's look. Reclaimed wood is used throughout the houseboat, and a fantastic rooftop "lawn" will serve as a welcome green lounging space for residents. Additionally, a deck at the front of the boat provides another valuable outdoor space on the houseboat.
Take a full tour and find out about why this houseboat is an affordable housing option.
The houseboat was also designed with affordability in mind. Given the price of land in many large cities, the houseboat, whether anchored in a harbor or puttering up and down the edges of a major metropolitan area, can effectively provide additional, lower-cost housing options in areas of large, water-bordered cities
Designers Flo Florian and Sascha Akkermann of design firm Confused-Direction note, "With the cost of living in large cities constantly rising, the search for viable alternatives is constant. The house is a thoroughly modern floating home that, instead of occupying a valuable plot of land, is anchored in a body of water. In theory, the Silberfisch would allow residents to remain in a location indefinitely or relocate on a whim."